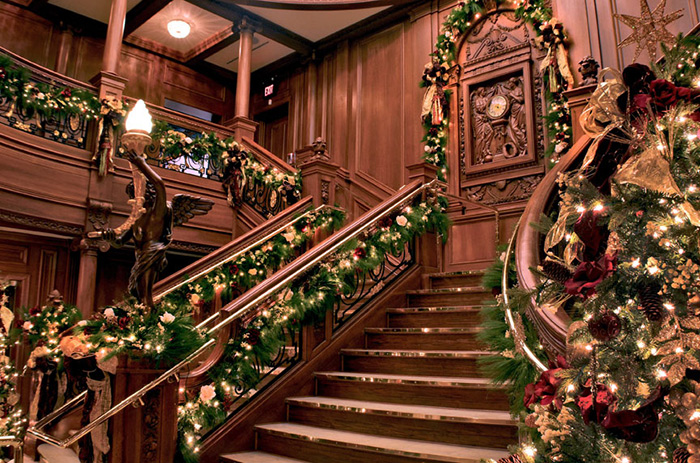 5 Ideas for a Perfect Smoky Mountain Christmas
It's the happiest season of all in the Smokies. There are twinkling lights. The smell of sweets fills the air. Everyone hums their favorite Christmas carol as they walk through the streets. Everything just seems a little more cheerful. A Smoky Mountain Christmas is no exception. There's plenty of cheer to go around in Pigeon Forge. From parades to great Christmas shopping, you can get into the spirit of the season by enjoying the great holiday offerings of this mountain town.
So, with just about as much to do in Pigeon Forge for the holidays as houses Santa has to hit in one night, where do you begin?
Luckily, we can help you find the best place to make your vacation merry and bright! Here are 6 ideas for your Pigeon Forge Christmas.
Holly Jolly Idea #1:
Dollywood Christmas
Dollywood. It's the first place that most everyone thinks of when they vacation to Pigeon Forge. But did you know that Dollywood becomes a magical winter wonderland during the holiday season?
From November 5th to January 1st, Dollywood offers music, song, and dance to make your Christmas in the Smokies spectacular. This year guests can even meet Rudolph the Red-Nosed Reindeer and his friend Bumble from the timeless Christmas classic animated movie! There will be Christmas lights, Christmas trees, and, of course, Santa! Some of the highlights of the park include:
Gospel songs, mountain music, and classic Christmas tunes in several shows
Around four million twinkling Christmas lights
Tons of Christmas trees and other Christmas Decorations
Holiday Treats and Food
Exciting Parades
Several stage productions
And More!
In addition to festive holiday decorations, events, and shows, there are other festive activities to enjoy. You can explore The Christmas Chapel, Santa's Workshop, or meet Rudolph and Friends at Holly Jolly Junction!
Insider Tip: Dollywood is not open every day during the Winter season. Additionally, on some days, the park is open for shorter durations as well. Check out Dollywood's schedule to plan your visit.
Holly Jolly Idea #2:
Titanic Christmas
Travel back to Edwardian England and see the famous RMS Titanic as it would have looked decorated from Christmas. With pine branches, holly, and lights wrapped around the banisters and Christmas trees around every corner, visitors can you experience a Pigeon Forge Christmas aboard this famous White Star liner.
Additionally, there will be a special evening of music, fireworks, and even snow on Thanksgiving evening (November 24th) to kick off the Christmas season. This 4th annual Thanksgiving celebration will offer carols, a "Fantasy Princess," and snow falling from off the ship's bow. While you can only experience the fireworks and music on the 24th, every Saturday in December you'll be able to experience a snowy evening by the bow of the Titanic.
Holly Jolly Idea #3:
Christmas Pigeon Forge Shows
Did you know that most of the fantastic dinner shows in Pigeon Forge offer special Christmas productions? Pigeon Forge shows are renowned for their talent and, of course, the delicious Southern food they offer to accompany. During the Holiday season, these shows bring the holiday cheer with lights, songs, dance, and other seasonal flourishes to make your holiday.
At the Smoky Mountain Opry, guests can enjoy a multi-million dollar production that rivals Radio City. You'll see flying sugar plum fairies and angels, cheery dancing elves, magical reindeer, and, don't forget the star of the show, St. Nick himself. Additionally, guests get to see the Pigeon Forge area's largest nativity at this show!
The cast of this incredible seasonal show includes talented singers, dancers, comedians, live animals, and a band with a huge brass section. With costumes, special effects, and dazzling lights, this show is bound to become a tradition for your Smoky Mountain Christmas.
Another crowd-pleasing favorite Christmas Pigeon Forge Show is Dolly Parton's Dixie Stampede Dinner Attraction. From toys that come to life and stunning horse tricks, this show set to the music of the Nutcracker brings the holiday season to life. Featuring poinsettias, old-fashioned costumes, evergreens, and your favorite holiday songs, this show will be a family favorite for years.
Additionally, the nativity scene comes to life with real camels and will touch your heart with stirring music. For a twist on the usual show's theme, elves from the North and South Pole will be competing while you enjoy the show.
Holly Jolly Idea #4:
A Trip to Christmas Place Pigeon Forge, TN
If you're looking for Christmas decorations, you've come to the right place. The Christmas Place offers thousands of unique Christmas ornaments, trees, lights, collectibles, and gifts.
Whether you're looking for retro, classic, or whimsical designs, you'll find it here. A trip to the Christmas Place is like taking a trip to a village in the North Pole. With several shops that include everything from Christmas treats to Christmas trees, you could spend a whole day looking at the fun, festive merchandise of this shop.
So, buy the latest addition to your Christmas village or a personalized ornament for everyone in your family as a stocking stuffer. Even if you're not visiting the Smokies during the Christmas season, the Christmas Place in Pigeon Forge, TN is open allyear!
Holly Jolly Idea #5:
Winterfest Lights Tours
Take a Winterfest Driving Tour to enjoy the sparkle and twinkle of Pigeon Forge Christmas lights. With over 5 million Christmas lights in Pigeon Forge alone, this light display is truly something to behold. Driving tour maps are available at Pigeon Forge Welcome Centers and the Pigeon Forge Trolley Office in Patriot Park. These self-guided tours take you past all the lights displays in Pigeon Forge, TN.
To see other Christmas lights in Pigeon Forge, check out Shadrack's Christmas Wonderland in the Tennessee Smokies Baseball stadium in nearby Sevierville. From Nov. 4 to Jan. 8, truly wonderful light displays will put on a terrific show choreographed to festive holiday music. Other highlights include pictures with Santa, bounce houses for the kids, and Santa's Village.
Have a Holly Jolly Christmas in the Smokies!
With a little research and planning, you and your family will enjoy a pleasant holiday in the Smokies no matter what you decide to do on you Christmas cabin vacation! So come spend the holidays in the mountains. Who knows? You may even have a white Christmas in the Smokies.
Written by Brittany Tipton