Looking for the best breakfast in Pigeon Forge and Gatlinburg?
You're in the right place! The Smoky Mountains is home to tons of great options for breakfast. In fact, there are over 20 pancake restaurants in the Smokies, so this popular vacation destination may hold the title of "Pancake Capital of the World."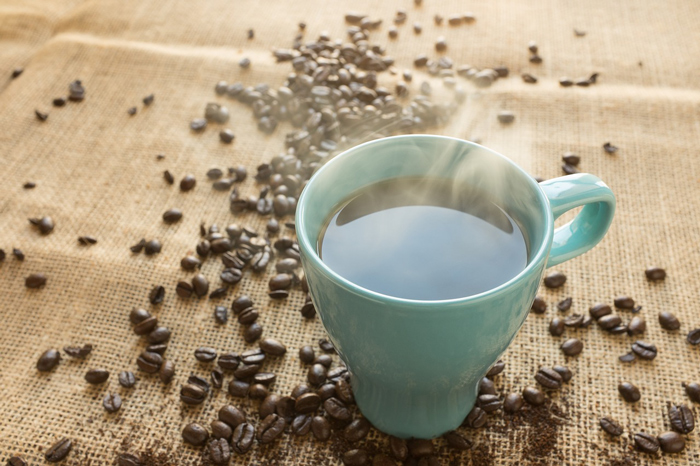 But where can you find the fluffiest pancakes, the heartiest omelets, the hottest coffee, the crispiest bacon, and tastiest overall breakfast in the Smokies?
To satisfy your breakfast cravings, we've made the ultimate list of the best places to get breakfast in Pigeon Forge and Gatlinburg, TN!
1. The Pancake Pantry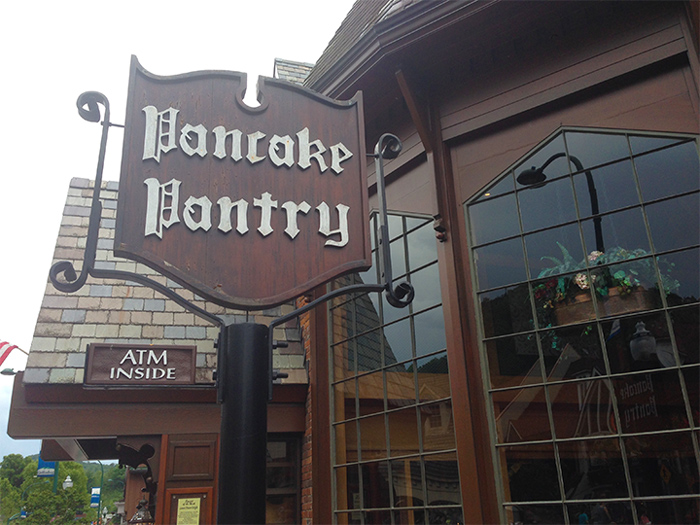 Of all of the great breakfast restaurants in Gatlinburg, The Pancake Pantry is a must-visit, Gatlinburg institution.
Since this restaurant first opened its doors in 1960, it made history for being the first pancake restaurant in the entire state of Tennessee. Famous for its delicious breakfast and charming old-world European feel, the Pancake Pantry has even served esteemed diners like Dolly Parton and Tennessee Politicians.
This family-owned operation has been dedicated to making everything homemade for over half a century: fresh whipped cream, real butter, jams, syrup, and of course pancakes and crepes. Most mornings, you'll find a line wrapped around the building, a testament to its enduring popularity – and quality.
We're a big fan of the Swedish Pancakes made of a decadent egg batter and delicious lingonberry jam and the Austrian Apple-Walnut Crepes. You can enjoy breakfast at the Pancake Pantry all day long, but they also offer a delicious lunch menu as well.
2. Crockett's Breakfast Camp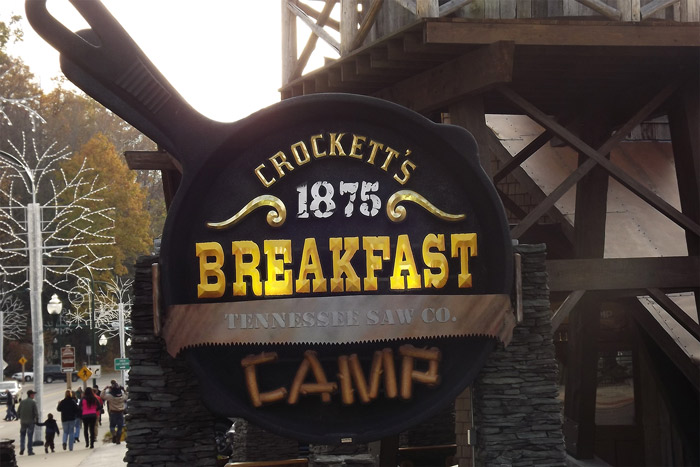 Crockett's Breakfast Camp in Downtown Gatlinburg is the namesake of David C. "Crockett" Maples, an intrepid frontiersman and soldier who embodied the spirit of the Southern Appalachian Mountains.
You can begin your mountain adventure by sampling their mouthwatering menu of hearty country classics. Some of our favorite meals at Crockett's are their omelets, egg scrambles, and their famous cast-iron skillet breakfasts piled high with bacon and sausage.
Besides the usual breakfast fare, Crockett's offers such offbeat options as fried bologna, corned beef hash benedict, and "Crockett's Breakfast Quesadilla."
3. * NEW* Split Rail Eats
At the covered bridge on Glades Road, you'll find Gatlinburg's breakfast restaurant that sources all of its eggs from cage-free chickens.
This new restaurant makes our list of the best breakfast restaurants in the Smokies for their innovative breakfast sandwiches like the "Yardbird," a fried chicken biscuit sandwich topped with honey butter and the "B.L.E.A.T." a bacon, arugula, tomato, egg, avocado sandwich with chipotle mayo on toasted country bread.
Opened at 7 AM daily a trip to Split Rail Eats is the perfect way to get an early start to your day in the Smokies with a delicious home-cooked meal before an afternoon of shopping or hiking trails in the national park.
4. The Log Cabin Pancake House
If you're looking for a classic country breakfast, it's hard to beat the delicious food of the Log Cabin Pancake House. Located just off of the main drag in Downtown Gatlinburg, you'll know this breakfast restaurant by the Conestoga wagon on the roof and spacious front porch with rocking chairs.
Better yet, this classic pancake house is not another chain restaurant, so you can expect a unique Smoky Mountain breakfast experience.
Since 1976, this family owned and operated breakfast spot is a great place to enjoy a stack of buttermilk pancakes, fruit-filled waffles, generously large omelets, French toast, country ham, fried apples, and all-you-can-eat biscuits and gravy.
5. Paula Deen's Family Kitchen
This new restaurant in Pigeon Forge has made waves with its great menu of Paula Deen classics, but it's also one of the best places to find breakfast in the Smokies.
This breakfast is served family-style, so you'll pick from several larger plates and share them amongst the table. As a result, Paula Deen's Family Kitchen is the go-to for feeding a hungry family for a great price.
Choose from delicious dishes like Fried Grits, creamy Hashbrown Casserole, Chicken and Biscuits, Ooey Gooey Butter Pancakes, and Applewood Smoked Bacon for a meal that's bound to satisfy.
Please note that breakfast is served here from 8:00 am to 10:15 am daily. If you don't make it in time for breakfast, you can still enjoy their delicious lunch or dinner menu.
This popular restaurant in the Island and Pigeon Forge is frequently busy, but going early for breakfast is the perfect way to enjoy the Paula Deen dining experience without having to wait for your table!
Smoky Mountain Breakfast Map
Final Thoughts
These delicious breakfast restaurants in the Smoky Mountains are well-worth getting out of bed even on your groggiest morning!
Don't have time for a full, sit-down breakfast? Check out the Donut Friar in Downtown Gatlinburg, a classic breakfast spot with unbelievably delicious donuts and coffee that you can take to-go.
We'd love to know, where's your favorite breakfast restaurant in the Smokies? Have you been to any of these breakfast spots on our list? Feel free to share your experiences in our comments section below!
Written by Mark Frazier