Looking for interesting museums to visit during your stay in the Great Smoky Mountains?
Pigeon Forge and the Smoky Mountains are home to an excellent variety of museums. From well-curated exhibits of historic artifacts to fun interactive experiences, there are a lot of ways to learn and engage your sense of curiosity and wonder in the Smokies.
Use this handy guide to find the best museums in Pigeon Forge and the Smoky Mountains!
1. Sugarlands Visitors Center Museum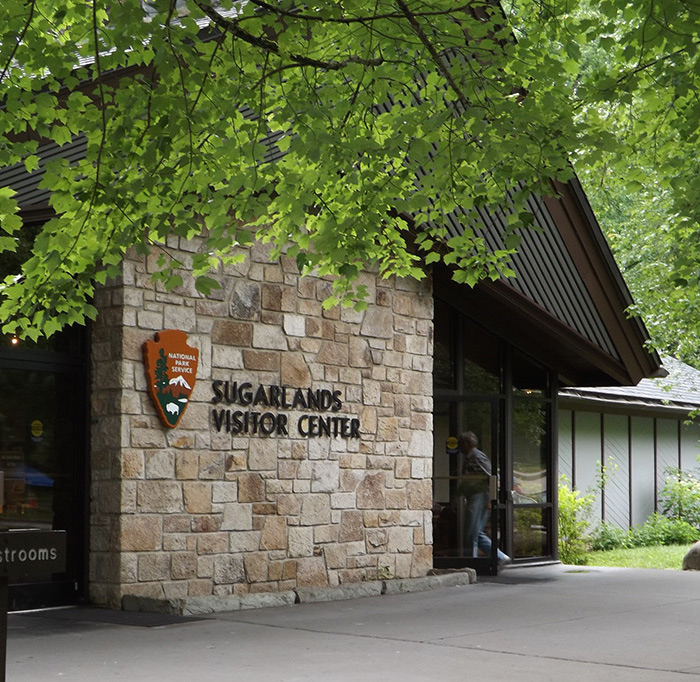 Located a short drive from Gatlinburg, the Sugarlands Visitor Center is one of the primary visitor centers for the Great Smoky Mountains National Park. Not only is this destination a great place to go to get advice from rangers or pick up a trail map, but it's also home to an excellent museum!
Better yet, there's no admission fee for the Sugarlands Visitors Center so it's one of the only free museums in the smoky mountains.
This museum is a perfect way to learn about the natural history of the national park, specifically the plants, animals, and people that call these mountains home.
Some of the specific exhibits you'll see at Sugarlands are:
Geologic History of the Smokies
Human History of the Smoky Mountains
Stunning Specimens of Native Plants and Animals
You can also watch a 20-minute video about the Great Smoky Mountains, so this center is a must-see for any first-time visitor to the national park.
Sugarlands also features scheduled ranger-led presentations on a variety of topics that are free and open to the public.
2. The Salt & Pepper Shaker Museum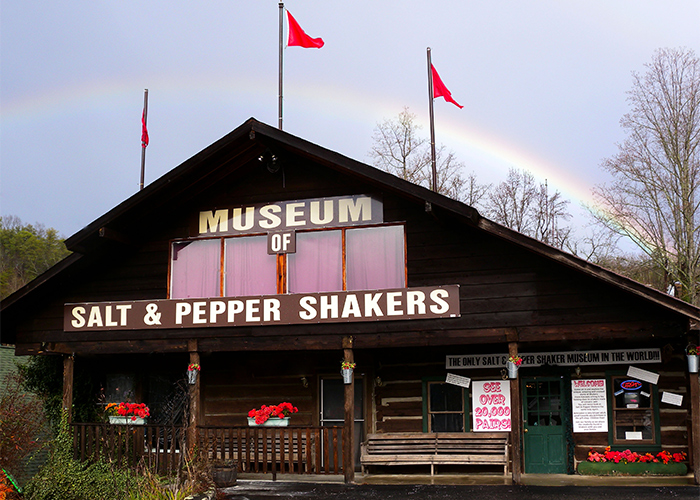 As you stroll through Downtown Gatlinburg, you may come across this delightful museum that's dedicated to one thing and one thing only: salt and pepper shakers.
Though it may seem unusual to have an entire museum focused upon this humble household item, as soon as you step inside you'll begin to grasp the sheer variety of salt and pepper shakers that you never knew existed. If anything, the contents of this museum are a testament to human creativity.
With over 20,000 pairs on display from around the world, The Salt and Pepper Shaker Museum is truly impressive. In fact, their collection is so huge that you can find a salt and pepper shaker for virtually anything.
From salt and pepper shakers that depict astronauts on the moon to lobster claws to Smokey the Bear to bottles of suntan lotion, it's easy to forget that all of these items can still be used just to season your food.
Who would have thought that salt and pepper shakers could take the form of beautiful pieces of gold and delft art or downright wacky, humorous or weird bits of common kitchenware?
When you're in Gatlinburg, don't miss out on visiting this unique destination that's the only Salt and Pepper Shaker Museum in the US!
3. Great Smoky Mountain Heritage Center
Located in Townsend, TN just outside of the Great Smoky Mountains National Park entrance at the "wye," you'll find the Great Smoky Mountains Heritage Center!
This impressive museum is focused upon the people who've lived in this part of the mountains and it features tons of interesting artifacts and interpretive exhibits. Inside, you'll see exhibits on:
Native Americans of East Tennessee – Learn about how the native Cherokee lived in this beautiful part of the world.
East Tennessee Mountain Culture – See how European Settlers carved out a living in these isolated mountains.
"Earth & Fire" Native American Pottery – View old, pre-Colombian pottery from before Europeans arrived in the Americas.
Transportation Station – See beautifully preserved old vehicles to see how people traveled through these rugged mountains.
Interestingly, this exhibit features many artifacts and items that were collected from Blount County and other nearby areas in and around the present-day national park.
One of the best exhibits at the Heritage Museum is the Historic Village, a collection of preserved cabins and buildings that have been moved onto this site for preservation. You can tour 13 historic buildings including an old church, cantilever barns, a sawmill, a smokehouse, print shop, and even an authentic Smoky Mountain outhouse.
As a result, the historic village is one of the best places to view historic buildings in East Tennessee. In some ways, this museum is a more unique experience than seeing the beautiful old homesteads of Cades Cove or Greenbrier, because these homes come complete with authentic period furnishings.
The Great Smoky Mountain Heritage Museum is an excellent place to learn about the past of the Smokies and to contribute to the preservation of this region's unique culture and heritage.
4. The Titanic Museum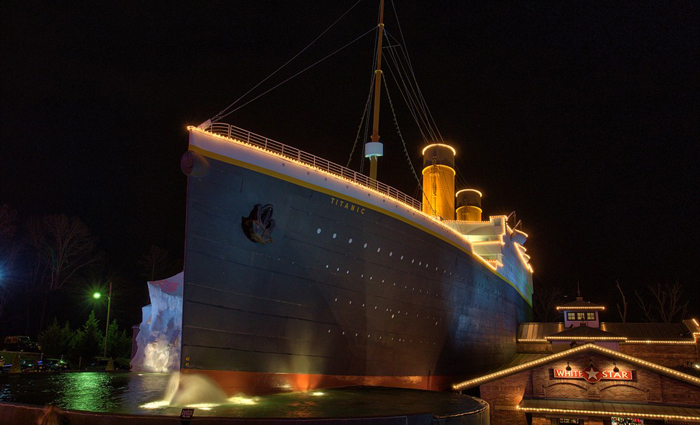 Along the Pigeon Forge Parkway, you'll find this impressive boat-shaped museum that's probably one of the most iconic attractions in Pigeon Forge.
Not only is this museum distinguished as having the largest permanent collection of artifacts from the famous RMS Titanic, but it's also an immersive experience that tells the story of the Titanic like nowhere else. As a result, it easily makes our list of the best museums to visit in Pigeon Forge.
Built half-scale to the original ship, this museum is filled with interactive displays, historic artifacts, and recreations of rooms inside the ship. As a result, this museum is one of the best ways to learn about the experiences of passengers who boarded The Titanic on its maiden voyage across the Atlantic in 1912.
Some of the most popular displays inside this excellent museum in Pigeon Forge are:
Touching An Iceberg and Feeling 28° Water
Feeling The Slope of the Ship as it Sank
Shoveling Coal in the Boiler Room
A Million-Dollar Replica of the Titanic's Grand Staircase
Upon entering the museum, you're also given an identity of an actual passenger who boarded the ship. At the end of the museum experience, you'll learn about your passenger's fate. This moving tribute helps to communicate the story of this dramatic maritime tragedy that occurred over 100 years ago.
5. Hollywood Star Cars Museum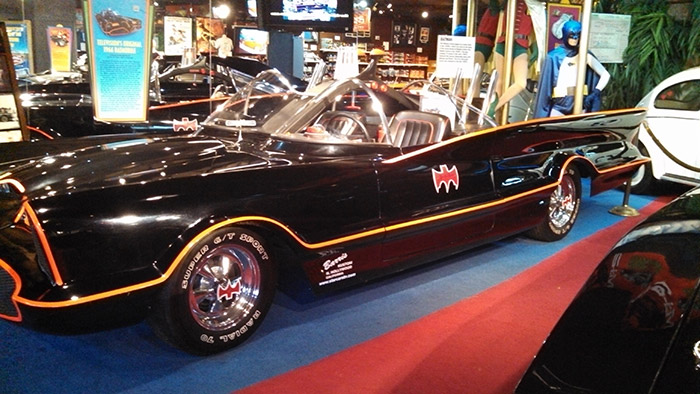 It's hard to miss this impressive museum located on the main drag in Downtown Gatlinburg. Inside the Hollywood Star Cars Museum, you'll find an impressive collection of over 40 vehicles that belonged to the biggest stars, musicians, and movie franchises.
The 1981 DeLorean from the "Back To The Future" film
1977 Chevrolet Camaro known as Bumblee From the Transformers Franchise
The Original Batmobile from the 1966 Television Series
The Munster's Famous "Drag-u-la"
The Original "General Lee" From Dukes of Hazard
Each of these beautiful cars has an interesting story behind it. There are also displays of film memorabilia and facts about the biggest stars in Hollywood. Better yet, you can even get your picture made with these fascinating star cars.
If you like cars you might also want to check out the Floyd Garret Muscle Car Museum, an excellent collection of vehicles curated by a true muscle car expert.
Map of Best Museums in the Smoky Mountains
Other Museums in the Smoky Mountains
Ripley's Believe it or not Odditorium - This museum is well-known for its bizarre collection of the strangest and most surprising things you've never heard of.
The Arrowmont School – This School of Arts and Crafts has a curated art collection that's open to the public for free! These galleries feature regional and national exhibitions. Some of the exhibits focus on the tradition of handicraft making in Appalachia, so it's an interesting place to learn about local history and culture.
Hollywood Wax Museum – A two-level museum filled to the brim with life-like wax creations of the biggest celebrities, pop-culture icons, and movie stars.
Alcatraz East – A must visit for true crime fans, this excellent museum has exhibits on the history of crime and law enforcement as well as impressive items like OJ Simpson's Ford Bronco and John Dillinger's Death Mask.
Tennessee Museum of Aviation – A must see for anyone who loves 20th-century military history. This hidden gem has flight-worthy "warbirds" including P-47 Thunderbolts, a Soviet MiG 21, and a Douglas A-1H Skyraider that bears scars from its service in Vietnam.
Ripleys Aquarium of the Smokies – Though this attraction is not a museum in the classic sense, it is an excellent place to learn about dazzling sea life like sharks and penguins. Additionally, they offer special temporary exhibits about shipwrecks and other topics that are definitely worth seeing.
Final Thoughts
The Smoky Mountains are home to an impressive variety of museums and interactive exhibits, so there's something for practically everyone!
We'd love to know, how many of these museums have you been to? Which was your favorite? Or which ones do you most want to visit?
We'd love to hear your thoughts in our comments section below!
Additionally, feel free to contact our reservations office if you need help finding a cabin in Pigeon Forge for your getaway to the Smoky Mountains!
Written by Mark Frazier