Wondering where to see bears in the Great Smoky Mountains National Park?
Of all of the beautiful wildlife of the Smoky Mountains, the American Black Bear ( Ursus americanus ) is one of the largest and most impressive species you can see in the national park.
Better yet, bears are plentiful in the Smokies and live in all elevations of the park. It is estimated that around 1,500 bears live inside the Great Smoky Mountains National Park. Since the national park is 800 sq. miles in size, this means bears have a population density of nearly 2 bears per square mile.
As one of the largest nature preserves in the Eastern US, the GSMNP is one of the best places to see black bears in this part of the country.
To view these amazing animals in the Smokies, check out our guide with the 5 best places to see black bears in the Smoky Mountains!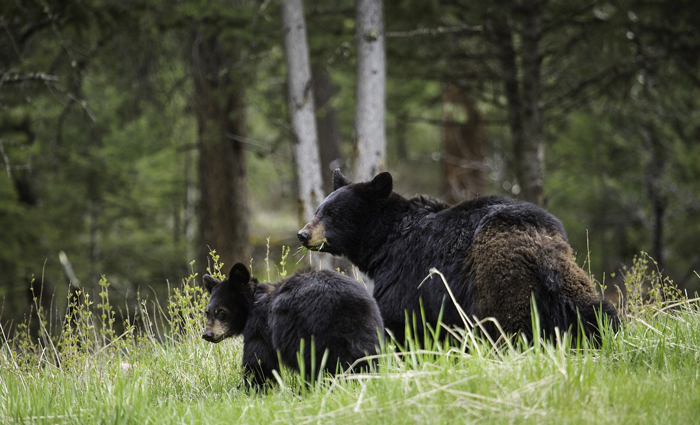 Where To See Black Bears in the Smoky Mountains?
1. Cades Cove
What makes Cades Cove a hot spot for black bears? This verdant valley is home to many mast-producing trees. This means trees that grow acorns and walnuts are a food source for bears. Bears also love to snack on blueberry and blackberry bushes.
Additionally, Cades Cove is a wide and expansive valley that is not overgrown with trees. As a result, this region of the park is the perfect place to see wildlife that would otherwise keep a low-profile in the forest.
As an added perk, you can drive the 11-mile Cades Cove loop for a chance to see a bear from the comfort and safety of your vehicle.
In fact, when driving the loop road, you may find yourself stuck in a "bear jam." This is a traffic jam that is caused by vehicles slowing down to view wildlife like bears or deer.
You can often see bears on the western end of the loop road. This area is at the far end of the cove away from the Cades Cove Campground. Additionally, hiking trails in Cades Cove like the Rich Mountain Loop Trail and Gregory Ridge Trail are good places to see bears as well.
2. The Roaring Fork Motor Trail
This scenic, 5.5 mile-long, one-way, loop-road in the national park that begins and ends in Gatlinburg is famous for its beautiful hiking trails, rushing streams, historic homesteads, and nice waterfalls.
This loop road is also a great place to spot bears! Simply go for a drive on the Roaring Fork during the morning or evening hours and you might just catch a glimpse of a black bear crossing the road.
3. Newfound Gap Road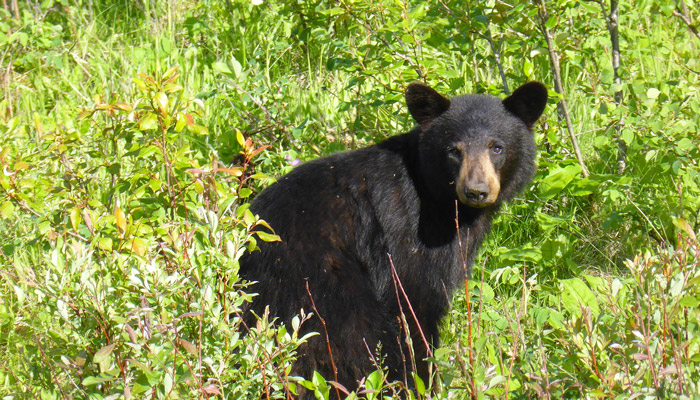 By driving the Newfound Gap road, you may get a chance to see a bear. Keep your eyes peeled when you are driving next to a river or stream because bears favor these areas as a place to find food.
Better yet, this scenic, 33-mile route that passes through high elevation areas of the national park offers beautiful mountain overlooks to enjoy as well.
4. Little River Road
Like the Newfound Gap Road, you'll have a chance to see wildlife like deer, turkey, and bears by the roadside. Better yet, this route connects Gatlinburg to Cades Cove, so you can keep an eye out for bears on your way to this beautiful part of the Smokies.
5. Cataloochee Valley
Cataloochee Valley is an old community in a remote section of the park, so it is a quiet place for bears to forage. Much like Cades Cove, this is a nice wide area without much tree cover, so it's easier to spot animals like bear and deer.
Additionally, Cataloochee is home to a wild elk herd! One of the most popular times to see elk is during the fall "rut" when bull elk make "bugling" calls and compete for mates.
Bonus: Ober Gatlinburg Wildlife encounter
Since we all can't be lucky enough to spot a black bear in the wild, you might need a backup plan.
Thankfully, Ober Ski Mountain is home to a wildlife encounter exhibit that features black bears, as well as flying squirrels, owls, raccoons, bobcats, river otters, and reptiles.
Map of Places To See Bears
When is the best time of day to see black bears?
Black bears are most active in the early morning hours ( 5 am – 9 am ) and evening hours ( 5 pm – 8 pm ) when they forage for food in the cooler times of the day.
Bears typically do their best to avoid humans and so they spend much of their day in heavily forested areas or snoozing in their den, typically 20 feet off the ground in a hollowed out section of a large tree.
As a result, the best time to see black bears are when they are on the move searching for food.
When is the best time of year to see black bears?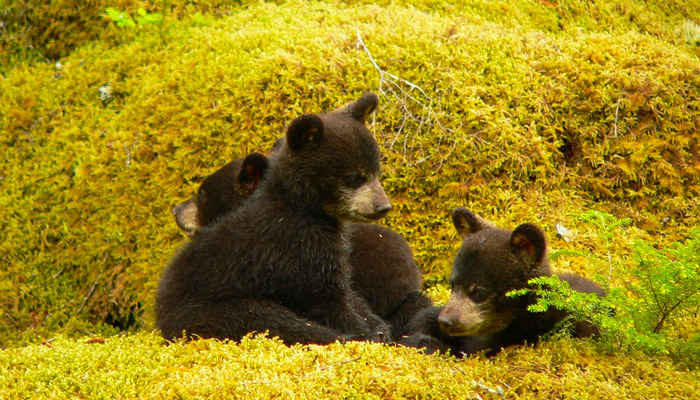 Summer and fall are the times of year when black bears are most active in the Great Smoky Mountains National Park. This is when food sources like tree nuts and berries are plentiful.
During these busy seasons, black bears are preparing for hibernation in the winter and early spring when food sources are scarce.
As a result, you are less likely to see black bears during the cooler times of year because they are much less active and spend the majority of time in their dens.
By late spring, bears begin to be more active as temperatures warm and food becomes more available.
What To Do If You See A Bear While Hiking?
Typically, bears do their best to avoid humans, so it is unlikely that you'll run into one in the backcountry.
However, some areas increase your likelihood of finding a bear. For example, bears tend to congregate around food sources like the berry patches at Spence Field or Mt. LeConte. They also tend to search for food in overgrown areas by streams and rivers where they can find berries, nuts, roots, insects, and fish.
If you do see a bear, give it plenty of space and do not approach it.
Black Bear and Wildlife Safety
Black bears are usually very shy and do their best to avoid human contact. However, bears are wild animals and are unpredictable.
Before visiting the park, we recommend reviewing the park service's guide to bear safety.
This useful guide has great tips on how to keep yourself safe if you do see a bear.
Final Thoughts
Plan a trip to the Smoky Mountains so you can see the beautiful wildlife this region offers! Be sure to check out our excellent cabins in Pigeon Forge when planning your vacation!
Written by Mark Frazier