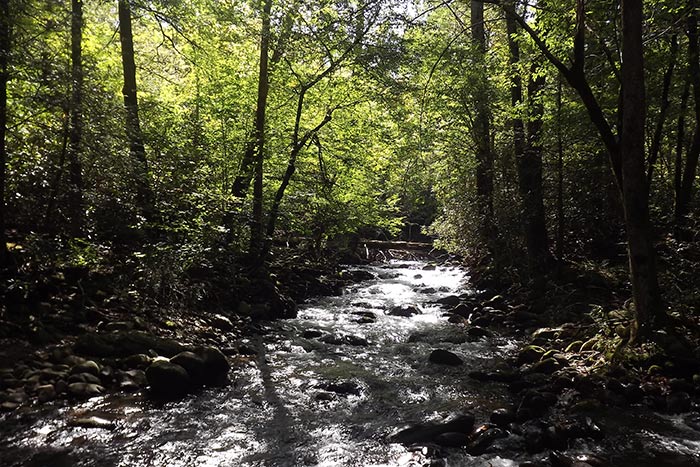 Think you know everything there is to know about the Smokies? Think again! Every year, there is a weeklong celebration of the flora, fauna, history, and culture of the Smoky Mountains that is dedicated to telling the fascinating story of this region. The 2015 Wilderness Week in Pigeon Forge, TN allows vacationers to take classes, attend lectures, and learn new skills in workshops in topics ranging from travel photography to playing the mountain dulcimer, local history to international travels.
And the best part about all this? It's completely free.
There's something at Wildlife Wilderness Week for everyone to enjoy. The crafter in the family will enjoy workshops on how to make everything from Christmas ornaments to gemstone bracelets. The outdoorsman will enjoy learning about the Appalachian Trail and smallmouth bass fishing. There's even a special "Kids Track" that helps your young historians and nature enthusiasts. Vacationers staying in cabins near Pigeon Forge should take advantage of this fun, free event and learn about one of the most naturally and culturally diverse areas in the country – the East Tennessee Smoky Mountains.
Learn How To Take Superb Mountain Pictures, Play Appalachian Music, Spot Smoky Mountain Wildlife and More!
With hundreds of workshops, classes, and demonstrations, it'll be hard to figure out where to start. Luckily, you really can't go wrong with any of the choices available, but we've taken the time to pick out some highlights for you.
Workshops, lectures, panel discussions, presentations, and hike sign ups will take place at the LeConte Center located at 2986 Teaster Lane in Pigeon Forge. Vendors will be set up with unique items to browse in the LeConte Exhibit Hall from 9am – 6pm daily. Please keep in mind that pre-registration for workshops with limited spots will take place in the morning of each day of class sessions.
Whether you'd like to learn about native plant species or the heritage of the Irish and Scottish settlers, you'll find something to enjoy at this 9 day celebration of wilderness in the Smokies. Here are some of the highlights:
Heritage Classes and Presentations:
For history buffs and those in love with the culture of Appalachia, these classes offer insights to some of the most interesting facets of this unique mountain culture that stretches back millennia. From Native Americans to the Scotch-Irish immigrants, you can learn all about the folks who made East Tennessee culture what it is today.
Civil War in the Mountains: Bushwhackers, Marauders, Raiders, Conscription, and Divided Loyalties at the Homefront - Chris Tipton covers life in the mountains during the Civil War on Sunday, January 25th from 1:30-2:30.
The Walker Sisters of Little Greenbrier- Robin Goddard will introduce you to the Great Smoky National Parks most famous and stubborn residents – The Walker Sisters on Sunday, January 25th from 5:30-6:30 PM
Early Pigeon Forge: The Start of Something Big- Learn the history of a little mountain town that became one of the biggest tourist destinations in the Southeast with Veta King on Tuesday, January 27th at 3-4PM
Cemeteries of the Smokies – Dr. Gail Palmer will go over some of the spookiest sites in the Smokies on Wednesday January 28th at 4:30-5:30 PM.
And so much more!
With such a selection of classes on the history and culture of East Tennessee, you'll be a certified history buff on Appalachia in no time.
Wilderness Classes and Presentations
If you prefer to learn about the flora and fauna of the Great Smoky Mountain National Park, these classes are for you. These classes will give you the skills and knowledge needed to better appreciate and handle the wildlife of the area and cover a wide range of topics. Learn about:
Basic bird watching skills
How to handle bear encounters
Wildflowers of the Smokies
Tracking Skills
The Smokies' Unique, Diverse Wildlife
Butterflies of the Smokies
Insects of the Smokies
Birds of Prey
Trout Fishing
Smoky Mountain Waterfalls
Once you're able to recognize the bird call of the area's native populations and handle a bear on a hiking trail, you'll be one step closer to becoming a true mountain man or woman.
Smoky Mountain Arts and Crafts
If you are more of a person who likes to take away craft skills and your own art piece from a class, you'll enjoy the wide selection of arts and crafts classes that are offered at Wildlife Wilderness Week. Learn how to make these exciting crafts and learn exciting new skills:
Several Photography Skill Classes
Quill Pens and Calligraphy
Storytelling
Paint Your Own Watercolor Notecards
Wire Wrapping River Rocks
Loom Weaving
How to Make Maple Syrup
Needle Point
Basket Making
Appalachian Home Cooking
And so much more!
Winterfest's Wildlife Wilderness Week gives you the chance to learn new skills that you can enjoy long after the festival is over.
Pickin' and a Grinnin': Enjoy and Learn Appalachian Music
There's nothing quite like Appalachian music. The distinctive sounds of banjos, mandolins, and fiddles can be recognized all around the country, even the world. But there's much more to Appalachian music than bluegrass. Wilderness Week 2015 covers everything from Native American flute playing to folk tunes sang in the Civil War camps. At Wildlife Wilderness Week in Pigeon Forge, TN, you'll hear the sounds of:
Old Time Mountain Hymns
Native American Flute
Appalachian Folk Songs
Dulcimer Music
Bluegrass
Irish and Scottish Folksongs
And more
Not only will you get the chance to here these delightful styles of music played, but you can learn how to play (or attempt to play) them yourself. Learn regional instruments, including:
Dulcimer
The Spoons
Washtub bass
Native American Flute
Acoustic Guitar
Banjo
And more!
With these workshops, you'll be pickin', grinn', and playin' that mountain music in no time.
Kids Track – Classes for Kids ages 5-12
Mom and Dad, there's no need to worry about your kids squirming with bored anxiety at the "grown-up" lectures. Wilderness Wildlife week offers its own unique Kids Track for children ages 5-12. These specially designed classes allow your kids to learn about the Smokies and have fun while they're doing it. Kids can enjoy these and other classes:
Pioneer Toys - Learn how to make historically accurate toys that pioneer children would have played with back in the 18th and 19th century.
Whooo Did That - A class on owls of the Smokies
Get Your Kids Hiking- A class for kids and parents on how to get kids into hiking and safety precautions for kids.
Cartooning For Kids - Learn how to draw your own cartoons
Several Storytelling presentations
And much more!
These fun kid-friendly classes will spark your kids' natural curiosity about the world around them. They'll leave with smiles on their faces and a hunger for more knowledge about the nature and culture of East Tennessee.
Hike and Learn with Wilderness Week Pigeon Forge, TN's Guided Hiking Tours
Wilderness Week 2015 also offers vacationers the chance to enjoy their unique hike and learn lectures. These lectures take people away from the conference rooms and into the beauty of nature. You'll be able to apply the skills you'll be taught immediately while your out in the field. From birdwatching to tracking skills, you'll learn by doing on these hikes. Transportation from the Le Conte Center is provided, making these hikes a great choice for anyone seeking to learn more about the Smokies and enjoy the beautiful scenery at the same time.
Learn and Explore at 2015 Wilderness Wildlife Week
Whatever you choose to do at Wilderness Week 2015, you'll learn more about the rich culture and natural splendor that make this region so unique and special. Come to this event with an eagerness to learn and you'll be rewarded with ample amounts of information that you'll carry with you the rest of your life!
Written by Brittany Tipton