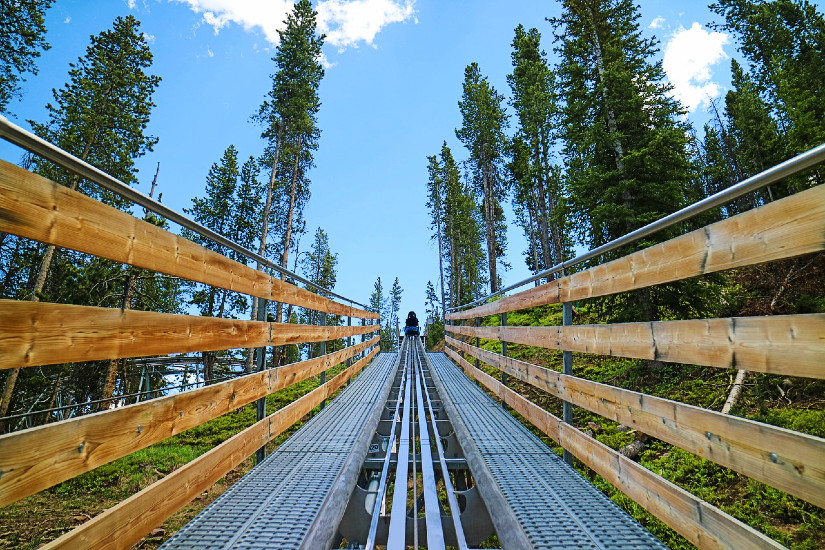 There's nothing like having an incredible time in the Smoky Mountains with those who matter most. With dozens of attractions, activities, shopping, and more available, it can be challenging to narrow your options down. However, if you're looking for something that offers a little thrill and gorgeous views, you can't go wrong with trying our picks for the best alpine coasters in Pigeon Forge.
How to Pick Your Alpine Coaster
Pigeon Forge offers many options when looking for fun things to do in Pigeon Forge, but it doesn't get any better when you're speeding down a mountain. To help you figure out which alpine coaster is best for you, we've narrowed things down to the top three, in our opinion, in no particular order.
Coaster at Goats on the Roof
Since the 70s, "Goats on the Roof" has offered an incredible experience that literally featured goats on the roof to customers' delight. To add to the fun, the people behind this place added an alpine coaster named "Goat Coaster."
For seven minutes, you and the rest of your group can enjoy speeds of up to 30 miles per hour on a coaster that measures out just under a mile. No matter what, everyone in your group will have a blast. After riding, you have the rest of Pigeon Forge available to explore, ensuring fun memories while enjoying family-friendly activities in the Smoky Mountains.
Smoky Mountain Alpine Coaster
In the middle of Pigeon Forge and Wears Valley, you'll find gorgeous landscapes and mountain twists. To make it more fun, there's an incredible alpine coaster that's in contention for the longest in the country.
Over a mile long, it'll take eight minutes to go from top to bottom and is considered one of the best coasters by riders in the Smoky Mountains by far. The only thing you'll be wondering after the ride is if you can go again.
Rocky Top Mountain Coaster
There's riding an alpine coaster, and then there's the Rocky Top Mountain Coaster. With four lift hills and drops, you and the others will enjoy nine minutes of pure fun and excitement. Even better, you'll enjoy over 20 acres of Smoky Mountain land.
As a pro tip, we recommend checking out this alpine coaster at dusk or later. At night, you'll see colorful lights as you go through tunnels, curves, and hairpin turns. One thing is clear; you'll enjoy plenty of thrills just in time to experience the rest of the Smoky Mountains for an unforgettable vacation.
Stay in our Pigeon Forge Cabin Rentals
The best way to enjoy Pigeon Forge and the surrounding area is through one of our many Pigeon Forge cabins. Our cabins offer a wide selection of amenities, from game and theater rooms to hot tubs and jetted tubs. After relaxing, you'll be ready to enjoy the alpine coasters in Pigeon Forge all over again. Don't wait to experience every moment of fun possible.