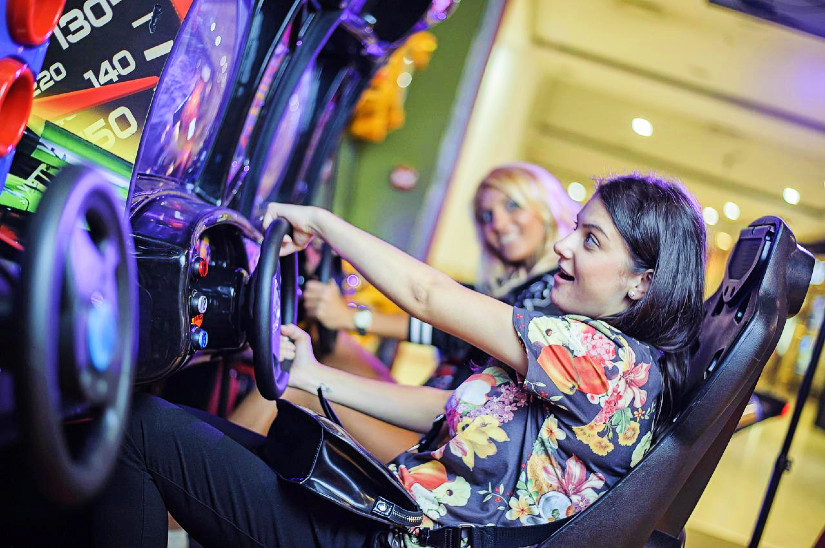 If there's one universal truth about a Pigeon Forge vacation, it's that it should be fun for everyone. Fortunately, this lovely city doesn't lack options on that front. However, it's not always easy to find entertainment that appeals to everyone, from kids to adults, which is why we're covering our picks for the best arcades in Pigeon Forge.
Exploring the Value of a Day at the Arcade
When the rain pours, or it's just too hot to be outside, the best arcade games in Pigeon Forge are the perfect solution for everyone in your group. Whether you want to play the latest games or enjoy fantastic food and drink while playing, there's an arcade that meets your needs.
Rockin' Raceway
Without a doubt, this is one destination you can't afford to miss while visiting Pigeon Forge. With a jukebox appearance, this arcade offers over 150 of today's most popular arcade games, plus an excellent go-kart racing track for hours of fun and friendly competition. Rockin' Raceway stays open until 11pm (Midnight on weekends), ensuring everyone can play to their heart's content.
Arcade City
With a location at The Island, Arcade City is the perfect destination for the whole family. During your visit, you'll enjoy access to racing games, classic arcade games, take selfies, and lots more! In addition, you can win some seriously sweet prizes like Air Pods, Nintendo Switches, and other incredible items, making it worth the time investment.
When not playing, you'll already be in a prime position to enjoy everything else The Island offers, making it arguably the best option for fun things to do in the Smoky Mountains.
Big Top Arcade
Hailed as one of the best arcades available, Big Top Arcade is a circus-themed arcade that is bursting at the seams with fun games, from claw machines and pop-a-shot games to racing games and shooting games, and more. After playing, head to the redemption center to swap those virtual tickets for awesome prizes to take home with you.
Dave & Buster's
If you love food and drink but want to play the latest games, then Dave & Buster's is the perfect destination for your plans. Indulge in classic games like Skee-Ball or try out virtual reality games during your visit. When not playing, you'll love downing the drinks or grabbing some dessert after a yummy meal.
Downtown FlavorTown
More than a restaurant. More than a mere arcade. Downtown FlavorTown is the newest player on the scene, and they do a fantastic job of providing incredible food and family fun in one flawless combination.
After eating, check out the 14-lane Duck Pin bowling alley or explore 10,000 square feet of state-of-the-art arcade games for nothing less than pure awesome. There's a full-service tiki bar for the adults, ensuring everyone in your group has an incredible time in FlavorTown.
Book Your Vacation Today
Staying in our gorgeous Pigeon Forge cabins puts you in the middle of all the action. Also, our rentals offer a wide selection of amenities to help you relax, from our hot tub rentals to our jetted tub options. In addition, it means you can keep going back for more fun instead of trying to do everything in one go. If you're in the mood for fun, book your vacation today to enjoy the best arcades in Pigeon Forge!