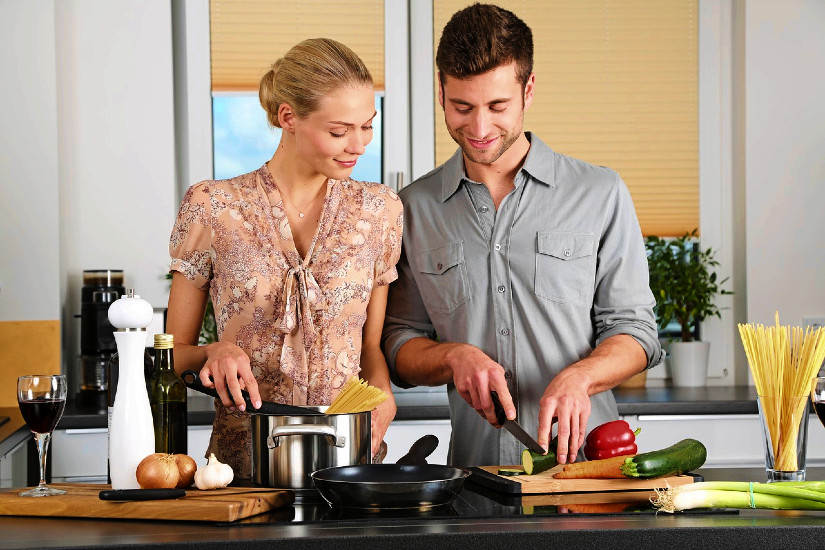 There's nothing like enjoying a fun vacation to the Smoky Mountains with your loved ones. Whether exploring nature's beauty or checking out one of the many attractions like Dollywood and The Island, you'll not lack options.
Unfortunately, everyone in your group is bound to get hungry, which can get expensive if you're eating out every meal. For this reason, we've put together a handy guide to the best meals to cook on vacation to save you money and possibly time that can be spent elsewhere.
Cooking Brings Everyone Together
Vacationing with your family and friends is all about spending time together. Fortunately, you don't have to compromise on that when staying in one of our many Pigeon Forge cabin rentals that boast a fully equipped kitchen. With that in mind, you don't want to spend all day cooking and cleaning while you're supposed to be having fun.
To that end, we've chosen easy vacation meals to cook that don't require a lot of time cooking or excessive cleanup. Do you have a favorite meal of the day? We got you covered with the following options:
Breakfast Ideas
Arguably, the most important meal of the day, breakfast sets the tone for the rest of the day and is a great way to ease into being fully awake. If you don't feel like cooking yet, consider making smoothies. To avoid the mess, invest in pre-made shakes. However, if you want a complete meal, try these options on your next getaway:
Omelets
The best part about omelets is how easy it is to load them with all your favorite ingredients in one perfect flavor explosion. Below, you'll find a quick and easy recipe that's quick and easy.
Three Eggs
Butter
Salt and Pepper
Shredded Cheese
Bacon and Sausage
Bell Pepper and Onion
Mix the eggs until smooth and pour into a preheated pan after putting a pat of butter in the pan. Once the eggs are set, cover half of them with your ingredients. Fold the uncovered side onto the filled half and cook for 1-2 minutes before plating.
Pancakes
Nothing screams breakfast like pancakes. While there is a bit of cleanup afterward, it's manageable, especially if the others help. Consider adding a little zest to your next breakfast with this recipe:
All-Purpose Flour
Baking Powder
Tablespoon of Sugar
Tablespoon of Cinnamon
Pinch of Salt
Milk and butter
One Whole Egg
Tablespoon of Maple Syrup
Sift the dry ingredients together and slowly combine them with the wet ingredients. Once stirred into a batter, scoop onto a hot griddle or pan. Cook for 2-3 minutes and then flip. Continue cooking until both sides are golden brown. Top your pancakes with additional syrup and other toppings of your choice. For extra credit, add bacon and breakfast sausage on the side for a well-rounded meal.
Lunch Time
For lunch, you can't go wrong with making sandwiches or eating light snacks, especially if you're playing all day. However, you may want a break from cooking. The good news is that eating out for lunch is cheaper and perfectly suited to eating on the go, making this one meal to go ahead and splurge without risking your vacation plans.
Ending with Dinner
While you might want to eat at a fun restaurant you can't enjoy back home, that doesn't mean you want to do that for every dinner. For those nights you want to stay at the cabin or save money, you can't go wrong with these meals:
Fried Rice Meals
We're going to cheat a little with this one. Traditional fried rice meals take a bit of time or extensive prep time. This approach takes all the time and prep out, so you can go from cooking to eating in 25 minutes. What you'll need are:
90-second Rice Packets (multiplied by the number of people)
Three Eggs
One Onion
Spicy Yum-yum Sauce
Crushed Red Pepper
Salt and Pepper
Boneless Pork Chops
Salt and pepper the pork chops and pan-fry with butter. Cook the meat thoroughly and then set it aside to rest. Mix the eggs and pour them into a separate pan. As the egg hardens, chop it into little pieces.
While the egg is cooking, zap the 90-second rice in the microwave. Once cooked, throw the rice into the pan with the chopped eggs and start frying. Slowly add the chopped onion and half of the spicy yum-yum sauce to the rice.
When the rice is almost finished, slice the pork chops into small pieces and stir with the other half of the sauce and crushed red pepper. Once fried to desired texture, plate and serve. The best part about this meal is you can enjoy multiple variants of the same dish, so no one meal is the same.
Drinks For Everyone
Don't forget to invest in drinks for the entire group. An easy way to ensure no one goes thirsty is to get a couple of ice chests and fill them with cans and bottles of your favorites. Make sure to add bottled water, especially if you plan to hike while staying in the Smoky Mountains.
Start Planning Your Vacation Now
Without question, the better prepared you are, the less stress you'll experience. That's why it's vital to start planning your vacation now. Not only do you need a cabin rental that provides a fully equipped kitchen, but it also provides other desirable amenities like a hot tub, a game room for the kids, or a jetted tub for private relaxation.
Hopefully, with our picks for the best meals to cook on vacation and a little experimentation on your part, you'll enjoy the perfect Pigeon Forge escape with those who matter most. We hope to see you soon!