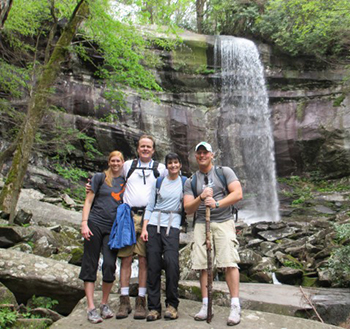 Hiking in the Smoky Mountains is a fun way to explore the inner beauty this natural preserve holds. Aside from the spectacular beauty of the Great Smoky Mountains National Park, there's hidden treasures waiting to be discovered along the Park's numerous trails. Many of the park's trails are easy 15 minute to Half-Day hikes well marked and easy to navigate. There are several Full-Day hikes and longer challenging Back-Country hikes for the more experienced back packer.
Whichever hike you decide upon, we felt you may benefit from these 7 safety tips before heading out on your Smokies adventure:
Staying hydrated: on a hike is the first rule of thumb! Make sure you drink plenty of water before starting your hike and carry plenty of water with you. Remember, sometimes hikes take longer than expected, especially when hiking in the backwoods off marked trails.
Failing to properly prepare: Being unprepared is one of the most common errors made by hikers, novices to skilled. Know the season you're hiking in and check weather predictions past the expected duration of your hike. If someone in your party or another where to become injured the length of your hike may be extended. Make sure you have the proper clothing and that your shoes are comfortable yet supportive for the terrain you will be hiking. Here is a list of 10 Hiking Essentials, you may not need them all, especially on very short hikes, but this is a great list as you develop your hiking skills and venture further from the beaten path to new adventures in the Tennessee Smoky Mountains.
Underestimating the trail: This is a very common mistake amongst novice hikers but can happen to advanced hikers as well. When hiking areas new to you or members of your group you want to get and share as much knowledge of the area as possible. Sugarlands Visitor Center (gatlinburg) offers handy guides to the park trails providing lengths, estimated hike duration and difficulty. View some of our online Smoky Mountains trail information as well. Is everyone in your group physically fit for the possible level of exertion the planned hike will require? Even experienced hikers need to start small and work up to the more challenging trails, especially after long gaps between hikes.
Natures Plants and Animals: The Smoky Mountains is one of the most diverse nature preserves and is home to boundless plants and animals, some dangerous. Whether on the marked hiking trails or the backwoods of the Smokies, nature can surprise anyone. Be aware of the possible dangers along your hiking venture. Come up with a plan for handling any situation that may arise and share the plan with everyone in your group several times before starting out. Now would be a great time to know if anyone in your group is allergic to particular plants or animals (bees, poison ivy, etc). Carrying a small first aide kit for hikes over 2 hours is well advised. Stay alert to your surroundings and carry a walking stick (not rotten) just in case.
Hiking alone: While some hikers may enjoy going alone, it seems most enjoyable and recommended to go in groups. It's fun sharing experiences with others. Either alone or as a group, it's best to leave a copy of your hiking plans with someone outside of the planned hike. If possible, leave a map, cell phone numbers to everyone with phones in the group, your estimated departure and return. On longer hikes, if possible, short calls or texts to let the party know your progress is a good thing as well. Most hikers with smartphones will have a GPS application, this is great and helpful if it works along the trail you're on, in the Smokies that's rarely the case.
Hiking off-trail: Unless prepared to hike off-trail, you or someone in your group can easily get lost or injured. While many experienced hikers travel off-trail, they are well-prepared and still run into troubles from time to time. Several Smoky Mountains hikers are lost and injured every year, the reason for this post, and we don't want you to be one of them. Unless you are experienced and well equipped to leave the marked hiking trails we suggest staying on the trails.
Abandoning the Hike Plan: Seasons and weather can quickly effect the time it takes to complete a planned hike. If you prepared well, left a Hike Plan with someone, your return at the set time is very important to the person watching your back. Should unknown circumstances add to the time needed to complete your hike it's imperative you return on time, even if you must turn back short of your intended destination! Keep an eye on your watch, and determine when you'll need to begin heading back to safely reach your car or campsite ON Time.
We hope these tips will help as you plan your Smoky Mountains trail hike or backcountry adventure. While Gatlinburg and Pigeon Forge offer guests lots to see and do, you can't beat a nice free tranquil trail hike in the Smoky Mountains. Make sure to bring a camera, there's no doubt you'll be taking some pictures.
If you haven't booked your Smoky Mountains vacation lodging, check out Cabin USA's Pigeon Forge rental cabins for nighttime fun next to the hottest attractions in the Smokies or Gatlinburg cabins and chalets for remaining close to the Great Smoky Mountains Park entrance and your group's next memorable hike.
Written by Brittany Tipton