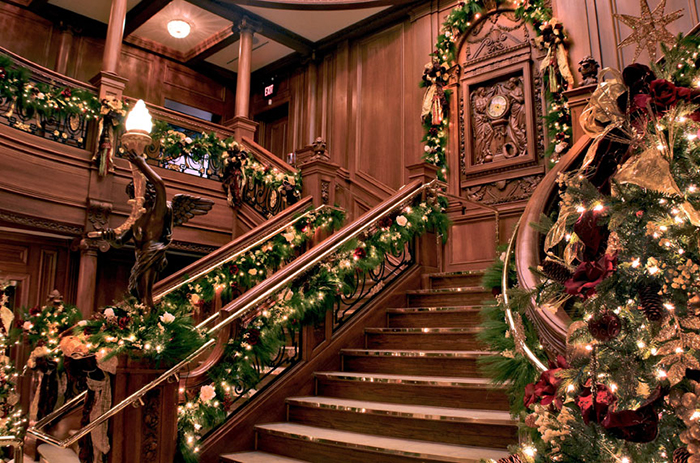 The Tennessee Smoky Mountain fall colors now passing in the wind and soon winter's snow will top Mount Leconte only letting us know Christmas is fast upon us.

Tennessee Smoky Mountain Christmas' have been a yearly pilgrimage for families from all around the nation. An opportunity for families to come together in one festive destination and enjoy the Christmas spirit together! Centrally located from most directions, families require less travel time and find the Tennessee Smokies offers a large array of activities for the entire family to enjoy when visiting for Christmas.

November is the start of the Smoky Mountains Winterfest, when Christmas lights adorning streets and buildings are turned on throughout Sevierville, Gatlinburg and Pigeon Forge. Family members walk through festively decorated shops for special gifts. The mountain carries the occasional whiff of spiced cider and is filled with the scent of log cabin fireplaces.

Sevierville Winterfest kicks off at the Sevierville Municipal Complex November 12th 3p.m.-7:30pm with music, lights and magic. There's free food, local entertainment, kids' games and fireworks with the evening wrapping up with the ceremonial "flipping the switch" for the area's first Winterfest lights. Pigeon Forge Winterfest's Celebration follows with their kick off starting at 4:30p.m. with their annual Veterans Day Parade to immediately be followed by Winterfest ceremonies in Patriot Park. Gatlinburg's Winterfest Kickoff takes place November 13th and warms things up a bit with their Chili Cook-Off, for more info call 800-568-4748.

Both Gatlinburg and Pigeon Forge Trolley Tour of Lights will start the same night as their respective Winterfest ceremonies. The Pigeon Forge Tour of Lights trolley tours originate from Patriot Park and Gatlinburg's Tour of Lights trolley originates at the Ripley's Aquarium of the Smokies.

Gatlinburg invites several local area businesses to decorate and donate Christmas trees for the November 26th-30th Festival of Trees, at the W.L. Mills Conference Center. Come view the spectacular array of themed trees and other displays. Place your bid to take one of these ornately decorated trees home with you. For more info call 800-588-1817. The Gatlinburg Convention Center is also host, November 26th thru December 8th, to the Great Smoky Arts & Crafts Holiday Show.

The Titanic Museum Pigeon Forge is shipping into shape for their annual Christmas season with a spectacular Thanksgiving fireworks display November 28th thru the 30th. The evening sky will blaze into colorful light as the Titanic Museum attraction's second annual fireworks display honors the lives of the ship's passengers, crew and rescuers. The annual tradition of snowfall from the ship's bow will occur throughout the Thanksgiving weekend and will continue every Saturday in December. Father Christmas, dressed in 1912's attire, will appear during the magical snow days.

The Island in Pigeon Forge will hold their first annual lighting of a 35-foot tall Christmas Tree! This lighting ceremony will take place on Nov. 28th and the festive decorations at the Island will be up all December. Additionally, Paula Deen will be attending this festive event complete with pictures from Santa, a ginormous snow globe, and a 60-person choir performing songs with a choreographed light and fountain show.
Starting after Thanksgiving is Gatlinburg's Winter Magic Tunes & Tales, a great opportunity for the family to stroll the streets of Gatlinburg taking in the festive Christmas lights and listening to musical street performers. These fun carolers roam Downtown Gatlinburg on weekends from Thanksgiving to Christmas.

Nearby historic Dandridge, TN will celebrate Christmas in Dandridge December 6th at 5p.m.. Downtown activities include extended shopping hours, carriage rides, carolers, and much more!!

Cabins USA would like to help make your holiday stay extra special. We in invite you to book one of our Gatlinburg or Pigeon Forge cabin rentals online, where you get an immediate cabin rental discount, and share a most memorable Christmas with family and friends in the Tennessee Smoky Mountains!
Written by Brittany Tipton