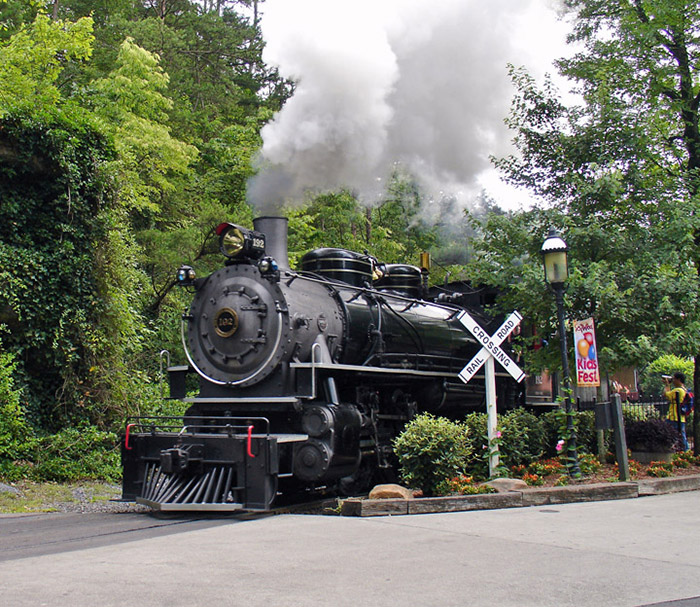 There's nothing quite like the family fun in the Smokies you'll find at Dollywood Theme Park. With its exhilarating thrill rides, mountain theme, delicious Southern food, entertaining shows and more, Dollywood has and continues to be, a favorite destination for families. This year promises to be better than ever with Dollywood's 30th Anniversary to be celebrated beginning in March of 2015!
Dolly will be celebrating this milestone with several new features to the Dollywood, including DreamMore resort and $5.5 million of improvements to enhance the guest arrival experience.
So, if you're planning a trip to a cabin near Dollywood, make sure to head to this famous theme park for some family fun in the Smokies.
Dollywood's 30th Anniversary: Dollywood 2015 Events and New Additions
According to a press release on Dollywood website, Dolly Parton said that she initially just hoped to have people show up at the park and couldn't have imagined what an iconic landmark Dollywood would become.
Dolly could think of no better way to celebrate 30 years of family magic than with wonderful festivals, a new music event, and more! While Dollywood Theme Park is sure to enjoy many more years of dreaming, here's the new things to see at the 30th Anniversary season.
Parking Lot Improvements
Upon entering Dollywood in 2015, guests will find larger and more easy to navigate parking facilities along with new tram to more efficiently transport guests to the front gate.
This is a welcome change for guests who often cite parking hassles as one of the areas where the park could improve. Dollywood has taken the feedback and will be spending over $5 million on these new facilities to make the Dollywood Theme Park experience unforgettable from the moment you arrive.
Rock the Smokies
Dollywood is well known for its various celebrations of music and song. During the Dollywood 2015 season, guests can enjoy a whole new music production "Rock the Smokies" which will feature inspiring contemporary Christian music artists from across the country on stages set up throughout the park.
The event kicks of on Sept. 5th and lasts throughout Labor Day Weekend. This event of praise and worship is perfect for church youth groups seeking to end the summer with an energizing, inspiring event. Smoky Mountain group cabins offer the perfect chance to bring your entire group to the Smokies for this unique event that's sure to be a hit for years to come.
Festival of Nations
Dollywood's 30th anniversary season kicks of with the vibrant Festival of Nations (March 21- April 20). The celebration of the world's culture features many returning favorite acts from the festival's colorful history, including Rhythm of the Dance. This lively Celtic music and dance spectacular celebrates Ireland with its authentic musicians and dancers.
Other returning acts include a steel drum band from Trinidad, The MariachiDivas, as well as the Zambian Vocal Group. A new act for the Dollywood 2015 season is Timber!, an energetic show showcasing feats of agility and strength to a traditional French-Canadian soundtrack.
Barbeque & Bluegrass and The Great American Summer
Dollywood Theme Park marks the beginning of summer with the annual Barbeque & Bluegrass Festival (May 23 to June 7th). Offering some of the tastiest barbeque in the South and the best pickin' and grinin' in the Smokies from International Bluegrass Music Association winners.
During The Great American Summer (June 13th to August 2nd) offers longer park hours - 10 am to 10 pm daily - as well as a newly reworked nightly fireworks extravaganza featuring new music and interactive elements to commemorate the exciting Dollywood 30th anniversary.
Southern Gospel & Harvest Festival
The Smokies are perhaps their most beautiful in the fall when the whole landscape is painted with shades of orange, red, yellow, and gold. This is a great time to visit Dollywood Theme Park during the Southern Gospel and Harvest Celebration (Oct. 2 - Oct. 31st). The park is filled with the inspiring sounds of gospel music with the multiple free concerts during this autumn event.
Dollywood's Smoky Mountain Christmas
Having won Best Christmas Event for seven years in a row, Dollywood's Smoky Mountain Christmas (Nov. 7 – Jan. 2, 2016) is one of the best ways to spend the holidays! Featuring four million holiday lights and dozens of spectacular holiday performances, including Dollywood's A Christmas Carol, visitors can enjoy a holly jolly Christmas in the mountains. Rudolph The Red-Nosed Reindeer and his friends will be returning for the Dollywood 2015 season after their overwhelming popularity during their debut appearance in 2014. From the award-winning Christmas shows to elaborate holiday decorations and twinkling, you'll find the spirit of Christmas at Dollywood's 30th Anniversary celebrations.
FireChaser Express
FireChaser Express technically opened as part of the 2014 season, but its construction is still a large landmark for the contined success of Dollywood Theme Park. This coaster is the the first ever family dual launch roller coaster in the area. Even children as young as 3 can enjoy it! Make sure to test out the latest roller coaster during the Dollywood 2015 season.
Dollywood Cabin Rentals
The best way to enjoy Dollywood's 30th Anniversary is to stay at a cabin near the amusement park. Here, you can enjoy spacious accommodations as well as features such as jacuzzi tubs and games rooms, making for a relaxing space the whole family can enjoy.
Make sure to reserve your Dollywood cabin for the Dollywood 2015 season and celebrate the legacy of 30 years of family fun with those you love most!
Written by Brittany Tipton