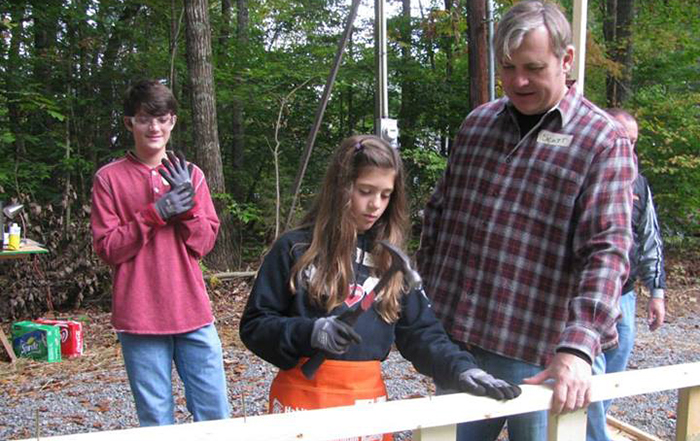 Smoky Mountain Harley-Davidson Sponsors Gibbs Habitat House Build
Smoky Mountain Harley-Davidson is the sole sponsor for the Gibbs' home build, referred to as the Harley House. Scott Maddux, owner of several Harley Davidson retail stores in the Smoky Mountains area, worked with Blount County Habitat For Humanity Volunteer Coordinator Susan Hughes for over two years to co-ordinate the build. During that time, Harley riders conducted charity motorcycle rides, created and sold T-shirts, and raffled off a Harley-Davidson motorcycle. Smoky Mountain Harley Davidson then donated the remainder of the $45,000 needed to sponsor the house build.
The first Saturday 50 volunteers joined members of the Gibbs family to start the Harley House build. Most wore Harley-Davidson regalia and several are members of the area H.O.G. (Harley Owners Group). Scott Maddux hammered nails into a portion of a wall of Gibbs' soon-to-be home along with several other volunteers putting forth their skills. Sadie Martin and Caylee Gibbs, the youngest children in the Gibbs household, checked boards for signs of warping with the help of Scott Maddux's daughter, Pruett, while 17-year-old Brandon Martin, the Gibbs family's oldest son, and friends Rylin Kidd, Jarod Bowers, and Alan Millsaps started building the shed in the back corner of the property. Harley-Davidson motorcycles lined the streets and made locating the job site easy. Most of the crew nailed parts of the wall together, while several sawed. The group lifted the first wall about 10:30a.m. that Saturday morning and everyone cheered. Before the day was completed three walls had been raised.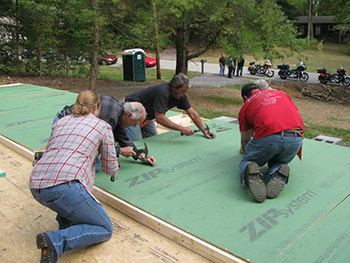 Construction of the one-story ranch house started several weeks prior to Saturday's start of the build with the base and crawl space. The land for the home was deeded to Ms. Gibbs by her grandfather after her father's passing. She, her husband Lee, and three teenaged children helped build the foundation and shovel gravel in the crawl space as well as painted the cement blocks prior to Saturday's build. Blount County Habitat For Humanity hand-delivered the letter informing the Gibbs' family that they had been selected to receive a Habitat house. The family expressed great appreciation and thankfulness; it was a very welcomed miracle. New homeowners must take classes in budgeting and basic home repair, as well as, learn other skills to make sure they can continue to manage their expenses and maintain their new homes. Despite trying moments juggling a job, classes, family and volunteering, Ms. Gibbs and the family persevered.
Quoted by Rheta Murry (rhetam@thedailytimes.com) "God even stepped in recently when she couldn't get enough hours at her job. Gibbs said that she asked her pastor's wife to pray about this situation. Within a few minutes, Crystal said, an old acquaintance called her regarding a position in the health care field with more hours and more money. She took it."
Smoky Mountain Harley Davidson had expanded and Scott Maddux's other Harley stores throughout the Smokies had all grown. Maddux stated, "It's a good feeling to make a big difference in someone's life." He added, "It's nice when you can do things for the community."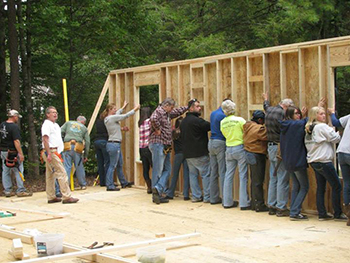 Cabins USA Pigeon Forge was touched by the stories already having been shared surrounding Smoky Mountain Harley Davidson's Harley House Gibbs' home build. Some of Cabins USA's employee's are Harley riders themselves, so the need to contribute was felt and a call placed to Susan Hughes. Ms. Hughes responded by contacting Scott Maddux and it was soon agreed Cabins USA could help by encouraging volunteerism.
Volunteers Needed
Volunteers will be awarded tickets for each day they work on the Gibb's Home Harley House build. When the home is completed and on the day of dedication, one ticket will be drawn from all the deposited tickets. Cabins USA Pigeon Forge will award the ticket holder with a certificate, good for one year, for a Free 2 Night Smoky Mountains Cabin Stay! This is Cabins USA's way of thanking the volunteers, Smoky Mountain Harley Davidson, and Blount Habitat For Humanity for their dedication in making our communities and families better one home at a time.
Building skills are not required to volunteer and there's more work to be done on the Gibbs' Harley House home. The build is continuing three days a week — Tuesday, Thursday and Saturday. Anyone wishing to volunteer can show up on site or email Susan Hughes at susan@blounthabitat.org. Don't forget to pick up your Volunteer ticket for the 2 Night Smoky Mountains Cabin Getaway by Cabins USA!
Directions: 4016 Gamble Lane. Travel on E. Lamar Alex. Parkway toward Townsend. Once you get to Heritage High School, Jethro's tire store is on your right. Just beyond Jethro's is Sims Rd. Take a right onto Sims Rd. and an immediate left onto Gamble Lane. The house is about ¼ mile on the right.
Written by Brittany Tipton