If you love Pigeon Forge and the Smoky Mountains, you'll be ecstatic about all the new things in Pigeon Forge in 2015! This once quiet mountain community is now more exciting and fun than ever before thanks to new additions to the Pigeon Forge Parkway and landmark events!
If the Smoky Mountains are close to your heart, you ought to come see these new things in Pigeon Forge that promise to make the Smokies an even more action-packed destination for your family vacation!
As spring turns to summer, Pigeon Forge is shifting into full gear! We've made a quick reference guide for new things to look for in 2015 Pigeon Forge in the Smokies for your visit!
New Things in Pigeon Forge 2015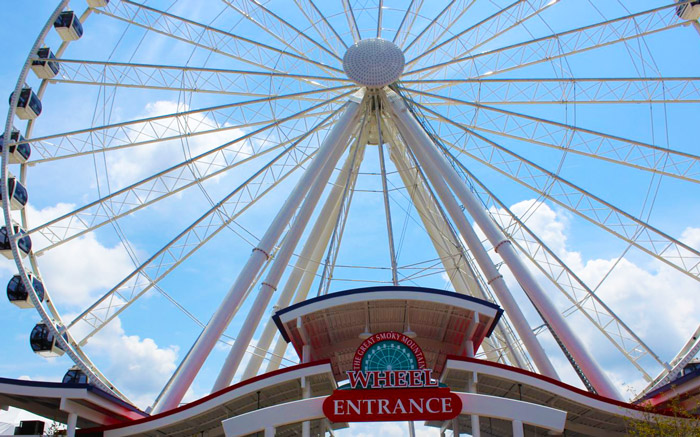 Dollywood's 30th Anniversary Season
If you ever needed a reason to visit Pigeon Forge, Dollywood's 30th anniversary celebration is more than enough to justify taking a few vacation days! To mark 30 years of family fun, Dolly had planned a new line up of special performances and events to make 2015 a landmark year for Dollywood.
On top of special celebrity concerts planned in August that features Dolly Parton and her friends, a new fireworks show will turn up the heat this July. Improved parking and visitor shuttles are also a part of Dollywood's celebration. Dollywood is also set to be open on Thanksgiving Day and New Years Eve – an unprecedented opportunity for families to make special memories at this theme park.
The National Park has a new Superintendent
2014 was a big year for the Great Smoky Mountains National Park for several reasons. Chiefly, the park broke previous visitation records with well over 10 million people visiting the Smokies.
Next, the park service has named Cassius Cash as the new Superintendent of the Smoky Mountains National Park! The future looks bright for America's most visited national park as it strive preserve natural resources for future generations while also providing a quality experience for visitors.
Paula Deen Has A New Restaurant
What celebrity chef has brought her classic southern flair to Pigeon Forge? It's Paula Deen Ya'll!
After months of anticipation, Pigeon Forge is glad to see the brand new Paula Deen's Family Kitchen open on April 27, 2015. This $20 million restaurant is all set to deliver delicious southern classics at The Island in Pigeon Forge.
Even with seating for 300 guests, Paula's popular reputation for southern hospitality is bound to have locals and visitors lining up out the door for quite some time. If you're in the Smoky Mountains in 2015, you won't want to miss this incredible addition to the Pigeon Forge restaurant scene!
The Island is in Full Swing
Though the Island in Pigeon Forge officially opened in the summer of 2013, this brand new shopping, restaurant, and dining destination has really hit its stride. The 200 ft. tall Great Smoky Mountain Wheel has become a beloved addition to the Pigeon Forge skyline and more landmark restaurants continue to open at the Island.
In addition to Paula Deen's Family Kitchen, a Jimmy Buffet's Margaritaville has found a home at the Island. Additionally, Old Smoky Moonshine opened the Ole Smoky Moonshine Barn at the Island in 2014. The Barn features a moonshine retail space and tasting rooms where visitors can try free samples and enjoy live concerts most weekends during the summer season.
Harpoon Harry's Crab House
A brand new seafood in restaurant is slated to open on the Pigeon Forge Parkway in April of 2015! This exciting new restaurant will feature the best of the ocean's bounty and an incredible new look.
No expense has been spared on the restaurant's interior. More than $3 million has been spent on renovations of the previous property thus far, including a rough-hewn interior from local black walnut, red cedar, and cherry trees. An acclaimed artist has been busily working on 60 wood carvings to adorn the restaurant.
Once the renovations are complete, Harpoon Harry's will be one of the largest restaurants in all of Tennessee with seating for 650 guests and boast 26,000 square feet of dining space.
Harpoon Harry's plans to make this new space a hotbed for live music in Pigeon Forge so stop by this new restaurant if you'd like to hear some rocking bands this summer!
The Dixie Stampede Dinner Theater
Much like Dollywood, this classic Pigeon Forge institution is bringing big changes to Pigeon Forge! Along with a new lighting and sound system, the famous dinner theater is also getting a high resolution backdrop screen to add new elements to the performance.
New special effects and surprises are going to dazzle audiences in 2015, along with a new musical score. Some classic songs and dances will be preserved while new acts are being incorporated into this beloved local show.
Every Stream in the National Park is Now Open For Fishing
In March 2015, fly fishermen rejoiced at the news that ever stream in the Great Smoky Mountains National Park is now open to fishing. Lynn Camp Prong, the last stream undergoing trout restoration in the Smokies, has been successfully restored to be a healthy brook trout stream.
After years of research and effort, park biologists, volunteers, and regulations have managed to improve native brook trout populations in much of the park. Grab your fly rod for your next trip to the Smokies to experience one of the only brown trout watersheds in the Southeast!
New Alpine Coaster in Wears Valley
In recent years, a new fad has swept the Smokies – alpine coasters. These unique roller coasters, once only found in the Alps, are coaster tracks that follow natural terrain. Vacationers and locals can't get enough of these thrilling rides and there have been five new alpine coasters introduced to the Smokies.
The newest is the coaster at Goats on the Roof in Wears Valley. This mountain coaster boasts a mile long track and speeds of 30 miles per hour. A hand-brake system allows you to control your descent with whatever suits your comfort level.
Screaming Good Times at Outbreak
A new year-round fright house has come to Pigeon Forge and its an attraction "to die" for!
"Outbreak – Dread the Undead" is one of the newest attractions in the Smoky Mountains. This year-round zombie attraction features life-like animatronic zombies and a host of new technologies to provide an exceptional experience.
Carefully orchestrated lights, music, fog, and sights all blend together to make it feel like you're really there. This fun and creepy attraction even features 5 unique scents that are introduced to different scenes in the zombie adventure. This newest attraction is part of the Hollywood Wax Museum Entertainment Center.
Outdoor Gravity Park
A new OGO Park has just opened in Pigeon Forge, TN! If you're unfamiliar with OGO's, they're a lot like zorbs, but even better suited for downhill adventures.
Riders can descend a 1,000 ' hill in these large orbs filled with water. In fact, the practical effect is going down a long slide as the OGO makes many revolutions and you stay in one place. Adding to the fun is that up to 3 riders can be in one OGO at a time. Visit the Outdoor Gravity Park for unique summer fun you'll never forget!
Final Thoughts on Pigeon Forge in 2015
With new restaurants, shows, and thrilling attractions in Pigeon Forge and the Smoky Mountains, there's little wonder why the visitors come back to the Smoky Mountains again and again. All in all, it's clear to see that 2015 is going to be a great year in Pigeon Forge!
Written by Adam Shafer