Charles Dickens' A Christmas Carol like never before!
Tennessee Smoky Mountains visitors are sure to be blessed this Christmas season by Dollywood's latest contribution, the classic Charles Dickens' "A Christmas Carol." One might say the new holographic technology used to bring Dolly Parton on stage each performance is magic. However, watching the show you'll discover the cast are what makes the real magic happen.
Dare say, if Charles Dickens were here with us today he would be honored by such a riveting performance of his work. Over the years I've seen numerous renditions of this particular story and many have been very good, but this has by far been the most stellar performance I've witnessed to date, accolades to ALL for having made this story come to life in such a magical way!
Interacting with holographic technology requires precise timing, key stage placement and performers with the keen ability to interact with someone or something that is truly not there. Ebenezer Scrooge, as well as the other actors and actresses, made it all come together in a most believable Christmas story come to life.
The cast's ability to interact with each other was every bit as impressive as the holographics. Lines were delivered with pinpoint accuracy and effectiveness. Beautiful music and songs filled the auditorium, when needed the cast belted out in the festive spirit of Christmas and when called upon the most angelic warmth reaching into the hearts of the audience grabbing tears from the coarsest of souls present. Yes, these actors and actresses can be proud of their performance and delivery of the Tennessee Smoky Mountains Christmas magic to so many others.
While easy to recognize the talent put forth in such a magnificent presentation of Charles Dickens's "A Christmas Carol," it's very important to recognize the play writers, song writers, stage staff and all those behind the scenes required to execute such a monumental show. Their impressive contributions showed brightly throughout the entire performance, to them a well deserved bow.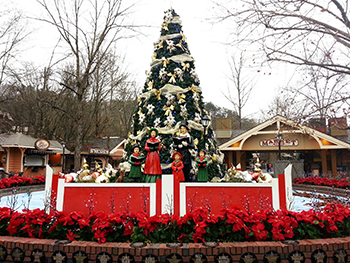 Charles Dickens' "A Christmas Carol" performances will continue now thru the Dollywood season, Jan 4th, 2014. This is a must see show for those fans of Dolly Parton and families looking to share the Christmas spirit. While visiting the Smoky Mountains Pigeon Forge area this Christmas season, you may also want to see Biblical Times Dinner Theater's holographic version of "The Christmas Story," now until January 4th, 2014 as well.
Planning to celebrate your family Christmas in the Smokies Pigeon Forge area, check out our Pigeon Forge cabin rentals. Cabins USA offers log home vacation rentals in Pigeon Forge, Gatlinburg, Sevierville and scenic Wears Valley. We have over 220 vacation cabins to choose from and would be glad to assist you in locating the perfect accommodations for your family's memorable Tennessee Smoky Mountains Christmas!
Written by Brittany Tipton