As spring turns to summer, Americans know that it's time to take a vacation. While we all love taking a relaxing trip, we know they can cost a pretty penny. So how can you make the most of your vacation without breaking the bank?
Simply visit Pigeon Forge! We've got excellent travel, lodging, food, and entertainment tips to help you save for your vacation on a budget. These 19 money saving tips and activities are not only cost-effective, but they're also perfect for a truly fun-filled getaway.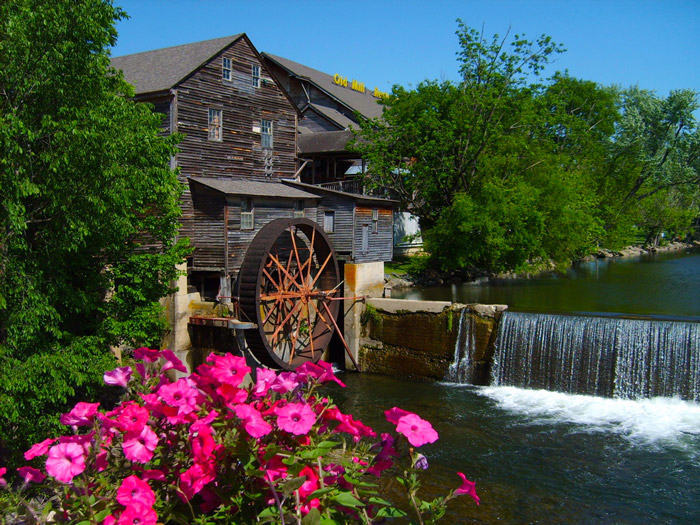 Save On Travel
Thanks to low gas prices, traveling to Pigeon Forge and around the Smoky Mountains is very affordable. For your Pigeon Forge vacation on a budget, here are some expert tips to save on transportation.
1. Ride the Pigeon Forge Trolley
You can park at Patriot Park for free than ride the trolley for as little as $0.50 per rider. With routes to Dollywood and Downtown Gatlinburg, it's easy to get to popular destinations in the Smokies. Parking can be as much as $10 at Dollywood and Downtown Gatlinburg, so you'll save big when you ride the trolley.
2. Stay Close To Attractions
Another way to save is to book a convenient cabin that's close to the sights you want to see. Not only will you spend less on fuel, but you'll also conserve your vacation time for exploring attractions.
Save On Lodging
We all want a great deals and a comfortable place to stay on vacation. Luckily, an affordable Pigeon Forge cabin can give you the best of both worlds! Be sure to reward your budget-friendly decision with a relaxing dip in your cabin's hot tub with a beautiful view!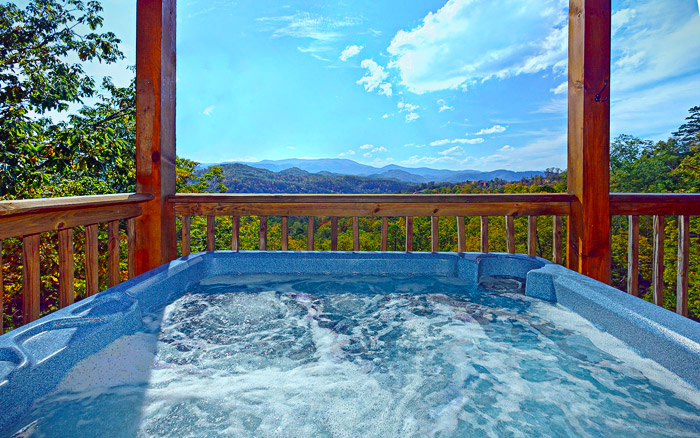 3. Book a Cozy Cabin
Honeymoon cabins are an affordable option for small family vacations in the Smokies. These come with competitive rates and nice features like hot tubs, cabin decks, and views.
4. Book a Big Cabin
By pitching in on a larger cabin with your friends, you can enjoy great cabin comforts and split the cost of your nightly rate! Best of all, you'll get to save on your Pigeon Forge vacation and share it with great company.
5. Visit in the Off-Season
You'll find the best rates on cabins during the off season in Pigeon Forge between New Years and Easter.
6. Reserve Weekdays
Weekday rates are generally more affordable than reserving a cabin on the weekend.
7. Ask About Military Discounts
Cabins USA offers a 20% discount for active or retired military. Please call our office for more details. Valid ID or proof of service is required at check in.
8. Be A Return Customer
Cabin Rental Companies often offer special discounts to past customers that are available no where else. Signing up for the newsletter is another great way to find great deals on a cabin in Pigeon Forge.
Save On Food
There's no doubt you'll want to try a few famous restaurants in Pigeon Forge during your stay, but you can easily save by trying some of these alternative tricks and ways to save on your vacation.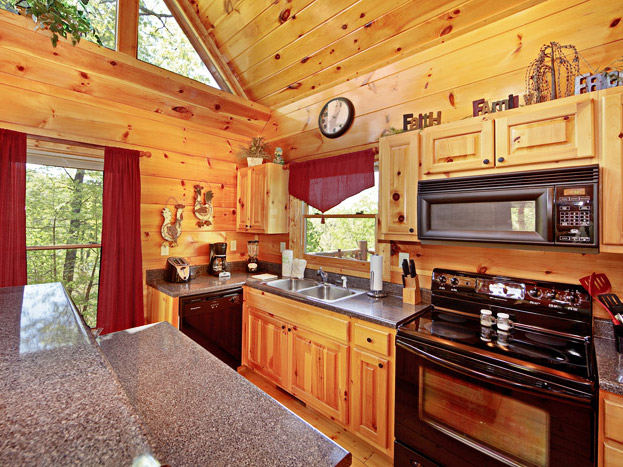 9. Try Home Cooking on Your Vacation
Nearly all of our properties come complete with a full kitchen so you can prepare meals in the comfort of your rental. From making a quick breakfast in the morning to a delicious barbecue dinner from the grill, having a cabin kitchen and a grill isn't only cost-effective – it's delicious.
10. Go Picnic in the National Park
Not only is picnicking in the national park a great outdoor activity, it's also great for your vacation on a budget! As an added perk, it's easier to pack your picnic basket in your cabin's kitchen. Most picnic spots in the park often have charcoal grills that are great for making burgers, hot dogs, and s'mores.
11. Pack Tasty Snacks
Bringing a cooler in the car with water, snacks, and lunch is a great way to avoid making too many stops at local restaurants. Plus, you'll enjoy the convenience of eating whenever you want!
Save On Entertainment
There's a lot to see in Pigeon Forge and the Smoky Mountains. Here are some ways to keep ticket prices from taking a hefty chunk of your vacation budget.
12. Stop By A Brochure Stand
When you stop by a visitor's center or restaurant, you're bound to see a brochure stand that's filled with coupons for local attractions. MyPigeonForge.com also has an up-to-date list of coupons, deals, and discounts.
13. Book Show Tickets Online
Many theaters, attractions, and dinner shows offer cheaper rates when you reserve seats ahead of time online.
14. Look For Theater Combo Tickets
If you plan on seeing multiple shows and dinner theaters, check for combo tickets. You'll see more shows for a discounted rate.
15. Score Free Half Days At Dollywood
Update: Dollywood Theme Park may no longer be offering this deal. Dollywood has not made an official statement, but there are reports that Dollywood is no longer offering this special.
If you arrive after 3 PM at Dollywood, you the next day is free at Dollywood and Dollywood Splash Country. Not only can you enjoy 1.5 days at Dollywood, this special is a great way to scope out coasters for your next day at the park.
16. Find Great Deals at Tanger Outlets
Many of the shops in Tanger are factory outlets that boast great prices on popular brands. While going on a shopping spree might not be the best way to save on your vacation, you'll at least be getting a terrific deal.
17. Go Tubing on the Little River
Floating down the Little River in Townsend on an inner tube is a perfect activity for a budget vacation. With tickets as low as $15, floating down a beautiful mountain river is an incredible way to spend an afternoon.
18. Walk Around Patriot Park in Pigeon Forge
This scenic park on the Little Pigeon River is a nice place to enjoy a walk near the Old Mill in Pigeon Forge and it's absolutely free to enjoy. After a stroll, you can visit the historic Old Mill Restaurant for some delicious county cooking.
19. Check Out The National Park
Every overlook, hiking trail, scenic drive, and waterfall is completely free to see in the Great Smoky Mountains. Take a drive up to Clingman's Dome for some incredible views or stop by the Sugarland's Visitor Center for a free museum tour. Check out our hiking trail guide to find your outdoor adventure in the Smokies.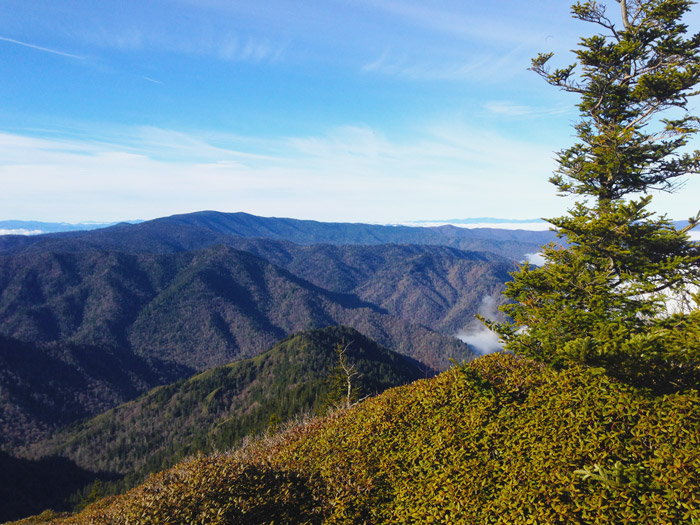 Final Thoughts on Budget Vacations
For your vacation on a budget, Pigeon Forge is an excellent choice. Not only is Tennessee is one of the most affordable states for travel, but it's also extremely easy to get to. Pigeon Forge is only a few hours drive from most parts of the Southeastern US, so you won't have to book an expensive plane ticket.
By choosing to visit Pigeon Forge and the Smoky Mountains, you've already paved your way to terrific savings on your vacation! Be sure to reward to reward yourself with an incredible and affordable cabin stay in beautiful Pigeon Forge, TN!
Cabins USA can make your Pigeon Forge budget vacation even better with our special 15% discount. Simply find your dream cabin in the Smokies and earn great savings on your stay!
Written by Mark Frazier