We all love Pigeon Forge, but sometimes we don't love the traffic. With nearly 12 million visitors annually, it's no wonder that the roads in the Smoky Mountains become congested at times.
No one wants to spend their vacation stuck behind the wheel, but how can you beat the traffic in the Smokies? Luckily, there are plenty of ways to avoid Pigeon Forge traffic! We've made a quick guide on how to escape busy roads on your Pigeon Forge cabin rental vacation!

When is there Traffic in Pigeon Forge?
Luckily, traffic is not always bad in Pigeon Forge and major traffic events are rare. But there are certain times of year when roadways are more congested. If you can't stand being stuck in traffic, you may want to plan your vacation around these big events in Pigeon Forge.
Parades – Dolly's Homecoming Parade and 4th of July Parade


Major Car Show Weekends – Spring Rod Run, Shades of the Past, and Fall Rod Run


Holidays - Spring Breaks, Christmas, Memorial Day Weekend, and Labor Day Weekend
Possible Traffic Times
Even when there aren't big events causing traffic backups, there are some predictable points when the roads will be busier. These times are famous for clogging the main roads with more vehicle traffic.
After 3 PM on Fridays – Especially in summer, many vacationers are arriving for the weekend to check in. The main route, exit 407 on TN 66 into Pigeon Forge will have heavy traffic.
10 AM to 1 PM on Sundays – After visitors check out, the main road out of Pigeon Forge on TN 66 to I-40 will move slowly as everyone returns from their Smoky Mountain vacation.
When To Travel To Pigeon Forge
Timing is everything and tips for dodging Pigeon Forge traffic. Generally, traveling at different times than the bulk of other visitors will save you time and frustration.
Try Weekdays – Fewer people arrive or leave Pigeon Forge on weekdays. Also, getting around the Smoky Mountains on a weekday is far easier than most Fridays, Saturdays, and Sundays.
Visit in the Off-season – Pigeon Forge has a fairly short off-season that ranges from after New Years Day to Easter. Getting around Pigeon Forge in early spring is far easier than driving in the summer, fall, and holiday season.
Travel Early in the Day – It's far easier much easier to arrive, leave, or get around town early in the day before 10 AM. Driving at odd hours in general is a great way to dodge traffic, but this isn't always an option.
Alternate Routes and Back Roads in Pigeon Forge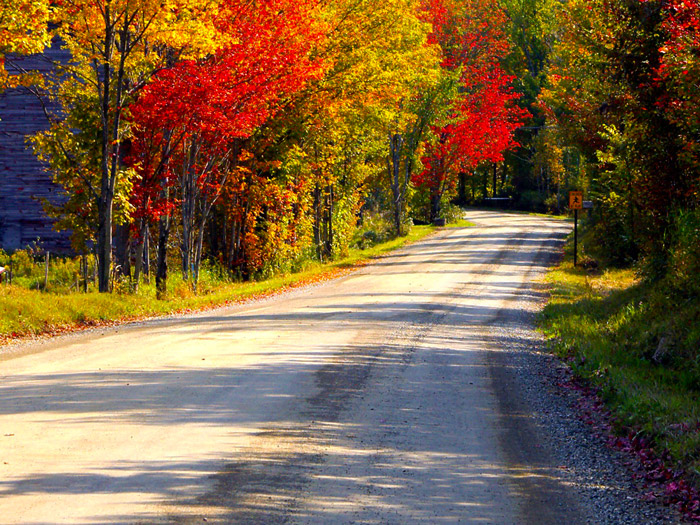 If you are traveling to Pigeon Forge during a busy time, there are some alternative routes to consider for arriving to and leaving from Pigeon Forge. These back roads will also make it easier to navigate around the Smoky Mountains during your vacation.
The Main Route
From I-40 To Pigeon Forge, TN
This is the beaten path to reach Pigeon Forge from I-40. Travelers coming from the North, East, and West all get funneled through this entrance:
When the roads aren't busy, this is the fastest way in and out of Pigeon Forge, so it is fine to take this route if you are traveling at odd hours.
The Local Secret
When driving to Pigeon Forge, one of the best ways to beat the traffic on this main route is to take US Hwy 411 known as Chapman Highway. Depending on where you want to arrive, there are back roads you can take on Chapman Highway to access points along the Pigeon Forge Parkway.
FROM NASHVILLE
Traveling West on I-40
If you are coming to Pigeon Forge from Nashville I-40 West, try this route to get around traffic:
Chapman Highway runs through Knoxville and Seymour into the heart of Downtown Sevierville. This alone helps you dodge a big section of Hwy 441, however, if you want to reach Pigeon Forge without taking main roads, there are back roads earlier on Chapman Hwy that can help you reach different parts of the Parkway.
FROM ASHVILLE
Traveling East on I-40
Taking this exit earlier on I-40 will bring you on a beautiful highway that is less trafficked than the main route into Sevierville and Pigeon Forge.
In addition to shortening your wait, this route gives you options. You can hit Veterans Boulevard, a wide road that helps you access different parts of the Parkway on the Dollywood side of Pigeon Forge.
Getting Around Pigeon Forge
While getting to Pigeon Forge on a busy weekend is no cakewalk, getting around Pigeon Forge can be just as challenging. Try these roads to get to various attractions, restaurants, and shopping outlets on the Pigeon Forge Parkway.
Veterans Boulevard – This road can help you get from Sevierville to different parts of the Pigeon Forge Parkway.
Teaster LN – This route runs parallel to the main drag in Pigeon Forge and can help shorten your trip on the Parkway.
Florence Dr. – Another good alternate route for getting around busy roads in downtown.
Where To Stay To Avoid Traffic
Some parts of the Smoky Mountains offer more driving options and alternate routes. If you're visiting Pigeon Forge during a busy weekend, but would like some peace and quiet, here are some places to stay that will help you get around traffic on the main roadways.
Not only do these areas provide quick access to the Pigeon Forge Parkway, but they can also help you reach other parts of the Smokies like Gatlinburg and the national park without having to take main roads.
Final Thoughts
One of the best ways to beat Pigeon Forge traffic is to research and plan ahead of time. If getting stuck in traffic really grinds your gears, pick travel times and dates that lessen your risk of running into clogged roads.
By exploring different routes on maps, you can find quick alternative routes on beautiful country back roads. This can save you major headaches for your travel days into Pigeon Forge.
Another takeaway is to find alternative routes around Pigeon Forge. If you plan to be in town during a busy weekend, make a list of the attractions you'd like to see and explore back roads that can get you there. A longer road may end up being faster than getting caught in gridlock.
Finally, booking a cabin off the beaten path is the best way to enjoy the Smoky Mountains if you're visiting during a busy weekend and you don't want to be involved in all the festivities. However, if you would like to be in the heart of Pigeon Forge for a big event like rod run, we do have many cabins on the Pigeon Forge Parkway for your vacation!
Written by Adam Shafer