Pigeon Forge Cabins By Rivers, Streams, and Ponds
Who doesn't love a vacation by the water? Whether you're visiting the beach or the mountains, there's no doubt you'll want to stay close to the waterfront.
Though vacation destinations like Pigeon Forge and the Smoky Mountains are miles from the ocean, the Smokies have a huge number of relaxing creeks and rivers that are popular fishing spots, swimming holes, or scenic areas. When you visit Pigeon Forge, you can enjoy the gentle sound of moving water that is good for the soul on your vacation!
We've made a list of the best places to find cabins by rivers, ponds and beautiful mountain creeks. You can book your own Pigeon Forge cabin by a stream or the Little Pigeon River for an exceptionally relaxing vacation by the water!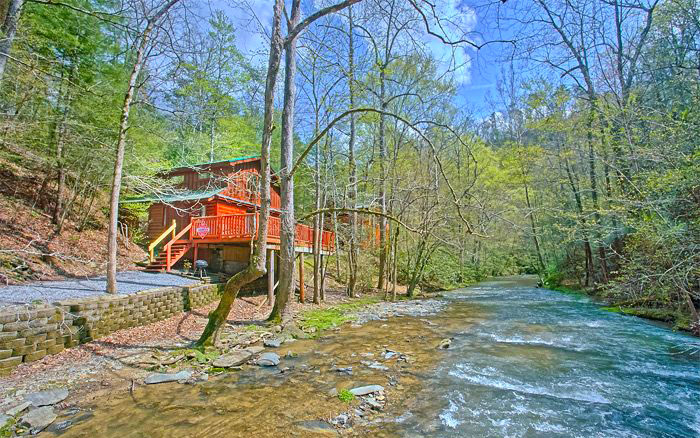 Pigeon Forge Cabins on the River
The main river in Pigeon Forge is the West Prong of the Little Pigeon River. This mountain river, fed by the pristine headwaters of the Smoky Mountains, flows through the heart of the Pigeon Forge valley before joining the French Broad River in Sevierville.
Here are some resorts that you'll find Pigeon Forge cabins near the river. As an added perk, many of these vacation rentals are especially close to the downtown parkway in Pigeon Forge.
This resort area is only minutes from Downtown Pigeon Forge rests on the banks of Mill Creek. Although these vacation homes aren't on the Little Pigeon River, they do offer a nice spot on the water and convenient access to the Parkway. Plus, these affordable cottages come with great amenities like resort pool access.
Out cabin rentals in the River Mist Resort area offer guests an incredible spot on the West Prong of the Little Pigeon River. Not only can guests here enjoy fishing, swimming, and tubing in the cool mountain waters, but they'll also enjoy sitting outside by the fire pit or strolling on this resort's walking trails on the river. Additionally, these luxury rentals are pet friendly so you can bring your dog along for a great vacation on the river!
Like the name suggests, this rental resort rests near the banks of the river in Pigeon Forge. Complete with scenic walking trails and a picnic pavilion near the river, guests of this resort area can enjoy a vacation that's close to the water. Several of these rental's decks boast views of the river – a welcome sight for a truly relaxing vacation.
On top of being vacation rentals on the river, River Pointe vacation homes and chalets are only 5 minutes from the parkway. Stay close to the West Prong of the Little Pigeon River and all of the top attractions downtown when you choose River Pointe!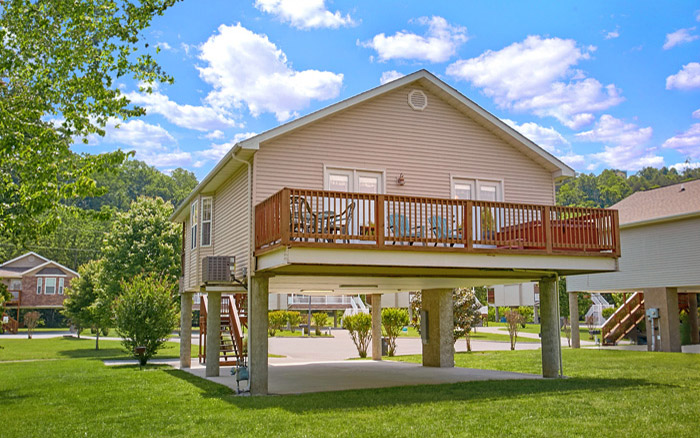 Cabins in Pigeon Forge on Creeks and Streams
For guests looking for more of a mountain stream experience, we recommend looking for cabins in these resort areas. Staying at a Smoky Mountain cabin with a stream is an excellent way to experience a peaceful, creekside vacation surrounded by the sights and sounds of nature.
This Smoky Mountain cabin resort in Wears valley offers several properties on Cove Creek near Wears Valley Rd. This area between Pigeon Forge and Wears Valley is well-known for its beautiful scenery and peaceful locations.
Many of the cabins in Bear Creek Retreat are located right on the water and are perfect for families who want to play in clear mountain streams.
Several other of our cabins in Wears Valley offer nice locations by babbling mountain brooks. Since Wears Valley enjoys a location just outside of the Great Smoky Mountains National Park, you can be sure that the creeks here are clean, pure, and beautiful.
Cabin Rentals With Ponds
Whether you plan on fishing or just enjoying an afternoon by the water, some of our cabins by ponds are perfect for your Smoky Mountain vacation!
Several of the cabins near Tanger Outlets also boast a location by a large fishing pond with a water fountain. In addition to a great spot close to excellent Pigeon Forge shopping, some of these rentals are pet friendly and come with yard areas. Whether you want to sit back in a rocking chair or the warm waters of a hot tub, the pond close to these cabin rentals offers a nice scenic touch for your getaway.
This lovely resort boasts a prime location near Dollywood and the Pigeon Forge Parkway. Right at this resort's entrance, you'll notice a beautiful, scenic pond complete with a water wheel. There are several cabins located adjacent to the water that offers views of the pond.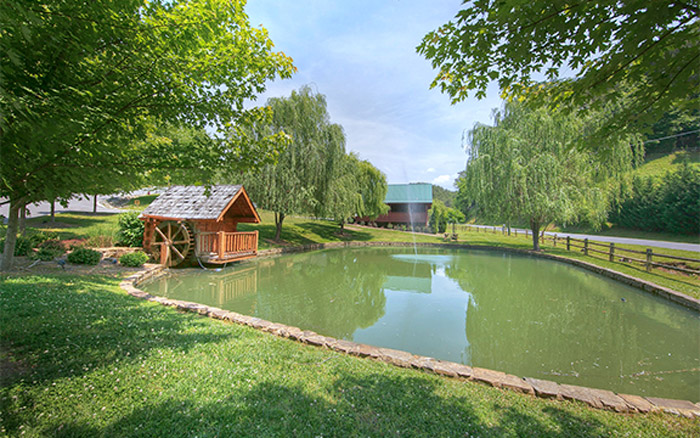 Final Thoughts on Rentals Near Streams, Rivers, and Ponds
While its always nice to stay at a cabin by a river or stream, these rentals are quite popular and availability can be limited. If you're unable to book your dream cabin by the river, take consolation that the nearby Great Smoky Mountains National Park has many beautiful waterways to explore.
A recent survey estimates that there are nearly 3,000 miles of streams in the Smokies. Many of these streams are excellent for fishing, swimming, or just rock hopping. So even if you can't book a cabin right on the water, you're never too far away from a beautiful mountain river or creek when you book a cabin in Pigeon Forge and the Smoky Mountains!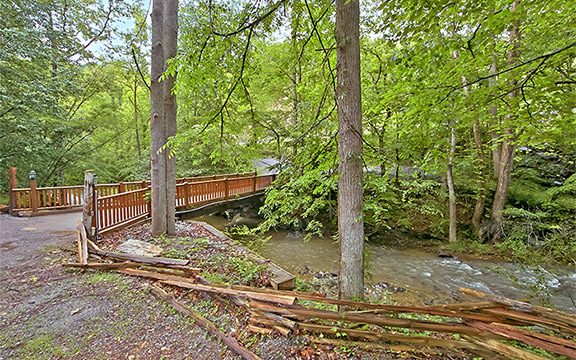 Written by Mark Frazier