Where can you begin? There are almost too many fun things to do in Pigeon Forge and the Smoky Mountains. From great restaurants, shopping, and attractions, knowing where to start your Pigeon Forge vacation can be overwhelming.
We're here to help with the top 10 must do and must see attractions in Pigeon Forge!
Top 10 Attractions in Pigeon Forge
If you've never had the pleasure of a Pigeon Forge vacation and you're only in town for a few days – here are the must see things in Pigeon Forge, TN!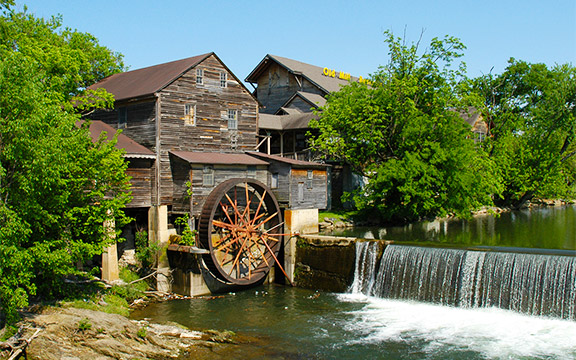 1. Start at The Old Mill
When you visit a new place, it's always best to start at the beginning. And to find the origin of Pigeon Forge, you'll need to take a trip to the Old Mill on the Little Pigeon River. This working mill was built in 1830 and still grinds grains for the Old Mill restaurant! Stop by for a picture of this scenic mill that's also the oldest building in Pigeon Forge.
2. Experience Dollywood
No Pigeon Forge getaway is complete without stopping by Dolly Parton's incredible theme park complete with world class rides like The Wild Eagle and The Firechaser Express. Entertaining shows, beautiful landscaping, and gracious country charm are hallmarks of this attraction that has a family friendly atmosphere on-par with larger parks like Disney World.
3. Drive The Pigeon Forge Parkway
The heart of Pigeon Forge, TN is definitely its main strip with mile after mile of glittering attractions. A drive on the main parkway in Pigeon Forge is even more impressive at night. On your way, you can stop by one of the many go kart tracks or mini golf courses or find unique shopping and attractions.
4. Visit the Titanic Museum
This unbeatable interactive museum takes you back to the fateful night that the Titanic sank. With the largest permanent collections of artifacts recovered from the famous shipwreck, this quality museum is both educational and fascinating. Highlights include a full-scale recreation of the Titanic's grand stair case and rooms that simulate the experience of being onboard the sinking Titanic.
5. See a Dinner Show or Theater Show
Classic Dinner Shows like Dixie Stampede and The Hatfield & McCoy Dinner Show are a favorite part of Pigeon Forge's night life. With delicious food, live music, dancing, and funny skits, you'll see Pigeon Forge entertainment at its finest. Live theater shows like Country Tonite and The Smoky Mountain Opry are great must see venues as well!
6. Dine on Delicious Country Cooking
When you visit a top destination in the south, you can expect some of the finest southern cooking around. Local favorites for finding delicious meals are the Apple Barn, Huck Finn's, and Mama's Farm House. An exciting new addition to the restaurant scene is Paula Deen's Family Kitchen that serves hearty portions of country cuisine.
7. Ride The Smoky Mountain Wheel
While the Smoky Mountain Wheel may appear to be a Ferris Wheel, it's actually a fully enclosed gondola ride that takes passengers 200 FT in the air! Large attractions of this sort are usually only found in large European cities. In the day, you can see the beautiful Smoky Mountains rising up in the distance. At night, your view will be the bright lights of the Pigeon Forge Parkway.
8. Eat Delicious Pancakes
With over 20 breakfast restaurants and pancake houses along the parkway, the Smoky Mountains are arguably the pancake capital of the world! Be sure to try some hearty country flapjacks complete with tasty toppings.
9. Explore the National Park
Pigeon Forge is famous as the gateway to America's most visited national park – The Great Smoky Mountains. With 800 square miles of national park in the Tennessee mountains, it's impossible to see it all in a few days. Some of the highlights of the Smokies are seeing great views at Newfound Gap and Clingman's Dome. For watching wildlife and visiting historic cabins, drive the 11 mile Cades Cove Loop.
10. Stay in a Log Cabin
Booking a Pigeon Forge cabin is the best way to enjoy an authentic Smokies vacation. You can enjoy the rugged beauty of Tennessee's mountains while staying close to all of these incredible attractions and activities! Plus, you'll enjoy hot tubs, mountain views, pool tables, resort pools, home theaters, game rooms, and more!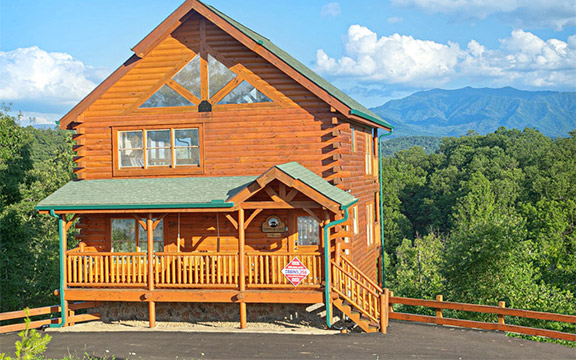 What are Your Must Do Things in Pigeon Forge, TN?
Without a doubt, Pigeon Forge and the Smoky Mountains have a ton of great things to experience. This list doesn't even scratch the surface and also doesn't cover all the must do things in Gatlinburg, but it's a good starting point for planning an unforgettable stay in Pigeon Forge.
Did we miss your favorite thing to do in Pigeon Forge and the Smokies? Please comment and share your must do activities on your Pigeon Forge vacation!
Written by Adam Shafer