Memorial Day is just around the corner and soon one of the most fantastic seasons will be upon us – summer. With warmer weather and plenty of sunshine, vacationers can enjoy a host of fun summer activities in Pigeon Forge, TN!
Though Pigeon Forge has cooler temperatures than much of the Southeast, it can still get fairly warm this time of year, so we made a special guide to help you beat the heat in Pigeon Forge this summer!
Pigeon Forge Summer Weather
By May and June, the weather in Pigeon Forge is perfect for swimming with temperatures reaching into the upper 80s. The hottest summer days in the upper 90s, which wouldn't be so bad except that humidity can make the weather uncomfortable in the middle of the day. Warm temperatures in the day give way to pleasant evenings perfect for strolling or cruising on the parkway.
Pigeon Forge has occasional afternoon thunderstorms in the summer, but on average only 4 inches of rain in Pigeon Forge per month during this season. With great weather and light rainfall, it's no wonder why summer is the most popular time of year to visit the Smoky Mountains.
| | | | |
| --- | --- | --- | --- |
| Month | Avg. High | Avg. Low | Avg. Humidity |
| May | 78°F | 53°F | 76% |
| June | 86°F | 62°F | 74% |
| July | 87°F | 65°F | 86% |
| August | 88°F | 65°F | 78% |
| September | 82°F | 58°F | 77% |
Pigeon Forge Summer Activities
Though the weather in Pigeon Forge is generally pleasant, some days can be real scorchers that may have you sweating buckets. Here are 10 ideas to help you beat the heat this summer on your Pigeon Forge vacation!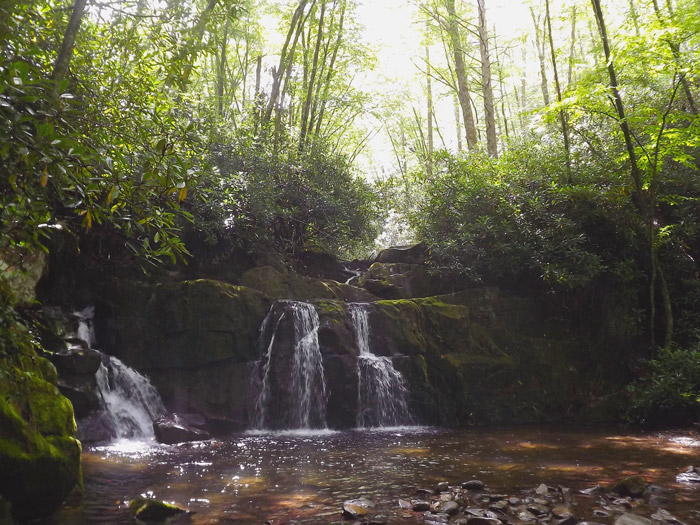 1. Hike To A Waterfall
You'll find nature's own air-conditioner in the Great Smoky Mountains National Park. Streams in the mountains are fed from water deep from the earth that is far cooler than the surrounding air. When this water tumbles down a rock face, it has a cooling effect on the surrounding area.
When combined with a shady spot under the trees, visiting waterfalls in the national park is a great way to cool off. There are dozens of major waterfalls in the park that are 20 feet or higher as well as countless other cascades and cataracts. Popular large waterfalls with short hikes are Rainbow Falls and Abrams Falls.
2. Visit Dollywood and Splash Country
Cool off and find family fun at Dollywood with great roller coasters and rides. Better yet, nearby Dollywood Splash Country boasts an incredible selection of water rides like Big Bear Plunge and River Rush, Tennessee's only water coaster.
3. Take a Helicopter Tour
The summer season brings great weather for flying. Soaring high above the ground is a great way to stay cool and admire the local scenery. Guests can enjoy tours in helicopters or authentic open-cockpit biplanes.
4. Tube Down The River
People of all ages love this old-school summer fun activity. You don't need much more than an inner tub, good company, and a beautiful river to float down. Tubing on the Little Pigeon River near Townsend is an incredibly affordable, fun, and effective way to beat the summer heat.
5. White Water Rafting
Get your adrenaline fix and ride rapids on the little Pigeon River. Summer is peak season for rafting this river due to scheduled dam releases from Memorial day through Labor Day.
The Upper Pigeon River is for the more adventurous and boasts class III and class IV rapids. The lower Pigeon River is a smoother ride, but passes through scenery that is just as gorgeous as the upper section of the river.
6. Find a Swimming Hole
There are several great areas for swimming holes in the national park like Elkmont or the Wye at Townsend. However, on hot summer days, these swimming holes can be quite crowded. There are several lesser known swimming spots along the Little River Gorge Rd. in the national park between Gatlinburg and Cades Cove. Simply look for a pull-off and inspect your potential swimming hole spot.
7. Ziplining
Feel the breeze as you shoot through the trees on a Pigeon Forge zipline tour. This outdoor adventure is a great way to feel the cool mountain air and explore the forest canopy.
8. Ride Mountain Coasters
Coasting down the mountains at speeds of up to 30 miles an hour is not only fun – it's yet another great way to stay cool. Alpine coasters, originally developed in the mountains of Europe, have made their way to Tennessee and are rapidly becoming a favorite thrill attraction.
9. Explore Tennessee Caverns
The Forbidden Caverns and Tuckaleechee Caverns stay constant temperature at 58 degrees no matter the weather above ground. These caves close to Pigeon Forge are fascinating for anyone interested in geology or local history – plus taking a cave tour is a lesser-known summer activity in Pigeon Forge.
10. Go High Up on a Mountain
High elevation peaks in the Smoky Mountains like Clingmans Dome can be as much as 10 degrees cooler than Pigeon Forge down in the valley. Other peaks like the summit of Mt. LeConte has never been warmer than 80F.
How is this possible? In the Smokies the temperature decreases 3.5 degrees on average for 1,000 feet elevation. On the high mountains in the Smokies, the elevation is more than 5,000 feet above sea level and is on average much cooler than lower elevations. This makes the mountains near Pigeon Forge a pleasant place to spend a hot summer day.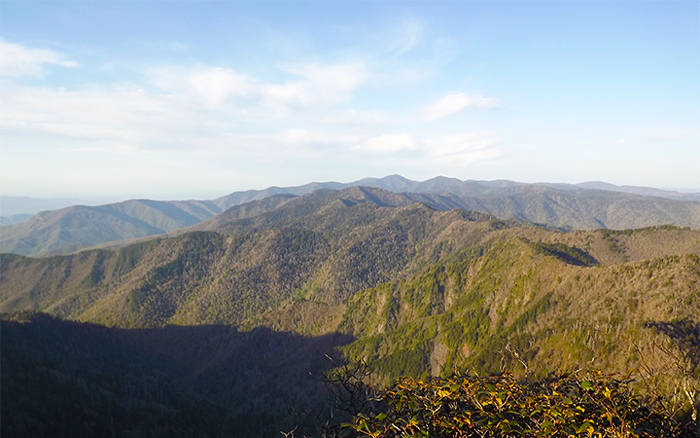 Final Thoughts
While there are a ton of things to do in Pigeon Forge in summer, one of the best ways to have an awesome trip is to book a cabin rental in Pigeon Forge. Relaxing at a log cabin is a way to stay cool on a summer trip because many cabin rentals have resort swimming pools.
Guests also love sit out on the deck and feel the fresh mountain air while they enjoy their cabin's scenic views. Best of all, there are cabins close to the great smoky mountains and other attractions that can help keep you cool on your summer vacation to Pigeon Forge, TN!
Written by Adam Shafer