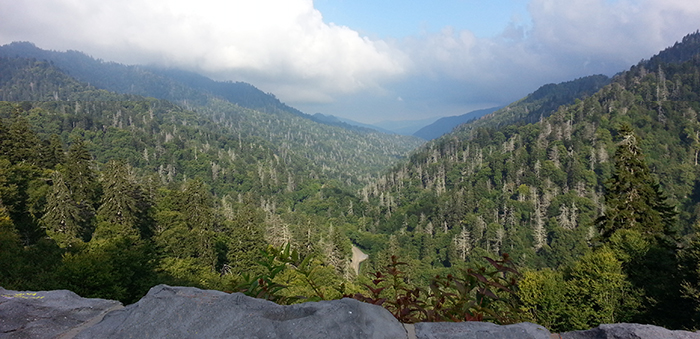 Time to get rid of that cabin fever and venture outdoors to the Tennessee Great Smoky Mountains! The Great Smoky Mountain National Park officials announced their 2014 Spring Schedule for opening of park facilities.

Secondary roads begin opening Friday, March 7th. Forge Creek Road opens March 7th; Clingmans Dome Road opens on April 1st; Round Bottom/Straight Fork Road opens April 4th; Parson Branch, Rich Mountain Road, Roaring Fork Nature Trail, and Little Greenbrier opens on April 11th; Heintooga Ridge and Balsam Mountain roads open on May 23rd. Cades Cove Loop Road is closed to bicycle use only on Wednesday and Saturday mornings from sunrise until 10:00 a.m. from May 7th - September 24th.

Visitor Centers: The three Park visitor centers are open daily. Operating hours through March are as follows:
Sugarlands Visitor Center, near Gatlinburg, TN - 8 a.m.-5 p.m. The Backcountry Office located at the Sugarlands Visitor Center is open every day from 8 a.m.-5 p.m. Backcountry reservations and permits can be obtained by calling 865-436-1297
Cades Cove Visitor Center, near Townsend, TN - 9 a.m.-6:30 p.m.
Oconaluftee Visitor Center near Cherokee, NC - 8:00 a.m.-5:00 p.m.
Clingmans Dome Visitor Contact Station will open April 1st - hours not available
Hours for each location will be extended as the season progresses.

Picnic Shelter reservations may be made by calling 877-444-6777.

Picnic Areas at Cades Cove, Deep Creek, Greenbrier, and Metcalf Bottoms picnic areas are open year round. Chimneys picnic area will open on March 15th and Collins Creek picnic area will open on April 4th. Big Creek and Cosby picnic areas will open shortly after on April 11th. Heintooga picnic area will open on May 23rd. The opening of Look Rock picnic area is yet to be determined.

The park's largest picnic pavilion at Twin Creeks opens on April 1st and reservations are required through Recreation.gov. Twin Creeks' fees range from $35-$75 depending on the number of people. In addition, picnickers can reserve five other picnic pavilions located at Collins Creek, Cosby, Deep Creek, Metcalf Bottoms, and Greenbrier picnic areas. The cost is $20, except at Greenbrier where it is $10.

Horseback Riding - The opening dates for the three horseback concessions located on the Tennessee side of the National Park are:
Smoky Mountain Riding Stables - March 7th
Sugarlands Riding Stables - March 7th
Cades Cove Stables - March 8th. In addition to horseback rides, Cades Cove Riding Stable will offer carriage rides and hay rides that are wheelchair accessible.
Looking to enjoy a visit to the beautiful Smoky Mountains of Tennessee? Secure your own personal slice of the Smokies by booking one of our Pigeon Forge cabins for a Smoky Mountain vacation!
Written by Brittany Tipton