We all want it for a perfect vacation – a rustic mountain cabin with a gorgeous view of the Smoky Mountains. While there are lots of cabins set in landscapes with forests and streams, sometimes you just want a cabin where you can see mountains for miles and miles. But, where should you look for them?
To help you find the best mountain view cabins in the Smokies, we've made a guide of 8 places to find Pigeon Forge cabin rentals with a view!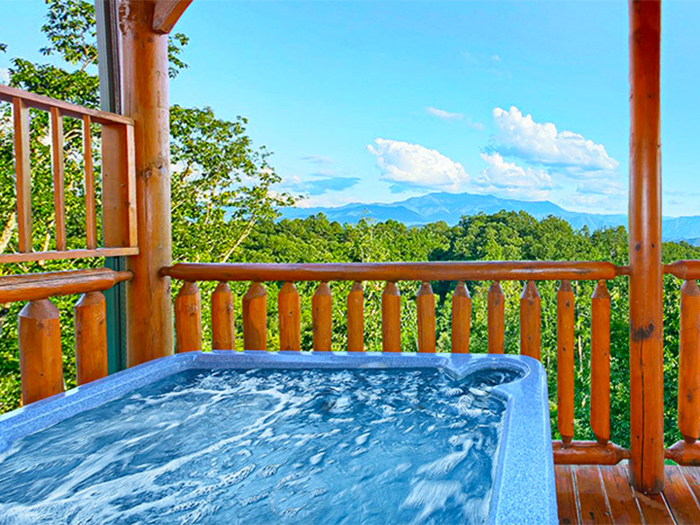 1. Summit View
What you'll See: Mt. LeConte and the main ridge of the Smoky Mountains.
There's a lot in a name isn't there? Summit View Resort is a great place to find cabins with mountain views. Located just off of Upper Middle Creek Rd, these cabins offer quick access to the main road downtown. When you aren't busy exploring local attractions, you can sit back in your hot tub while you enjoy the scenery.
2. Pine Mountain
What you'll See: The heart of Pigeon Forge and the surrounding valley.
Located just off of Pine Mountain Rd, these honeymoon retreats in the mountains above Pigeon Forge have an excellent view of the valley below. In the day, guests will enjoy views of mountains and forests. When the sun sinks down, the lights of the city and the Great Smoky Mountain Wheel are visible. Guests staying here will be particularly close to the Old Mill, Patriot Park, and the Island.
3. Rainbow Ridge Resort
What you'll See: Rolling Tennessee hills, The Smoky Mountains, and Bluff Mountain.
The rentals in Rainbow Ridge Resort are centrally located for exploring both Pigeon Forge and Sevierville. Better yet, they provide guests with a lovely spot to enjoy a vacation in the rolling hills of East Tennessee. The vistas of the nearby landscape are nice and so are the tall mountains rising up in the distance.
4. Eagle Crest
What you'll See: Mountains near town, the valley, and Mt. LeConte in the distance.
Many of the cabins in Eagles Crest Resort are perched high in the mountains above Pigeon Forge. From this great vantage point, you can even see the Smoky Mountains on the horizon. When you aren't relaxing at your cabin with a stunning view, you can ride coasters or play 18-holes at the local golf course.
5. Starr Crest Resort
What you'll See: Rolling Hills, the Great Smoky Mountains, and the theme park.
Along with a great location and a resort pool, guests staying in Starr Crest Resort can enjoy great views of Mt. LeConte and the high ridge of the Smokies in the distance. Several properties in this resort even overlook Dollywood Theme Park – a rare treat indeed.
6. Hidden Springs
What you'll See: Forested Mountains Near Pigeon Forge
You'll find Hidden Springs Resort a short drive away from Pigeon Forge nestled in the mountains. Along with great scenery, this resort provides indoor and outdoor swimming pool access year round!
7. Cabins in the Upper Middle Creek Area
What you'll See: Forested Views of the Great Smoky Mountains and Pigeon Forge.
These cabins near Dollywood are exceptionally close to the famous Smoky Mountain Theme Park. Guests retiring to their vacation cabins at the end of a great day exploring local attractions are treated to beautiful sunsets and vistas of the Smokies in the distance.
8. Cedar Creek Crossing
What you'll See: Rolling Forested Hills and the Great Smoky Mountains in the distance.
The rentals in Cedar Creek Crossing can be found near Bluff Mountain overlooking the valley of Pigeon Forge. In addition to a peaceful setting, vacationers here will enjoy premium amenities and quick access to great attractions, restaurants, and shopping in Downtown Pigeon Forge.
Final Thoughts
Booking a cabin with a view is one of the best ways to enjoy a relaxing and care free vacation. The beautiful scenery of the Tennessee mountains helps to melt your worries away and lets you connect with your friends and family while you visit.
Even better, you can enjoy a rental with an unforgettable view when you book online with us! Save 15% with our special cabin discount and experience the unforgettable vistas of the Smokies!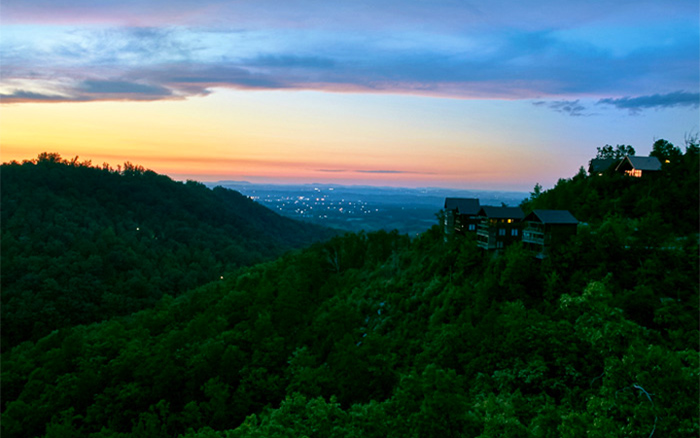 Written by Adam Shafer