Did you know that Sevierville cabins are a great place to stay for your Smoky Mountain vacation? In fact, it's something of an insider trick to book a Sevierville cabin instead of only looking for Pigeon Forge rentals.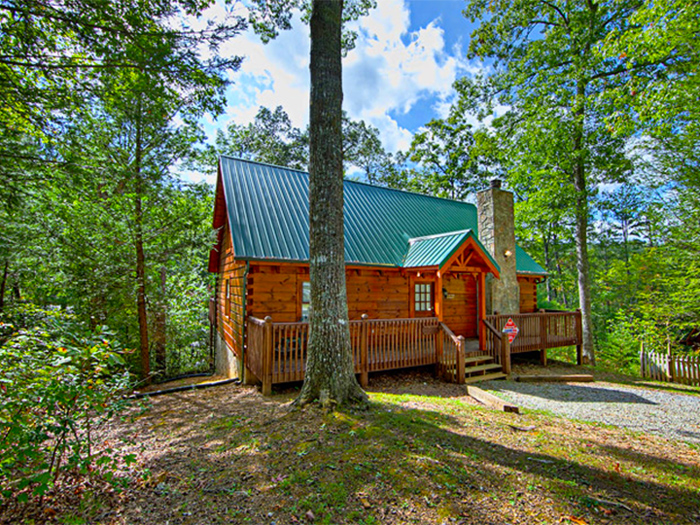 Why Book A Sevierville Cabin Rental?
It may seem confusing that many cabins located outside the Pigeon Forge city limits are Sevierville cabins – especially since many aren't that close to Downtown Sevierville. Why is this the case? If a cabin is in the county, but not within city limits, than a Sevierville address is the fallback description this cabin.
But just because a vacation cabin isn't inside Pigeon Forge doesn't mean your rental is far away from the sights you want to see!
In fact, in certain cases Sevierville cabins are closer to top attractions like Dollywood than many Pigeon Forge cabins. Other perks of Sevierville rentals are beautiful views, peaceful settings, and great amenities!
Here are several reasons Sevierville cabins are a great choice for your trip!
Stay Only Minutes From Pigeon Forge – From Sevierville, Pigeon Forge is only across the river and other cabin rentals are just outside of the city line.
Drive Less Crowded Roadways – During big events like parades and car shows, the main drag in Pigeon Forge can experience stand still traffic. One of the best ways to avoid traffic in town is to pick a cabin that's a bit removed from the main roads.
See Awesome Cabin Views – Cabins in the mountains above Pigeon Forge usually have Sevierville addresses, so if you want a cabin with a view, you may want to search for a cabin that's outside the city limits.
That's exactly why we've made this guide with 5 surprising places to find Sevierville cabin rentals near all the action!
1. The Upper Middle Creek Area
The Upper Middle Creek road area is a hot spot for lots of great cabin resorts for two reasons. First, it's extremely close to Dollywood Theme Park and the Pigeon Forge Parkway. Next, these rentals are located in mountains near town that offer beautiful views!
Though these properties have a Sevierville address, guests at these cabins near Dollywood have no trouble reaching the sights and attractions they want to experience. Starr Crest and Hidden Springs Resort area even boast cabins that offer resort swimming pool access – a must for any summer vacation in the Smokies.
2. Sky Harbor
Sky Harbor Resort community is located just off of the Pigeon Forge-Gatlinburg Spur road. These centrally located cabins place guests in the heart of the Smoky Mountains only minutes from both cities! Better yet, these resort cabins offer seclusion, beautiful views, and natural mountain settings to enjoy during your stay.
Since these cabin rentals in Sevierville are on the road between Pigeon Forge and Gatlinburg, they provide guests with quick access to the Great Smoky Mountains National Park as well!
3. Bear Creek Retreat
The cabins in Bear Creek Retreat are Wears Valley Rd cabins that are exceptionally close to the Pigeon Forge Parkway. Nestled in a peaceful forest setting by a pure mountain stream, these rentals are perfect for guests who want to relax in nature.
At the same time, cabin rentals in Bear Creek are only minutes away from dozens of attractions, restaurants, and outlet shops on the Pigeon Forge Parkway. As an added perk, the scenic mountain community of Wears Valley is also close by.
4. Cabins at the Crossing
Cabins at the Crossing is a Sevierville cabin resort with a swimming pool on peaceful country roads only minutes from Downtown Pigeon Forge. You'll find these cabins between Pigeon Forge and Sevierville – with back roads that make it easy to reach different parts of the Pigeon Forge Parkway.
You'll find a range of beautiful cabins at this resort to suit every group. From 1 bedroom honeymoon retreats to large group rentals – there's something for everyone in this Sevierville vacation rental community.
5. Rainbow Ridge Resort
This resort area is located just outside of the Pigeon Forge city limits and offers guests beautiful mountain views. At the same time, these rentals are only minutes from the main road in Pigeon Forge. Some of the best nearby attractions include the Titanic Museum, Tanger Outlets, and dinner theater shows.
You'll find a range of affordable cabins in Sevierville at Rainbow Ridge that can suit any occasion!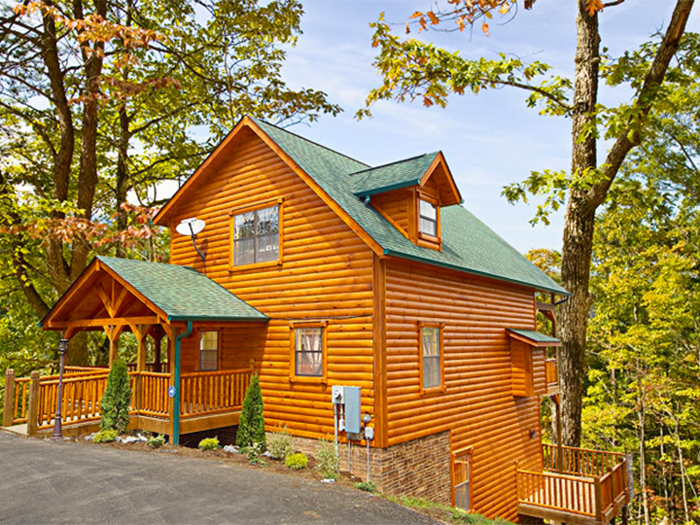 Final Thoughts
There's nothing wrong with booking a cabin inside Pigeon Forge, but many of these properties are the first to be booked during busy times of the year. If you aren't able to stay at a log cabin in Pigeon Forge, there's no need to worry! These Sevierville resort rentals are extremely close to town and offer some unique benefits.
Better yet, you can save 15% on any of these cabins when you reserve them through Cabins USA!
Written by Adam Shafer