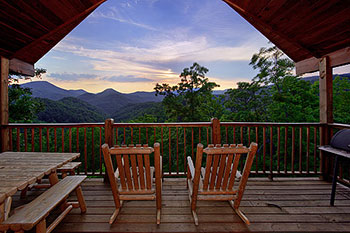 When planning to rent Pigeon Forge cabins or other Smoky Mountain cabin rentals, there are many factors to consider when selecting the a cabin for you and your sweetheart, your family, the annual family reunion or a large group on a church retreat. After searching through page after page of cabin results, finding the cabin that is the Right Fit for your Smoky Mountain Vacation might seem like a difficult task that may never be accomplished. With so many cabins to choose from, how do you know which one is the best suited for your vacation needs at the best value?
Asking yourself a few valuable questions will make your Smoky Mountain vacation rental search more enjoyable and efficient, allowing you to discover the cabin that fits your budget, your needs, and your group with as little stress as possible.
Question #1 What Size Cabin Do I Need?
Whether searching for a secluded Smoky Mountains honeymoon cabin to that big resort cabin near Dollywood, when it comes to vacation cabin rentals in the Smokies size does matter. While this may seem elementary, it is important to know what terms cabin companies use to describe different sizes of cabin.
"Honeymoon Cabins"contain 1-2 bedrooms, making these cabins suitable for not only single couples on a romantic retreat for their honeymoon or anniversary but two couples on a budget vacation or small families as well.
"Family-Size Cabins" boast 3 to 5 bedrooms for housing families and small groups. However, keep in mind that most cabins come with sleeper sofas or loft areas for additional sleeping space. This means one 3-bedroom cabin might sleep 8 while another sleeps 12. If your group is fine with sleeper sofas, these cabins can be a real bargain. On the other hand, visitors wanting more privacy or on extended stays may prefer booking a cabin with enough bedrooms for everyone in the group.
"Group Cabins" house 6 bedrooms or more. Similar considerations to "Family Size Cabins" are applicable to "Group Cabins" as well. Ensuring everyone has their desired or needed sleeping accommodations is crucial, particularly when dealing with large groups.
In addition to bedrooms and sleeping space, make sure the cabin provides plenty of open living space for the size of your group allowing everyone to feel relaxed during their stay in the beautiful Tennessee Smoky Mountains. Additionally, group cabins often contain more amenities.
Question #2 What Cabin Amenities Do I Need?
In addition to figuring out what size cabin you need, cabin amenities are crucial in determining what cabin best fits your vacation needs. Consider whether your cabin boast these amenities:
Pet Friendly- Before bringing Fido on your Smoky Mountain vacation, check whether your cabin allows animals, if there is a weight limit, or any other restrictions for pets. When booking pet friendly cabins, ask your booking agent if there is an additional Pet Deposit and/or Pet Fee. Before coming to the Tennessee Smoky Mountains area, you may want a list of veterinarians, day kennels and other pet-related information, please check out our one stop pet friendly resource page.
Home Theater- Home Theater cabins provide your family or group with a space to host movie nights and enjoy hours of entertainment. From classic theater style seating to comfy couches, make sure that there's enough seats in the theater to ensure everyone has a place to enjoy the film! Whether your cabin's theater contains a large flat-screen television or projection screen, ensure that its features, from seating to surround sound, fit your needs.
Swimming Pools- Does your cabin have access to a swimming pool? Is the swimming private or public? Some Gatlinburg and Pigeon Forge resorts offer both indoor and outdoor swimming pools, for year-round swimming fun. provide honeymoon couples and families the privacy of their very own swimming pool inside of their vacation cabin rental. Choosing a cabin with the right pool for your group will add hours of entertainment to your Tennessee vacation trip.
Game Rooms- Game rooms offer entertainment for kids of all ages! From private basement game rooms to open loft spaces, they include entertainment for everyone in the group with game console systems, pool tables, foosball tables, air hockey tables, dart boards, and standing arcade games with one or more of your old arcade favorites. Selecting a cabin with everyone's favorite game system or enough TV's to keep everyone in the family entertained is essential for days or nights spent inside the cabin.
Fireplaces - Fireplaces add a warm glow to rental cabins in the Smokies for cool nights spent cuddled together in your cabin. Electric and wood fireplaces are usually available throughout the year based on the cabin rental companies' policies, while most cabin rentals with gas fireplaces will have the gas turned off starting in March and back on again around October time frame.
Hot Tubs- Most cabin guests desire a hot tub for their Smoky Mountain vacation. While there are few fully enclosed indoor hot tubs available as they require special ventilation to be safe in an indoor environment, Smoky Mountain cabin rentals boast plenty of variety in hot tubs with all shapes and sizes offered that often remain heated and covered so that they may be used throughout the year by Smoky Mountain visitors.
Additional Amenities- Can't have a master suite without an in-room jacuzzi tub? Really want a washer and dryer to get the laundry done before returning home? Consider what additional features the cabin might have as well as the details about them when deciding if a cabin is right for you.
Question #3 What Cabin Location Is Best?
What atmosphere does the cabin provide its guests? When you picture your cabin vacation what comes to mind? Natural tranquility? Endless entertainment nearby? As the saying goes, it's all about location, location, location. Think about the following when looking at a cabin's location:
Seclusion vs. Proximity to Attractions- Generally, the more secluded you want your cabin, the further your cabin will be from area attractions (and vice versa). This really comes down to what your idea of "cabin retreat" is and prioritizing seclusion or proximity. However, there are some cabins that present a marriage of the two, like those in Little Valley Resort which boast well spaced lots near Pigeon Forge.
Resort Settings- Resorts vary in construction and spacing and this is quite crucial when considering the location of your cabin. Does the resort have large or small lots for its cabins? Are there sidewalks and manicured public green spaces? Does the resort fit your seclusion/proximity criteria? Choosing a cabin in a resort that suits your needs will make your vacation even more enjoyable.
Views- Everyone coming to the Smokies wants a view of the picturesque landscape around them (for obvious reasons). Cabins in Wears Valley provide a sleepy, scenic background to you cabin stay, while mountaintop cabins near Ober Gatlinburg provide a bird's-eye view of the city below and surrounding mountaintops. The views afforded by your cabin are all about its placement. Selecting a cabin perched on a hilltop or high vantage-point will afford the best views imaginable!
Question #4 What Resort Amenities Are Available?
When searching for the perfect cabin rental, consider what amenities the resort offers through the cabin rental company you're booking with. Cabin resort amenities vary widely with each resort. Wedding chapels to golf courses, in-cabin massages to walking trails and more will depend on the resort's offerings along with the rental company you are using.
Question #5 Which Cabins Will Fit My Large Group?
When hosting a reunion or a church retreat, cabins with 6 or more bedrooms offer your group a place to stay and enjoy each other's company as well as all the action of the Smokies. However, particularly with large groups, consider factors other than the posted sleeping capacity when choosing your cabin.
Adequate sleeping space-Just because a cabin boasts that it can sleep 18 guests doesn't necessarily mean that it will do so comfortably. If guests have an aversion to sleeper sofas, make sure to take a careful look at the number of beds/bedrooms a cabin contains to ensure that everyone has a peaceful nights rests on their cabin vacation.
Adequate Living Space-There's no point of booking a 6+ bedroom cabin only to be cramped at the dining table or constantly fighting over the TV. Examining the common living areas for adequate space is essential. Cabins that offer large dining tables, multiple refrigerators and stoves in the kitchen, multiple living areas, etc. provide plenty of room for everyone to spend time together.
Question #6 When Are Cabin Discount's Available?
Everyone likes to book their vacation at the best bargain possible. Here are some ways to save money throughout the year:
Book in the off season (after Christmas-before Easter)
Mid-week rentals are usually cheaper than weekend rentals
Follow your favorite rental company's blogs, newsletters and social accounts for frequent offers. Cabins USA offers specials throughout the year with an "all the time" 15% online discount with online bookings
Active military and first responders often receive discounts from cabin rental companies. Cabins USA offers one of the best in the area with a whopping 20% discount when military (active and retired) call Cabins USA to make their reservation. Valid ID card or proof is required at check-in.
With these tips, anyone can easily choose which cabin is the right fit for their Smoky Mountains vacation. After booking a premium Pigeon Forge cabin rental or Gatlinburg cabin all that's left to do is pack and head out for one of the most memorable vacations you and your group will enjoy in the relaxing scenic Tennessee Smoky Mountains!
Written by Brittany Tipton