Pigeon Forge in September – where to begin? With summer coming to a close and the changing colors of fall just in the horizon, it's simply a beautiful time to visit the Smokies.
Better yet, early fall is a less-crowded time to visit the Smoky Mountains. Seeing Pigeon Forge during September is in the sweet spot – just after the summer crowds depart and the fall leaf watchers arrive in October.
With the exception of two busy car show weekends, the month of September is a perfectly peaceful time to visit the mountains. On the other hand, if you love classic cars and sweet rides, the exciting Pigeon Forge car shows this month are just for you!
All in all, gorgeous weather, great events, car shows, and fun activities all help to make September an excellent time to experience the ever-popular Smoky Mountains of Tennessee.
Here's what you need to know when planning your 2016 September trip to Pigeon Forge, TN!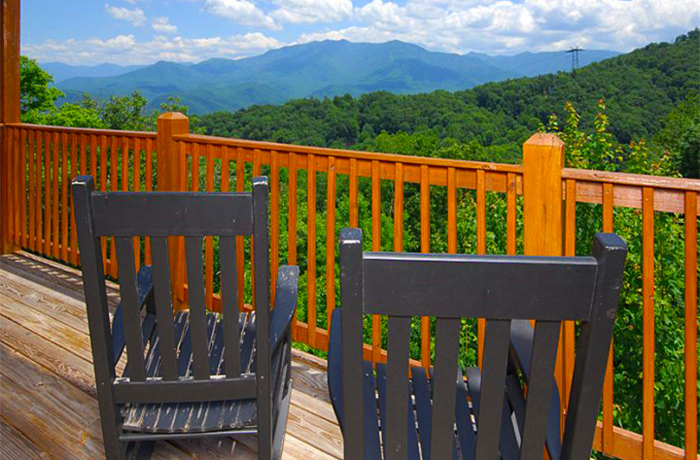 September Weather in the Smoky Mountains
The Smokies are just beginning to cool down from summer temperatures in the low 90s and upper 80s. You'll still find plenty of warm, sunny, dry days this time of year as the mountains enter into early fall.
Typically, the average temperatures range from:
Avg. High 81°F
Avg. Low 57°F
Do note that weather can be unpredictable. Cooler temperatures can sometimes arrive earlier than expected. At the same time, warm summer weather can stick around late into the month.
By late September, you may even be able to see some vibrant fall colors in high elevation spots of the national park like Clingmans Dome and Mt. Leconte. Since these mountain peaks rest well above 6000 feet above sea level, they experience cooler, dry nights that bring in the vibrant fall foliage in early fall.
Big Events in 2016
Without a doubt, Pigeon Forge's September car shows are a landmark event. These popular rod runs bring in thousands of visitors for two weekends in September. Stunning custom cars, revving engines, and thousands of car enthusiasts cruising up and down the Parkway showing off their sweet ride are what you'll find in Pigeon Forge during these weekends.
Spacious log cabins are a popular lodging option for families and groups visiting for rod runs since they offer beautiful locations and comfortable amenities like hot tubs, theater rooms, and full kitchens. We offer plenty of cabin rentals close to downtown that make it easy to experience these exciting events.
If you don't plan on participating in the rod runs, or if you don't want to get caught in traffic, it might be a good idea to steer clear of Pigeon Forge on these weekends because the roadways, attractions, restaurants, and shops will all be more crowded than usual. If this is the case, staying in peaceful, scenic Wears Valley is a terrific way to dodge the car show traffic.
Shades of the Past - Sept. 9 – 10, 2016
This year marks the 34th annual Shades of the Past in Pigeon Forge. The official car show will take place at Dollywood Splash Country. Official hot rods, customs, and classic cars built up to 72' are allowed to officially participate and compete for of $10,000 in prize money.
The Fall Rod Run - Sept 15 – 17, 2016
This car show is the largest, most attended car show in the Smoky Mountains all year long. The LeConte Center serves as the nerve center for the car show where vendors and judging takes place. On the other hand, this event features lots of informal participation as many visitors choose just to cruise up and down the parkway. Many spectators bring chairs to sit out along the main road in Pigeon Forge just to admire the impressive cars that roll-on by.
Wait till you see some of the incredible roadsters that grace the roadways of Pigeon Forge.
Pigeon Forge September Activities
As summer temperatures cool down, Septembers in Pigeon Forge are often incredible times for getting outside in the Smoky Mountains. Outdoor activities like horseback riding, rafting on the Little Pigeon River, and ziplines are all great ways to experience the local scenery while having a blast.
Another excellent option is to hit the trails. Hiking is always a favorite activity this time of year since the cooler weather and dry fall days create nearly perfect weather for a walk in the woods.
The national park also has a great calendar of educational and experiential programs offered by park rangers. These include guided hikes, presentations on Smoky Mountain history and culture, and hayrides in Cades Cove. Many of these events are free to enjoy and those with admission prices are highly affordable.
A brand new activity in Pigeon Forge is the ZipCoaster at the Dome in Pigeon Forge. It's partly a Zipline and partly a roller coaster, but it's altogether an incredible new thrill ride in the Smokies.
Cabin Rentals are perfect for enjoying the pleasant seasonal temperatures. Oftentimes, the weather is still warm enough to enjoy a swim in a resort pool. The days aren't too hot to enjoy sitting out on your cabin's deck or taking a dip in the hot tub. Many cabins come complete with gas or charcoal grills, so guests often plan cookouts during their stay.
Cabin Rental Specials in September
One of the best ways to enjoy early fall in the Smoky Mountains is to book a Pigeon Forge cabin. With beautiful views, top-notch amenities, and your closest family and friends, you'll be all set to have a terrific stay.
Even better, Cabins USA offers a 15% discount on select properties to make your September trip to Pigeon Forge even more affordable. You won't want to miss these cabin rental specials during your stay in the Great Smoky Mountains of Tennessee!
Be sure to explore some of our cabins in Pigeon Forge or call one of our reservations specialists at (865) 429-4121 to help plan your vacation!
Written by Mark Frazier