Even before Thanksgiving arrives, it's hard not to start getting exciting for Christmas in Pigeon Forge, TN! Needless to say, December is a fantastic month to visit the Smoky Mountains.
With festive holiday lights, special Christmas shows, and special holiday attractions, the Christmas spirit is infectious in Pigeon Forge.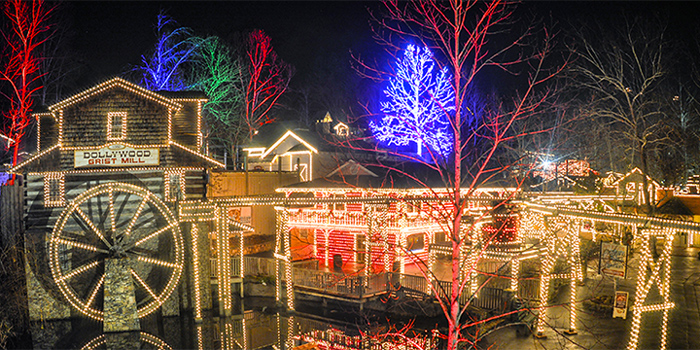 To help you make the most of your Christmas vacation in Pigeon Forge, we've made this handy guide on the best things to do in Pigeon Forge this December!
We'll also let you know the best places to find snow, plan for the weather, and enjoy the magic of the holidays in the Great Smoky Mountains of Tennessee!
What To Do in Pigeon Forge in December?
What can you do in Pigeon Forge in December? We've mad a list of the top 6 December activities in Pigeon Forge for a festive and fun holiday season!
1. See Christmas Lights in Pigeon Forge
For over 20 years, Pigeon Forge's annual Winterfest celebration brings millions of Christmas lights and custom light displays to the Smokies. The lights are up from early November to late February, so you can enjoy them for the entire month of December!
Take a tour of Pigeon Forge's Christmas Lights, you can pick up a Winterfest map at the Pigeon Forge Trolley Station in Patriot Park or the Visitors Center so you won't miss a single display!
Several iconic light displays you'll find in Pigeon Forge are:
The Old Mill
The Winterfest Express
Southern Charm
The Lights of Patriot Park
The Trolly Station
Wandering Wildlife
And More!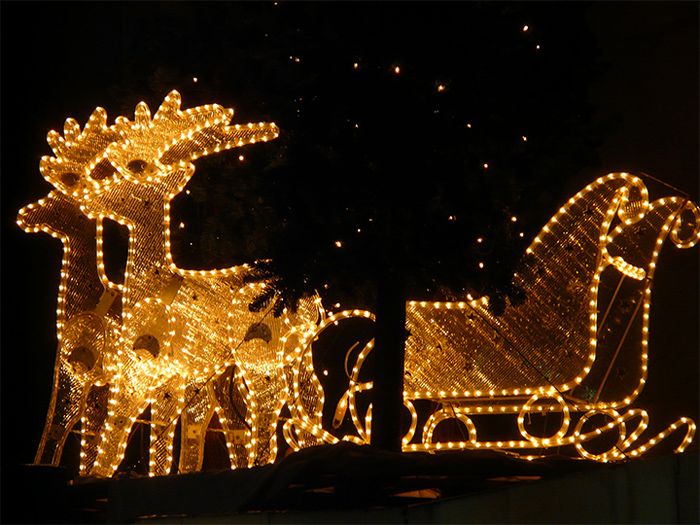 2. Experience A Smoky Mountain Christmas Parade
Pigeon Forge itself doesn't have a Christmas parade, but nearby Gatlinburg is home to a parade you don't want to miss!
Gatlinburg Christmas Parade – Known as the "Fantasy of Lights Christmas Parade," this big event begins at 7:30 PM on the first Friday in December. This parade draws thousands of spectators and showcases the beautiful Christmas lights of Gatlinburg, TN.
3. Tour Pigeon Forge Christmas Attractions
In Pigeon Forge, it seems like everyone feels the Christmas Spirit – even great local attractions.
Pay a visit to these local sights to take your Christmas celebrations up a notch:
Explore Christmas at the Titanic Museum – See full-scale recreated rooms on the Titanic decked with historically accurate Christmas décor!
Experience Christmas at Dollywood – Enjoy all the rides, delicious food, and musical performances of Dollywood with a hefty dose of holiday spirit! Dollywood's Smoky Mountain Christmas Celebration has been voted one of the top Christmas events in the country.
Visit the Christmas Place – This impressive Christmas shop is a true delight for anyone who loves Christmas. Known as the largest Christmas store in the Southeast, this store has unique décor and Christmas decorations that you'll treasure for years to come!
The Shadrack's Christmas Wonderland Light Show in Sevierville - Every November and December, Shadrack's Christmas Wonderland will bring a magical light show to the Great Smoky Mountains of Tennessee! Located at the Tennessee Smokies Baseball Stadium, this fantastic light show features hundreds of displays that are choreographed to music. Other highlights include Santa's Village, pictures with Santa, inflatables for the kids, and more!
4. See Pigeon Forge December Shows
Pigeon Forge has a lively entertainment scene and every show and dinner theater loves celebrating the holidays with a special Christmas Show!
Even if you've seen a dinner theater in Pigeon Forge on another trip, you can see a new performance that celebrates Christmas at these venues in Pigeon Forge:
The Dixie Stampede
The Smoky Mountain Opry
Hatfield & McCoy Christmas Dinner Disaster
Country Tonite Theater
Biblical Times Christmas Feast
Comedy Barn Christmas
5. Visit the National Park in December
During the Christmas season, Pigeon Forge is practically abuzz with holiday spirit and large numbers of vacationers enjoying the Smoky Mountains with their families. If you want to get away from the busyness of the Parkway, you can always make the short drive to the Great Smoky Mountains National Park to find some peace and quiet.
Most of the main roads in the National Park remain open during the winter season, but there are a few exceptions. The Clingmans Dome Road and some unpaved roads like Parsons Branch are closed. However, major destinations like Cades Cove, Elkmont, and Newfound Gap are open through the holiday season.
Hiking in the Smokies in winter provides some unique challenges and rewards. While you'll want to pack in plenty of warm clothes, food, and water, you'll also enjoy stunning views unobstructed by leaves, beautiful ice formations on waterfalls, and a chance to see some snow in the Smokies!
6. Enjoy Christmas with Your Family in A Pigeon Forge Cabin
This Christmas, why not enjoy time with your family while you relax in a comfortable log cabin in the mountains?
You can do exactly that when you celebrate the holidays in Pigeon Forge! Many of Cabins USA's rentals are decorated for the holiday season. Better yet, you could book a spacious group cabin in Pigeon Forge so you can make cherished memories with all your friends and family members.
With excellent amenities like game rooms, theater rooms, hot tubs, and beautiful views of the Smoky Mountains, your luxurious cabin vacation is a truly special way to celebrate the holidays.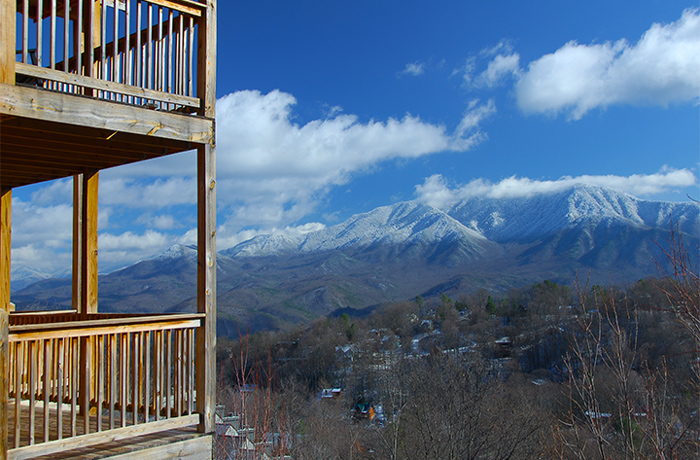 How's the Weather and Does it Snow in Pigeon Forge in December?
December brings colder weather to the Smoky Mountains. During the day, temperatures can be cool and mild, but at night the thermometer can dip below freezing.
Avg. High: 50°F
Avg. Low: 27°F
During December, there are fewer outdoor activities like horseback riding or zip lining to enjoy. You'll also want to pack good winter clothes to enjoy winter in the mountains.
With freezing temperatures, there's always the chance for snow. While some of us love to play in the white stuff, others are rightfully concerned about driving conditions on icy roads.
So here's the million dollar question: does it snow in Pigeon Forge in December?
The answer: sometimes.
On average, Pigeon Forge receives only 1.4 inches of snow during the month of December. Even when there is a winter weather event, the daytime temperatures are warm enough that the snow doesn't linger for too long.
A surefire way to play in the snow is to visit Ober Gatlinburg. The slopes at Ober are usually open right after Thanksgiving. Snow tubing is always a favorite with the kids. You can also enjoy skiing, snowboarding, or ice skating.
Additionally, high elevation regions of the national park receive more snowfall than lower valleys like Pigeon Forge. Make the drive up to Newfound Gap or hike to Mt. Leconte to see snow, frozen waterfalls, or beautiful rime ice on the trees.
Final Thoughts on December in Pigeon Forge
The holiday season is a truly exciting time to experience Pigeon Forge and the Smoky Mountains. We'd love to know: what was your favorite thing about visiting Pigeon Forge during Christmas?
Please share your story in our comment section!
Written by Mark Frazier