Every year, the city of Pigeon Forge celebrates winter in the Smokies with Winterfest, a 4-month long event complete with fun activities and a mind-boggling number of Christmas lights.
To help you experience this incredible seasonal festival, we've made this guide with tips for enjoying Winterfest in Pigeon Forge, Tennessee!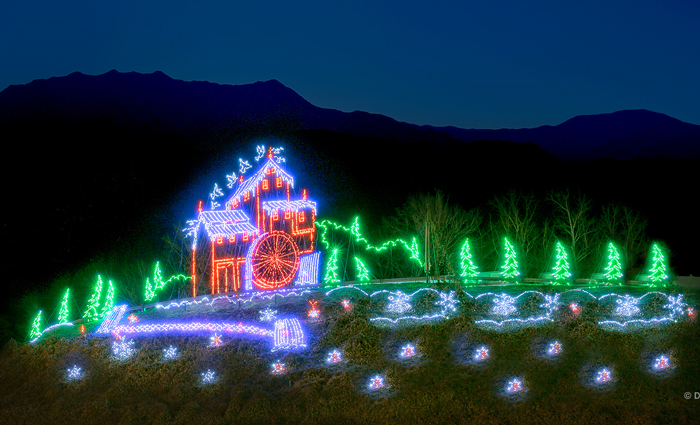 What is Winterfest?
Winterfest is a winter festival in Pigeon Forge where the entire town is decorated with 5 million Christmas lights. This dazzling number of holiday lights are arranged to form everything from simple snowflakes to complex displays that depict the Old Mill, a locomotive train, a trolley station, The Liberty Bell, and more!
These Christmas light displays are set up all along the Pigeon Forge Parkway, so visitors to the Smoky Mountains are treated to a beautiful display of lights. This is particularly impressive because the main road in Pigeon Forge is over 16 miles in length. The greatest concentration of light displays can be found at The Old Mill District, Patriot Park, and The Island.
Coming to Pigeon Forge is the perfect way to get into the holiday spirit or experience the charms of the winter in the Great Smoky Mountains of Tennessee.
When is Winterfest Scheduled?
This annual winter festival in Pigeon Forge begins on Nov. 7, 2017, and ends on Feb. 28, 2018. As a result, visitors to the Smoky Mountains can see these lovely light displays for the entire winter season!
Here's a sneak peek of what you can see during this winter celebration in the Smokies!
Annual Kickoff Event
To start this excellent winter festival, the city of Pigeon Forge hosts a Winterfest Kickoff Event on the first evening of the celebration. From 4 pm to 7 PM, visitors will enjoy fun games, live music, and the ceremonial lighting of over 5 million Christmas lights!
This annual event is held at Patriot Park next to the historic Old Mill in Downtown Pigeon Forge, TN.
Trolly Tour Of Lights in Pigeon Forge
In past years, the city of Pigeon Forge offered its trolley service for viewing the lights of Winterfest. Today, they no longer run the trolley for this festival, but visitors can always take a self-guided tour known as the Pigeon Forge Winterfest Driving Tour of Lights.
If you'd like to see the lights on a festive trolley ride, the nearby city of Gatlinburg offers evening trolley tours of its light displays.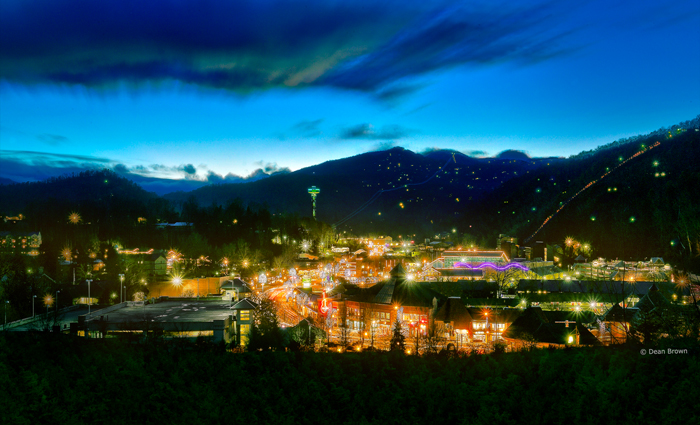 How Can I Enjoy Winterfest in Pigeon Forge?
Are you ready to see all the stunning Christmas lights of Pigeon Forge?
Simply stop by a Pigeon Forge Welcome Center to pick up a map for the Driving Tour of Lights! This guided tour takes motorists to see all of the stunning light displays in Pigeon Forge and provides descriptions of the major sights of Winterfest.
Map of Winterfest
This map shows where you can pick up a Driving Tour Of Lights Guide and the route where you can see the most beautiful holiday lights in the Smokies!
Where Else Can I See Christmas Lights in The Smoky Mountains?
The city of Pigeon Forge isn't the only place where you can see stunning holiday lights in the Smokies! You can experience the magic of the winter season at these businesses and attractions that also get into the Christmas spirit!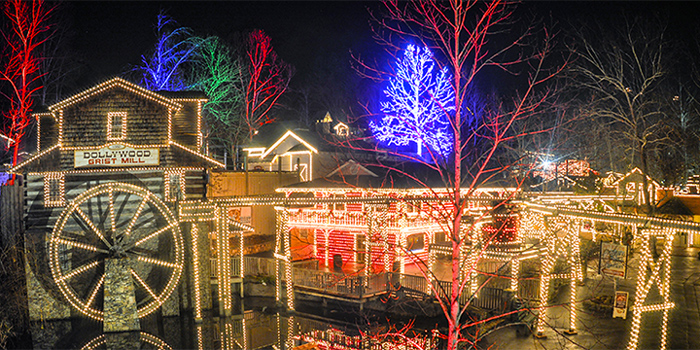 Dollywood – This top-rated Smoky Mountain theme park comes complete with roller coasters and fun rides, but it's also an award-winning Christmas destination. Every holiday season, Dollywood brings the Christmas cheer by decorating its entire 150-acre property with 4 million Christmas lights. With lots of Christmas music, live musical performances of It's a Wonderful Life, and Santa's Workshop, this is an excellent destination for enjoying the winter season in Pigeon Forge. There's even a nightly holiday parade called "The Parade of Many Colors" that features dazzling floats adorned with Christmas lights and fun characters.
The Island in Pigeon Forge – This year, The Island is celebrating Christmas with new decorations throughout the 23-acre property that includes 40,000 ornaments, half a million Christmas lights, 5,000 feet of garland, and a magnificent 40-ft tall Christmas tree. Visitors can also enjoy live music, carolers, and Santa Claus himself!
Gatlinburg Winter Magic – The nearby town of Gatlinburg also hosts a stunning wintertime celebration known as "Winter Magic." During this festival, the town of Gatlinburg is decorated in 3 million Christmas lights arranged into creative displays. This winter celebration also includes nightly trolley rides that take passengers past all of the beautiful light displays throughout town.
Shadrack's in Sevierville – This dynamic, nightly light show that's paired with music has become a favorite Christmas attraction in Pigeon Forge. You can see Shadrack's in nearby Sevierville, TN near the Tennessee Smokies Baseball Stadium.
Other businesses like The Dixie Stampede, The Great Smoky Mountain Opry, and The Country Tonite Theater offer special Christmas shows with live music, special effects, talented dancers, and hilarious comedians. Additionally, The Christmas Place in Pigeon Forge, the South's largest Christmas store, is another excellent place to take in the magic of the holidays.
Final Thoughts
Winterfest is one of the most dazzling events to see in the Smoky Mountains. After all, with millions of stunning lights and tons of holiday spirit, Pigeon Forge is the perfect place to celebrate the winter season.
Ready to see this fantastic wintertime festival in the Smokies? Feel free to call our helpful reservations office at (865) 429-4121 to start planning your trip today!
Written by Mark Frazier