December is truly a beautiful time of year to visit Pigeon Forge and the Smoky Mountains. Cool weather, gorgeous Christmas lights, special events, and holiday cheer collide to make something remarkable.
If you've never experienced a Smoky Mountain Christmas, then you're missing out on one of the best Christmas destinations in the nation.
To help you find the best things to do in Pigeon Forge in December, we've made this winter guide with everything that makes the Smokies a perfect place for spending the holidays with the people who matter most!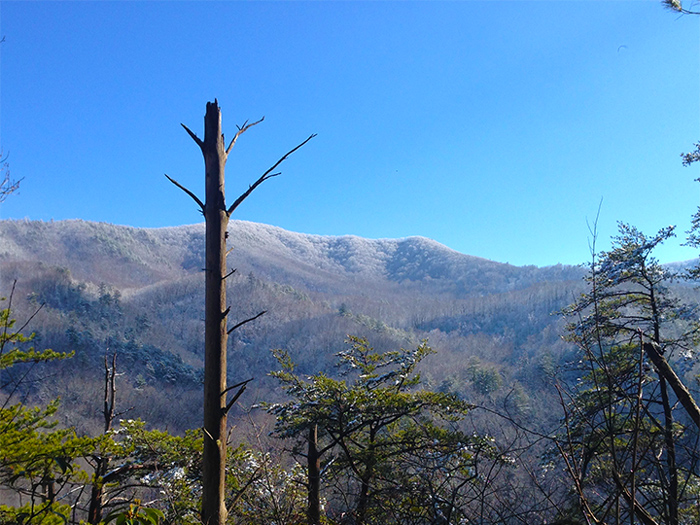 1. Beautiful Winter Weather
As the days grow shorter, things cool down in the mountains. This chilly weather is ideal for sipping hot chocolate, sporting your winter coat, and snuggling with someone special by the fire.
Not only does the brisk mountain air ramp up your Christmas Spirit, it also gives you a chance to see snow over the holidays!
In Pigeon Forge itself, there's only a small chance of snow during this time of year. On average, Pigeon Forge receives only 1.4 inches of the white stuff during the month of December.
Though Pigeon Forge isn't likely to see a large snowfall, you won't have to go far to find beautiful snow for the Christmas season! Simply visit Ober Gatlinburg Ski Mountain. In December, the slopes are open and you can ski, snowboard, or tub on man-made snow.
It's also possible to see natural snow in the high mountains in the Great Smoky Mountains National Park. Because higher elevation areas are colder and receive more precipitation on average than valleys like Pigeon Forge, there's a good chance you can enjoy a white Christmas in the Smokies!
To witness snow-covered peaks, simply drive to Newfound Gap. This part of the park is above 5,000 FT so there's a greater chance you'll have a white Christmas!
2. See Gorgeous Christmas Lights
Every Christmas season, the beautiful Christmas lights of Winterfest brighten the night skies of Pigeon Forge, TN.
This annual winter festival runs from Nov. to Feb, so there's plenty of time to see the magic of the holidays in the Smokies. From mile after mile of beautiful snowflakes to intricate light displays, Pigeon Forge shows off its holiday spirit in an incredible fashion.
To see all of the stunning holiday lights of Pigeon Forge, you can take a self-guided tour on the Driving Tour of Lights! Maps for this tour are available at Pigeon Forge Welcome Centers and the Trolley Office near Patriot Park.
3. Watch Christmas Shows
Pigeon Forge is well-known for its great entertainment scene complete with theaters, live concerts, and dinner shows.
To celebrate the Christmas season in style, many dinner theaters and shows feature special holiday acts with new material. From the impressive horseback riding shows of Dixie Stampede to the family fun of the Hatfield & McCoy Dinner Show, you can always find a seasonally appropriate dinner show to get you in the Christmas spirit!
4. Christmas at the Titanic
See the Titanic outfitted in Christmas decorations for the holidays! This interactive museum dedicated to the famous ship ramps up the Christmas cheer and recreates how Christmas was celebrated when the great ship first sailed.
While the full-scale remodeled rooms and unique artifacts from the Titanic are always a sight to behold, you can see these recreations in period-appropriate holiday décor.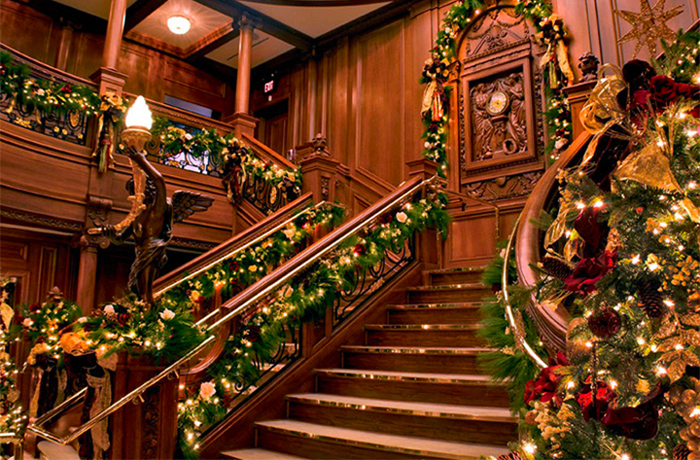 "The Grand Staircase," built according to original Blueprints, is especially striking and features beautiful Christmas lights, garland, and holly.
5. Dollywood's Smoky Mountain Christmas
For the month of December, Dollywood, a unique Smoky Mountain theme park owned by country legend Dolly Parton, is transformed into a beautiful holiday wonderland.
Not only can you enjoy the thrilling coasters, tasty food, authentic local crafts, and family friendly atmosphere of Dollywood, but you can also see the entire park filled with decorations and festive cheer!
Named as one of the best Christmas events in the country, Dollywood debuts these events for the Christmas season:
Dollywood's A Christmas Carol
Christmas in the Smokies Show
Appalachian Christmas Bluegrass Concerts
Santa's Workshop
A Parade of Lights
The Festival of Lights Show
Appearances of Rudolph and His Friends
And More!
Please Note: Dollywood is not open every day during the Smoky Mountain Christmas Event. Be sure to consult their hours before planning your visit!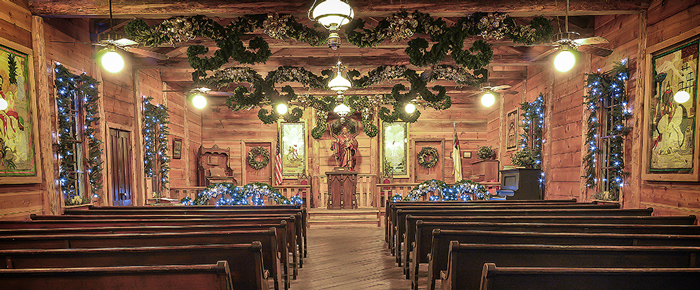 6. Find Decorations at the Incredible Christmas Place
When you visit the Incredible Christmas Place in Pigeon Forge, you can take a bit of holiday magic home with you! From unique collectibles to festive decorations, you'll find everything needed to transform your home (or you cabin) into a holiday wonderland!
The Christmas Place is the largest Christmas store in the Southeastern United States and features a staggering assortment of Christmas trees, nativity sets, Christmas lights, décor, garland, and, of course, Christmas tree decorations.
A singing Santa and his merry elves have been known to visit the Christmas Place and are available for pictures!
7. Celebrate Christmas in the Smoky Mountains
While there's plenty to do and see throughout the holiday season, the magic of Christmas surely reaches its peak on December 25th.
So why not reserve a cabin rental in Pigeon Forge, TN to spend the holidays with your family? With so many fun things to do and see in the Smokies, you could easily make Pigeon Forge your new holiday tradition!
On top of staying in the beautiful Tennessee mountains, you'll also enjoy great cabin amenities like hot tubs, game rooms, theater rooms, or decks with mountain views during your stay!
8. Exciting New Year Celebrations
You can truly bring in the new year in style in the Smoky Mountains!
From the Space Needle Ball Drop in nearby Gatlinburg to the excellent fireworks show at The Island in Pigeon Forge to a fun shindig in your own log cabin, the Smokies are just the place to ring in the New Year!
Final Thoughts on December in Pigeon Forge
The holiday season is easily one of the most exciting times to experience the Smoky Mountains. Better yet, all of the fun events and attractions are perfect for sharing with your friends and family!
Ever been to Pigeon Forge in December? What was your favorite thing about the Smokies? We'd be glad to hear your stories in our comments section!
Written by Adam Shafer