Thanksgiving should always be about spending time with the people you love the most. But, remembering all of the things you should be thankful for can be difficult with the whole family crammed in one house for Thanksgiving Day.
Why Go On A Pigeon Forge Vacation For Thanksgiving?
So why not turn your time with family and friends into a terrific vacation getaway? Finding a Pigeon Forge cabin that's available for Thanksgiving can take your holiday to the next level!
Of all the places you could celebrate Thanksgiving, Pigeon Forge tops many visitors' lists for good reason. November is a terrific time of year to experience Pigeon Forge. Here are just a few of the ways to experience this holiday in the Smoky Mountains.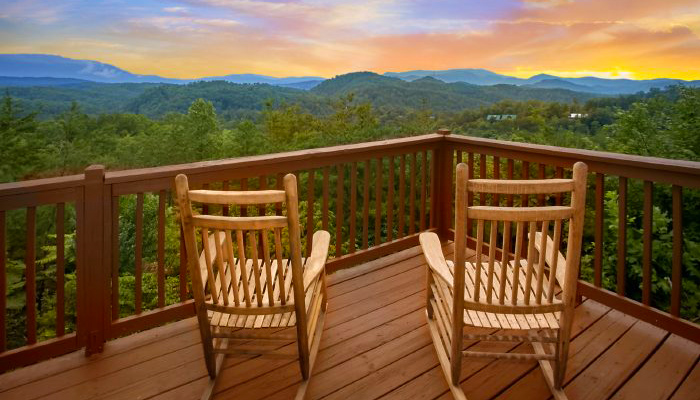 1. Explore the Great Smoky Mountains National Park
First, the Smoky Mountains offer beautiful scenery to explore. Better yet, the national park is always open on Thanksgiving Day.
The scenic roadways, waterfalls, hiking trails, and overlooks in the Great Smoky Mountains National Park hold many gorgeous sights to share with your family and friends.
Whether you're exploring the historic cabins of Cades Cove or admiring the mountain views from Newfound Gap, the Great Smoky Mountains National Park will give you plenty to be thankful for.
2. See Awesome Pigeon Forge Attractions
Next, Pigeon Forge, TN is home to tons of incredible attractions. If you've never been to Dollywood, the Titanic Museum, or a classic Pigeon Forge dinner show, you simply don't know what you're missing.
The Smoky Mountains are also home to lots of amusements like go-karts, mini-golf, and adventure attractions like indoor sky diving. Needless to say, your Thanksgiving can be truly action-packed when you spend it in Pigeon Forge.
Several major attractions like Wonderworks, Hollywood Wax Museum, and the Titanic Museum are even open on Thanksgiving Day.
3. A Thanksgiving Away From Home
You don't have to host family members at your house. This saves you the trouble of having to ready your house for company. If you celebrate Thanksgiving at another house, you won't end up sleeping on a futon.
4. Plenty of Space For Your Family
By booking a cabin for your family in Pigeon Forge, the whole family can stay together, while at the same time giving everyone enough space to kick back and relax. Large group cabins can offer up to 8 private bedrooms and sleep as many as 28 guests in comfort, so its easy to find a cabin with enough room for everyone.
5. Excellent Cabin Amenities
A luxury Pigeon Forge cabin has amenities that can make your Thanksgiving Day better than ever. Imagine sitting back in a hot tub after your Thanksgiving meal or just sitting back in a porch rocker with a lovely mountain view.
Fun cabin features like game rooms and indoor swimming pools give the kids a nice place to play while you watch the Thanksgiving football games in a home theater system.
6. Cook in A Kitchen Or Dine Out For Thanksgiving Day
Whether the thought of preparing a big Thanksgiving Dinner fills you with excitement or dread, Pigeon Forge has you covered.
Unlike hotels, Pigeon Forge cabins come equipped with full kitchens and dining areas for fixing a delicious Turkey dinner with stuffing, gravy, mashed potatoes, and casseroles.
If you'd rather spend your holidays enjoying quality time with the ones you love, there are several restaurants that are open on Thanksgiving Day in Pigeon Forge, TN.
Bennett's Barbecue
Applewood Farmhouse
The Old Mill Restaurant
Mama's Farmhouse
The Seasons of Ober Restaurant
7. See Beautiful Christmas Lights
We all know that the yuletide season is creeping onto Thanksgiving's turf, but some of us simply can't wait to start celebrating Christmas.
Pigeon Forge is in the same boat and begins decorating for Christmas in early November. The stunning light displays of Winterfest in Pigeon Forge are sure to fill your evenings with wonder and delight. Dozens of stunning displays line the Pigeon Forge Parkway. Visitors can enjoy the lights by touring the displays themselves, or they can hop on the Trolley Ride of Lights for a guided trip.
8. Watch Fireworks at the Titanic Museum
This major fireworks display on the Pigeon Forge is probably one of the only Thanksgiving Fireworks shows in the country.
You can see professional fireworks shot off the bow of the Titanic Museum in Pigeon Forge, TN beginning at 7:00 PM on Thanksgiving Day. Be sure to arrive early so you'll get a great spot to view this exciting Thanksgiving event!
9. Experience Christmas At Dollywood
Dollywood, much like Pigeon Forge, starts celebrating Christmas well before any of us sit down to Thanksgiving dinner. However, this isn't really a bad thing. Dollywood's award-winning "Smoky Mountain Christmas" festival transforms the park into a true winter wonderland.
Enjoy all the classic rides and amusements of Dollywood while you see Christmas performances, fun holiday characters, and holiday light shows.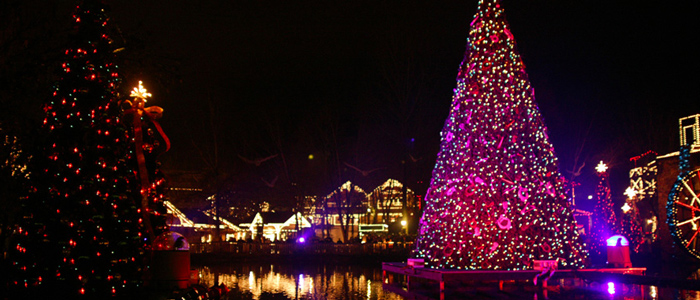 Final Thoughts on Celebrating Thanksgiving in Pigeon Forge
With the beautiful Smoky Mountains, the fun attractions of Pigeon Forge, and the company of your closest family and friends, you're bound to create great memories to last a lifetime on your Pigeon Forge cabin vacation.
Need help finding the right cabin rental in Pigeon Forge for Thanksgiving? Don't hesitate to call our reservations office for assistance in planning your getaway or simply browse our site to find the right cabin for your trip.
Better yet, you can earn a 15% discount on your lodging in Pigeon Forge simply for booking online with Cabins USA! Save on your Thanksgiving vacation in Pigeon Forge, TN today!
Written by Adam Shafer