Thanksgiving is an exceptionally special time to visit Pigeon Forge.
Vacationers flock to the Smoky Mountains this time of year to enjoy fun Thanksgiving activities or just to experience Pigeon Forge in November.
If you've already reserved your cabin for Thanksgiving, we've got 5 great ideas to help you make the most of your stay in the Smokies!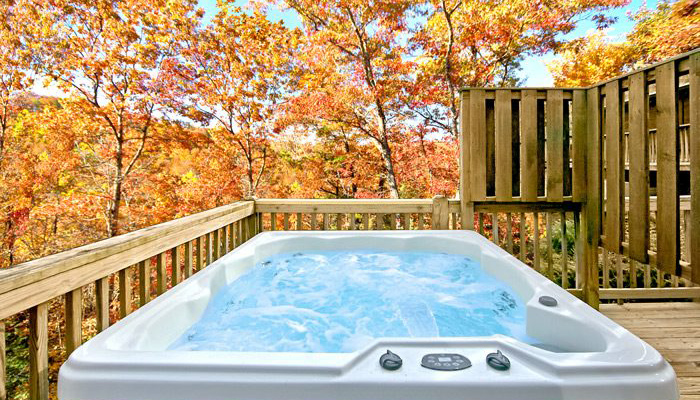 1. Soak in a Hot Tub after Thanksgiving Dinner
The post-Thanksgiving dinner nap is a true American pastime.
After a delicious dinner of Turkey, stuffing, gravy, mashed potatoes, and casseroles topped off with a slice of pumpkin pie with a cup of coffee, it's high time for a nap.
Whether it's the tryptophan or the loads of hearty food that render us semi-conscious, we'll all be looking for a comfortable place to kick back and digest.
If you book a Pigeon Forge cabin, you'll have some prime places to enjoy your Thanksgiving food coma, like sitting back in a rocking chair by a beautiful mountain view or curling up on the couch next to a warm fireplace.
We think that a hot tub is just about the perfect place to unwind after a delicious meal. Luckily, most of our cabins come fully equipped with a hot tub or indoor jetted tub. Simply sink into the warm water and let the jets work their magic.
2. Enjoy Family Time in Your Cabin's Game Room
Thanksgiving often means catching up with family and friends, so why not enjoy playing billiards, air hockey, or foosball with the people who matter most?
Our cabin rentals with game rooms provide guests to enjoy fun games and some friendly competition during your vacation in Pigeon Forge. Not only can you settle who's better at darts, but also game rooms are perfect for giving the kids a place to play.
If you're planning a Thanksgiving getaway and lots of children are along for the ride, there's no doubt that both the kids and adults will appreciate having some space set aside for playing.
While the kids burn off some energy in the game room, you can enjoy peace and quiet while sitting back on your cabin's deck with a lovely mountain view.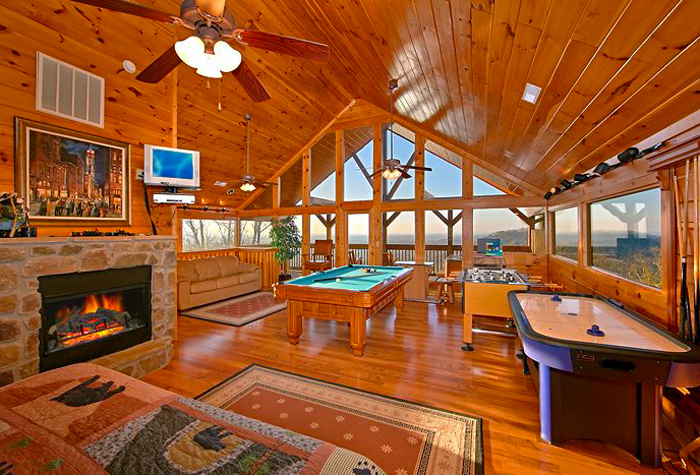 3. Watch Thanksgiving Television in a Theater Room
There's no denying that Thanksgiving Day is a great time for watching television. From nostalgic holiday specials to the Macy's Thanksgiving Parade to exciting NFL football games, there are a lot of fun things to see with your family.
Luckily, if you book a log cabin with a theater room, you can enjoy all of this great television like never before.
If you've never watched Thanksgiving football in a home theater system, then you'll be in for a real treat. Many of our cabins with theater rooms come complete with large projector screens, surround sound, and comfortable theater seats, so you can enjoy Thanksgiving in style.
4. Search For Turkeys in the National Park
What would Thanksgiving be without this noble bird?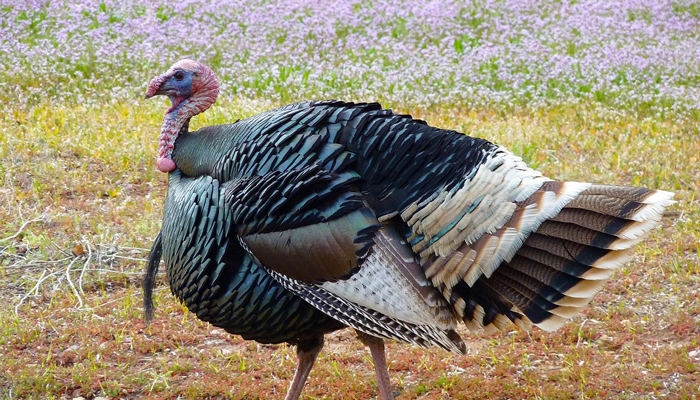 Well, firstly it would be a lot less delicious. But more importantly, turkeys are essentially the official mascot of Thanksgiving. We should all see at least one turkey on Thanksgiving (even if it's just on the dinner table).
If you're planning a vacation in the Smoky Mountains for this beloved fall holiday, there's a good chance you'll see some wild turkeys in the national park!
While wild turkeys are not nearly as plump as the ones we eat for Thanksgiving, you can see plenty of them in the Smokies!
In fact, turkeys are one of the most common animals to see in the Smokies. Motorists routinely see them while taking scenic drives in the Great Smoky Mountains National Park.
If you'd like to see some real turkeys on Thanksgiving Day, try driving through lower elevation regions of the park like the Little River Road, Cades Cove, or Elkmont.
5. Explore Old Cabins in the Smoky Mountains
The Great Smoky Mountains National Park is well known for its rich heritage. Today, visitors can still explore many historic cabins, many of which are preserved by the park service.
Visiting old home sites in the national park is an excellent way to learn about local history and discover what life used to be like in the Smokies.
Early European settlers in the Smoky Mountains were a hardy bunch. They survived harsh winters, famines, and wars, but they always managed to make a living in the mountains.
While it's easy to see why we should admire their ingenuity and determination to survive, seeing what life used to be like can remind us to be truly thankful for the modern conveniences we usually take for granted. Thankfully, the Great Smoky Mountains National Park is even open all of Thanksgiving weekend!
If you'd like to spend some time exploring historic cabins with your family, here are some places to go to see rustic homesteads in the national park:
The Cades Cove Loop
The Roaring Fork Motor Trail – This road closes on Dec 1st
Mountain Life Museum in Oconoluftee
Metcalf Bottoms – Little Greenbrier Trail
Final Thoughts
Didn't get to experience Thanksgiving in Pigeon Forge this year?
Don't worry! There's always next year! In fact, you could start planning your vacation right away!
Simply check the availability of our cabins in Pigeon Forge or contact us at (865) 429-4121 and see how much you can save on your trip with our online discount!
Written by Mark Frazier