Shadrack's takes your average Christmas light display to another level.
A spectacular Christmas light show that runs from Nov 6 – Jan 3rd and gives visitors the change to tour huge array of light displays from the comfort of their vehicles.
Shadrack's Christmas Wonderland utilizes the latest technology to create a truly incredible light extravaganza that is synched to Christmas music. Upon purchasing a ticket to Shadrack's, your vehicle will receive a small radio that plays holiday music while you explore this bright and dynamic light show.
This huge show features over 10 acres of Christmas lights and a mile long drive to explore them all.
This drive-thru light show has grown in popularity year after year. If you're looking for a way to ramp up your Christmas spirit, simply stop by Shadrack's Christmas Wonderland to make some excellent holiday memories with your family.
You can get a taste of what to expect here:
Santa's Village
Another highlight of this Christmas light show is Santa's Village. This side-attractions is open Nov. 20 – Dec. 27. This side attraction is free to enter and includes:
Pictures with Santa
A Zoo
Tons of Inflatables For The Kids – Tickets for $5
Refreshment and Snack Bar
Shadrack's Hours
The nightly show at Shadracks is scheduled from dusk to 10:30 PM.
Typically, the sky starts to dim around 5:30, so Shadrack's will be showing off its light show around dinner time. If it's a busy night, the show operators will routinely go later than the scheduled time.
Since you can enjoy Shadrack's Christmas Wonderland from your car, the show goes on rain or shine.
This show also runs on holidays like Thanksgiving, Christmas, and New Years Eve.
Tickets
The ticket price for Shadrack's in Sevierville depends on the size of your vehicle.
Cars And Mini Vans -$25
Activity Van or Half Bus $40
Tour or School Bus $80
They accept cash or credit cards at the entrance. Tickets cannot be purchased online at the Shadrack's Christmas Wonderland website, but they can be purchased at Smokies Stadium where the show takes place.
What Makes This Christmas Light Show Unique?
Unlike most other Christmas light displays in the Smokies, this huge light show is synched to holiday music.
There are other locations to see this event, in cities throughout the South, but the closest to the Smoky Mountains is in Sevierville, TN. If you've never experienced a professional holiday light show, you won't want to miss this incredible show.
Things To Know Before You Go
Understandably, Shadrack's Christmas Wonderland can draw lots of visitors. If you're going to these days, it's best show up early or be ready to spend some time waiting in traffic.
Friday, Saturday, and Sunday are the most crowded days to see Shadrack's, but weekdays are far less busy.
Location
Shadracks in Sevierville is hosted at the Tennessee Smokies Baseball Stadium.
This outdoor venue is located just off of I-40 at exit 407. As a result, this fantastic Christmas show is only 30 minutes from Pigeon Forge, TN.
Other Incredible Light Shows in the Smoky Mountains
Better yet, Shadrack's isn't the only Christmas show in town.
In fact, it seems that all of the Smoky Mountains are decked out in beautiful Christmas lights you won't want to miss!
Some free places to enjoy Christmas light displays are Winterfest in Pigeon Forge and Winter Magic in Gatlinburg. The Island in Pigeon Forge is a relatively new place to enjoy some light displays, including a massive 35-foot Christmas tree.
Dollywood is also fully decorated for Christmas and has several light shows synched with Christmas music.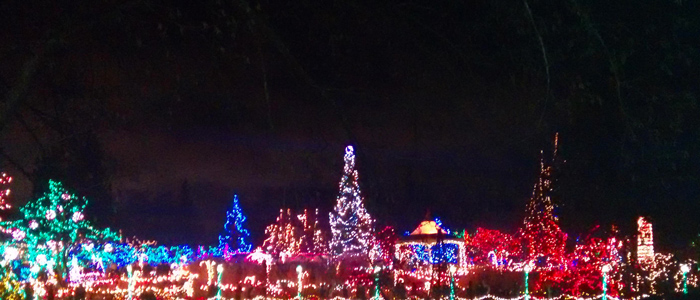 All in all, there are some truly incredible holiday activities to enjoy in the Smoky Mountains with your family. To start planning your Christmas vacation in Pigeon Forge, why not browse some of cabins in Pigeon Forge?
You can find the perfect lodging for your family in the heart of the Smoky Mountains during this most wonderful time of the year!
Written by Adam Shafer