If you're planning on spending the holiday season in Pigeon Forge, you'll have no problem finding exciting things to do.
Best of all, you could see one of the biggest holiday celebrations of them all: New Years in Pigeon Forge, TN!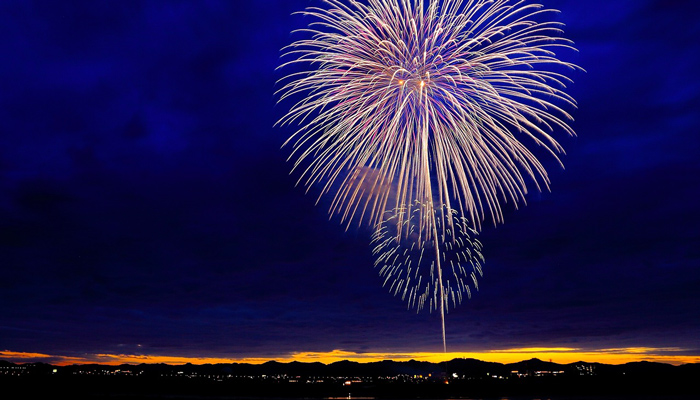 With excellent fireworks displays, fun parties, special shows, and millions of Christmas lights, there's good reason to ring in the new year in Pigeon Forge, TN!
With so many incredible things to do and see, we'll all be asking: What's the best thing to do in Pigeon Forge for New Years?
To help you celebrate Smokies on New Years Eve, we've made this handy guide. Check out the top 5 things to do in Pigeon Forge for New Years Eve!
1. Watch Fireworks at the Island
New Years Eve at the Island in Pigeon Forge is a huge bash that draws thousands of spectators every year!
This free event kicks off at 10 pm and features live music, a New Years countdown, and a fireworks show. If you're celebrating with your family, this kid-friendly New Year's event in Pigeon Forge has face painting and other fun activities the kids will love.
Here's a video of this exceptionally festive celebration:
2. Visit Dollywood
This year, Dollywood will be open on New Year's Eve!
This big event will be the finale for Dollywood's 31st season. Highlights include special light show and all of the fun rollercoasters Dollywood can offer. The park hours are 11 am to 9 pm, so you'll have time to go see other New Years Celebrations in the Smokies!
New Year's Eve is part of Dollywood's Smoky Mountain Christmas celebration, so the park will be fully decorated in beautiful Christmas lights and holiday displays.
3. Attend Gatlinburg's New Year's Celebration
Without a doubt, nearby Gatlinburg, TN is home to the biggest New Years Eve Party in the Smoky Mountains.
Every year, thousands of spectators flock to the streets of Downtown Gatlinburg to watch the New Year's Ball Drop from the Space Needle in the heart of town. A live DJ will keep the party going until midnight. Once the new year arrives, visitors will be treated to a professional fireworks and a LED light show.
The heart of the celebration takes place at the Gatlinburg Space Needle at traffic light #8. This 400 ft. tall tower will be outfitted with special lights for a truly exciting and terrific New Years celebration.
4. See Christmas Lights in Pigeon Forge
No matter where you go to see New Years in Pigeon Forge, beautiful Christmas lights will greet you at every turn!
These gorgeous light displays are part of Pigeon Forge's Winterfest celebration. This holiday light show continues well past December, so you'll have plenty of time to see the festive light displays that line every mile of the Pigeon Forge Parkway.
5. Watch A Pigeon Forge New Years Show
Pigeon Forge is a town with many top-notch theaters and dinner shows. Best of all, December 31st is an excellent time to see some excellent entertainment at these top local venues.
The Smoky Mountain Opry
This excellent show in Pigeon Forge is famous for its dazzling displays, aerialists, live band, comedians, ice skaters, pyrotechnic effects, and more! During New Years, the Smoky Mountain Opry will host a special New Years Show starting at 9pm.
Other Highlights include:
Live broadcast of the New York City Ball Drop
A Countdown Toast with Champagne
An After Party
Meet and Greet the Cast of the Show
Dancing on the Opry Stage with Music by the Show Band
The Grand Majestic Theater
The Grand Majestic also features a special New Years Show with performances of beloved Pigeon Forge acts Soul of Motown, Magic Spectacular, and the Hazzard County Hoedown.
A delicious buffet dinner is included in with the show and the festivities starts at 8pm.
Country Tonite Theater
This special show in Pigeon Forge begins at 9:45 pm and features New Year's gifts, party favors and other surprises! After a terrific show from the Country Tonite cast, hundreds of balloons fall from the ceiling to ring in the new year! Guests will enjoy a non-alcoholic New Year's Toast while the show band plays Auld Lang Syne.
Map Of New Years Events in the Smoky Mountains
Final Thoughts: Celebrate With Your Friends in A Pigeon Forge Cabin
Even though there are tons of celebrations happening throughout Pigeon Forge and the Smoky Mountains, celebrating the New Years in your own private cabin can be just as rewarding.
Whether you're watching fireworks from your cabin with a view or just sitting back in a hot tub on a crisp winter night, booking a cabin with your friends and family is a terrific way to enjoy New Year's Eve in comfort and style.
So book one of Cabins USA's Pigeon Forge cabin rentals for New Year's eve and toast the New Year on your cabin's deck!
Written by Mark Frazier