Dollywood's Christmas celebration is a can't-miss, award-winning festival in Pigeon Forge. This top-rated Smoky Mountain Christmas Festival is sponsored by Humana and brings plenty of holiday cheer to the mountains of Tennessee.
This winter-time celebration is arguably the best of its kind. As 8-time award winner of America's Best Christmas Event, you won't want to miss this magical season at Dollywood.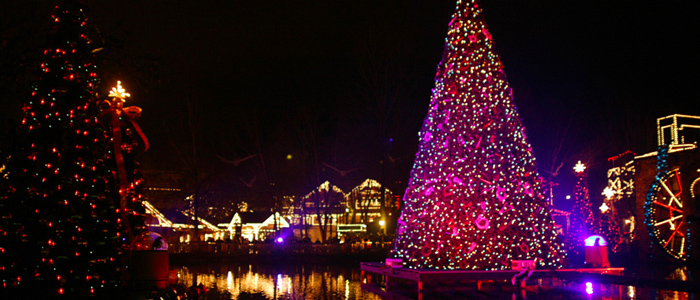 Dollywood is a 130-acre theme park in Pigeon Forge, TN that's known for its exciting roller coasters, fantastic shows, delicious food, and its family-friendly atmosphere, but Dollywood truly delivers for the Christmas season.
Here's what you can look forward to when you make Dollywood part of your Pigeon Forge Christmas vacation!
Dollywood's Christmas Lights
Want to guess how many Christmas lights Dollywood uses for its holiday festival?
The answer: over 4 million.
That's right. At Dollywood, you can literally see millions of Christmas lights aglow at this remarkable Smoky Mountain holiday festival. These lights can be seen at all hours of the day, but the displays are truly spectacular at night.
Here are some other ways to enjoy Christmas Lights:
The Christmas Parade of Many Colors – Floats adorned in Christmas lights process through the part at 8 pm every night beginning in November.
Take a Ride on the Dollywood Express – See all the festive lights in Dollywood while you ride this authentic, 110 ton, coal-fired train throughout the park.
The Festival of Lights Show in Timber Canyon – Formerly known as Carol of the Trees, the Festival of Lights Show comes complete with Christmas tunes synchronized with lights and fountain effects. This nightly show begins at 6pm and runs every 30 minutes until the park closes.
Glacier Ridge - A new lighting experience in the Wilderness Pass region of the park.
Riding tall roller coasters like the Wild Eagle or Thunderhead is another fantastic way to see the glittering lights of this festive park. Right before your coaster makes the big drop, you'll be able to catch a glimpse of the lovely holiday lights decorating all of Dollywood!
Dolly's Christmas Chapel is another beautiful place to see the magic of Christmas and attend a nightly worship service at 5:30pm.
Christmas Activities For The Kids
Dollywood is always a great place for families with children and the yuletide season is no exception. Be sure to check out these fun activities for creating timeless Christmas memories with your little ones.
Santa Land – A fun-filled place for kids to see ginormous toys, play with interactive displays, and visit with Santa Claus!
Character Experiences – You can meet Rudolph the Red-Nosed Reindeer, Claris, Yukon Cornelius, the Abominable Snow Monster and other friends at Dollywood's Holly Jolly Junction. Be sure to bring a camera to snap some cute pictures!
Music Performances At Dollywood
Dollywood has some of the best music in the Smoky Mountains hands down. During this winter festival, many of the performers feature a holiday set of classic Christmas tunes and heart-warming hymns.
Appalachian Christmas – A live acoustic show at the Back Porch Theater that celebrates Christmas with traditional music from the Smoky Mountains. Shows are scheduled at 3pm, 4pm, 5pm, and 6pm daily.
Kingdom Heirs – This gospel group is known for its inspirational performances. Enjoy beautiful Christmas hymns daily at 2:30pm and 4pm.
Christmas Shows at Dollywood
Complete with beautiful sets, talented performers, and moving music, you can see several full-production shows at this Pigeon Forge Theme Park. Dollywood's Smoky Mountain Christmas will feature these special shows:
It's A Wonderful Life - See this Christmas classic performed live at the Showstreet theater.
Christmas in the Smokies – This beloved holiday show returns with classic Christmas tunes performed by a lively 12-person cast every day at 2:15pm, 4:00pm, 6:00pm, and 8:00pm at the Showstreet Theater.
O' Holy Night – A heart-warming re-telling of the true reason for the season in a little town called Bethlehem. Guests can see this show at 4:30pm, 5:30pm, 6:30pm, and 7:30pm in Craftmans Valley.
Twas the Night Before Christmas - This fun holiday show delights crowds with singing, a 4-piece band, and dancing every night at 6:45pm and 8:15pm at the Pines Theater.
On weekends, there are even more show times, so you won't have to miss a single Christmas performance during your trip to Dollywood!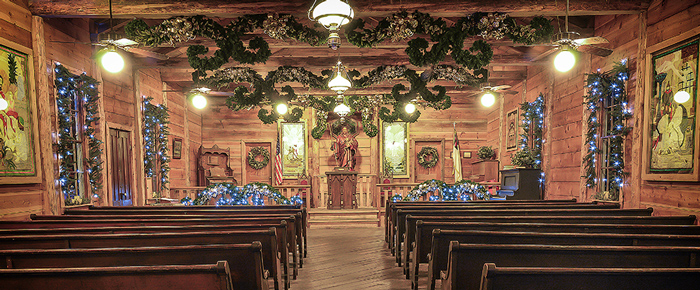 While you explore beautiful Christmas lights and special holiday shows, be sure to try some delicious food at Dollywood like their world-famous cinnamon bread from the Grist Mill or some pumpkin rolls. Dollywood also offers special Christmas dinners complete with roast turkey, Cades Cove pit ham, sweet tea chicken, cornbread dressing and other goodies.
Dollywood Christmas Schedule and Hours
Dollywood is fully decorated for Christmas for the months of November, December, and early January. The dates of this excellent festival run from Nov. 10th to Jan 5th. This fantastic holiday is made possible with sponsorship from Humana.
For the Christmas season, Dollywood is open every day except Mondays and Tuesdays. During the week of Christmas, Dollywood is open for these days, but they are closed on Christmas Eve and Christmas Day.
If you'd like to celebrate New Year's Eve at Dollywood, the park will be open until 9 pm on Dec. 31st. Be sure to check out Dollywood's operating schedule for planning your visit!
Final Thoughts On A Smoky Mountain Christmas At Dollywood
We'd love to know – what's your favorite thing about Dollywood during Christmas? Do you love the lights? The special Christmas shows? The wonderful atmosphere of this incredible park? We'd love to hear your thoughts in our comments section!
Ready to plan your own Pigeon Forge Christmas vacation with a visit to Dollywood? We offer comfortable log cabins only minutes away from Dollywood Theme Park. If you've never experienced Christmas in the Smokies, you'll be in for a real treat! Experience the magic of the holidays at one of the best theme parks in the Southeast!
Written by Mark Frazier