Pigeon Forge is definitely the most lively part of the Smoky Mountains. Every year, visitors can find new shops, attractions, and restaurants to experience during their trip.
We'd like to highlight some of the best new places to eat in Pigeon Forge in 2016! Start planning a terrific vacation and make time for a trip to one of these 5 new restaurants in Pigeon Forge, TN!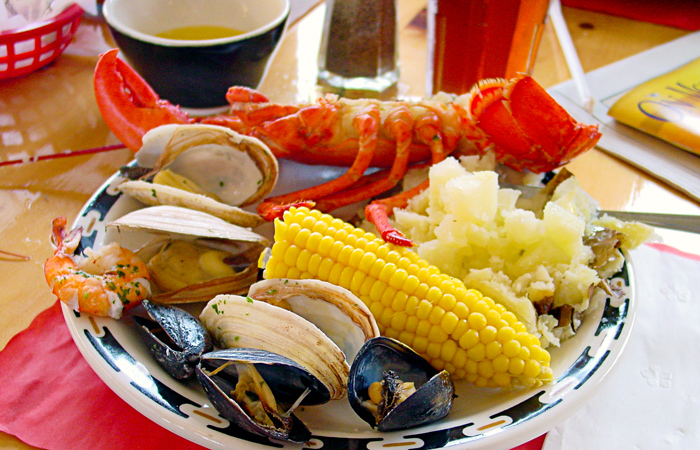 1. Harpoon Harry's Crab House
Newly opened in Spring 2015, Harpoon Harry's Crab House is a new seafood restaurant right off of the main parkway in Pigeon Forge.
This restaurant sits in a newly renovated space on a beautiful property near the banks of the Little Pigeon River. Inside, diners will enjoy a terrific atmosphere complete with custom black walnut woodcarvings. This massive restaurant is one of the largest in Tennessee and seats up to 650 guests. Needless to say, you won't have any trouble getting a table at Harpoon Harry's.
This new restaurant has earned a reputation for serving some of the best seafood in the Smokies and specializes in crab legs, sushi, steaks, and pasta. Additionally, Harpoon Harry's serves as a music venue and features local musicians and bands.
2. Paula Deen's Family Kitchen
Paula Deen has come to Pigeon Forge to share her family recipes at a brand new restaurant at the Island in Pigeon Forge, TN!
This restaurant in Pigeon Forge is unique, since it serves dishes "family-style," meaning that a table shares massive portions of entrees and sides divided between a table the old-fashioned way.
With fried green tomatoes, fried chicken, collard greens, beef pot roast, Georgia catfish, squash casserole and other southern favorites, a trip to this kitchen is a classic experience. You can also try famous recipes like Paula's Ooey Gooey Butter Cake or her secret Lasagna recipe.
No matter whether you've grown up your whole life with Southern cooking or you're trying it for the first time, you're in good hands at Paula Deen's Family Kitchen.
Here's some of what the celebrity chef had to say about her new restaurant in the Smokies!
The Island is also home to several newer restaurants like Margaritaville, Timberwood Grill, Dick's Last Resort, and Mellow Mushroom.
3. Sitar Indian Cuisine
Pigeon Forge may be known for it's downhome country cooking and pancake restaurants, but it's also home to some incredible Indian food.
Sitar is a Tennessee favorite and now you can enjoy delicious North Indian dishes a short drive away in Sevierville, TN. This new addition to the Pigeon Forge food scene is popular for its rich and exotic flavors, as well as an incredible lunch buffet.
4. Hard Rock Cafe
Opened in Spring 2014, the Hard Rock Cafe in Pigeon Forge brings a lively atmosphere to the Pigeon Forge Parkway. This restaurant was previously located in Downtown Gatlinburg, but wanted to grow into a new space.
Now you can enjoy delicious burgers and other American classics with a heaping portion of Rock n' Roll in Downtown Pigeon Forge, TN!
5. J.T. Hannah's
J.T. Hannah's is a unique restaurant that's earned a strong local following.
The story of J.T. Hannah's begins with local businessman who opened a restaurant in his Pigeon Forge warehouse back in the 1920s and 1930s to serve his employees. Long after the warehouse was shuttered, the popular restaurant continued serving delicious grub for many years more.
In 2011, J.T. Hannah's Kitchen opened to honor this local businessman and his contribution to history of Pigeon Forge. As a result, this restaurant has a unique dining atmosphere styled after a rugged warehouse interior.
For such a prime location in Pigeon Forge, this new restaurant features affordable plates and delicious classics like the Patty Melt, Smoky Mountain Trout, and an Open-Faced Roast Beef Sandwich.
Map Of New Pigeon Forge Restaurants
Closing Thoughts
Be sure to try at least one of these excellent new places to eat in Pigeon Forge during your next trip!
Better yet, there are new things to do and see in the Smoky Mountains every year, so be sure to check out our local guide on new Pigeon Forge activities.
Start planning your Pigeon Forge cabin vacation today for a fun-filled getaway you won't forget!
Written by Adam Shafer