Want to experience a Pigeon Forge vacation in May?
With great weather, fun attractions, and exciting events, there's a lot to love about visiting Pigeon Forge in late spring!
To help you get the most out of your trip, we made this guide with the 5 best things to do in Pigeon Forge during the month of May!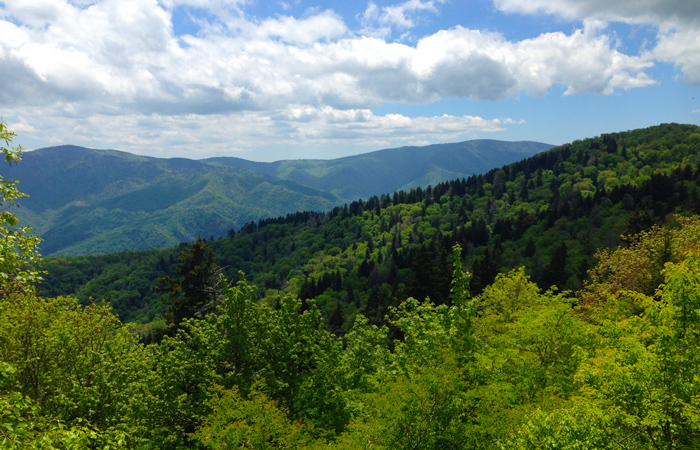 1. Explore the National Park in May
When the weather is beautiful in Pigeon Forge, you'll definitely want to spend some time in the Great Smoky Mountains National Park.
With dozens of waterfalls, mountain overlooks, and hundreds of miles of hiking trails, it's hard to imagine a better place to enjoy the outdoors. Best of all, a visit to the Smokies is absolutely free since the park doesn't levy an entrance fee.
By May, all picnic areas, facilities, and roads are open throughout the national park, including areas like the Roaring Fork Motor Trail and Clingmans Dome. Also, many of the trees have already budded their bright green leaves.
In lower elevations in the park, keep an eye out for May wildflowers like:
Milkweed
Woodland Bluets
Yellow Stargrass
Bowman's Root
Beardtongue
Yellow Sorrel
Soloman's Seal
Catesby's Trillium
Fire Pink
Beautiful purple Mountain Laurel and bright orange Flame Azaleas are also blooming by mid-May.
Even if you don't enjoy wildflowers, there are always fantastic sights to enjoy like the historic homes in Cades Cove and impressive vistas from the Alum Cave Trail.
On average, the temperatures in Pigeon Forge during May are:
Avg. High 77°F
Avg. Low 53°F
The weather might be slightly cooler high up in the mountains, but down in Pigeon Forge, you can expect to see warm and sunny days.
2. See Barbecue and Bluegrass At Dollywood
Dollywood is definitely one of the best attractions in Pigeon Forge During May. Not only is the weather perfect for riding roller coasters or strolling through the streets of Dollywood, but you can also see a special festival in May!
In late May and Early June, Dollywood celebrates the spring season with Barbecue and Bluegrass! With regular admission to Dollywood, you'll get to enjoy fun rides, great live music, and some authentic Smoky Mountain barbecue!
Better yet, this beloved Smoky Mountain theme park isn't as crowded during May when compared to other months of the year. As a result, this is the perfect time to get the most out of your trip to Dollywood!
3. Go Swimming at Dollywood Splash Country
May is also the start of Dollywood Splash Country's season! In 2018, the waterpark is scheduled to open on the weekend of May 19th.
As the weather heats up, you won't want to miss the dozens of slides and water rides at this Smoky Mountain waterpark!
Better yet, the lines for many rides are shorter during May, so you can have more time having a blast at Splash Country.
For a taste of what you can experience, check out this video about "River Rush," Tennessee's first and only water coaster.
4. Check Out May Events in Pigeon Forge
May is a truly action-packed time to visit the Great Smoky Mountains. Be sure to check out these great events during your stay! Of course, Memorial Day is always observed on the last Monday in May, so there are lots of events and activities to enjoy in Pigeon Forge on this federal holiday.
Cinco De Mayo – May 5th
Why not celebrate Cinco De Mayo in Pigeon Forge, TN?
Here's a list of great Mexican restaurants in Pigeon Forge that are bound to be festive spots on this holiday:
Emiliano's Mexican Grill
No Way Jose's Cantina
Cielito Lindo Mexican Grill
Loco Burro Mexican Cantina
Las Ositas
You could also try a Moonshine Margarita at Ole Smoky Moonshine Barn at the Island in Pigeon Forge!
Smoky Mountain Pedal Car Show – May 9th - 12th
This fun antique show features unique toys and vintage memorabilia from the 1930s, 40s, and 50s. While this isn't your usual Pigeon Forge car show, this 2-day event does feature rare pedal cars, motorcycles, and wagons.
If you have nostalgia for a simpler time, you won't want to miss this great event that's ideal for vintage toy collectors and enthusiasts at the Country Cascades Hotel.
Music in the Mountains Spring Parade – May 4th
This free event features festive floats, marching bands, and baseball Legend Cal Ripken as the grand marshal! Over 50,000 spectators attend this exciting parade that goes through the heart of Pigeon Forge. This parade begins at 6 pm and goes from traffic light #3 to traffic light #6 on the Pigeon Forge Parkway.
Wilderness Wildlife Week – May. 8th – 12th
If you love learning about the Smoky Mountains or just enjoy spending time in nature, you won't want to miss Wilderness Wildlife Week at the LeConte Center in Pigeon Forge. This annual festival features presentations, workshops, and guided hiking trips in the national park.
There are programs for all ages, including a special kids track that's perfect for young Smokies enthusiasts.
Bloomin' Barbecue and Bluegrass in Sevierville – May 19th – May 20th
Come celebrate the blooming flowers of Spring at this Sevierville music festival. See some of the best bluegrass acts in the nation and enjoy the delicious flavors of barbecue at this excellent local bash.
5. Reserve A Cabin in May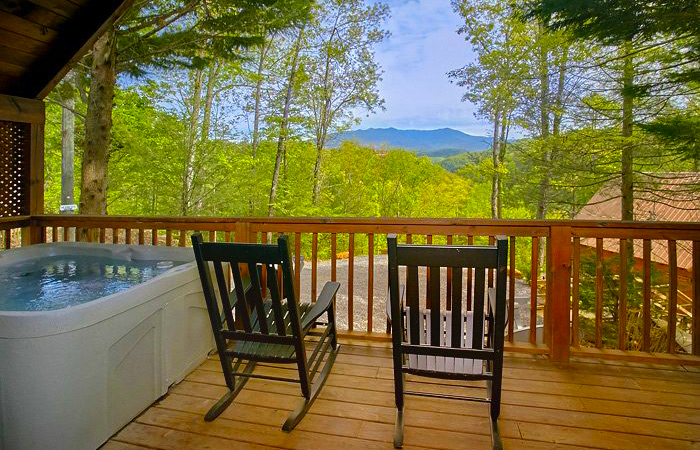 To get the most out of your May vacation, why not enjoy a getaway in a Pigeon Forge cabin?
With a log rental complete with a hot tub, game room, and a beautiful mountain view, you're bound to have a fantastic stay in this gorgeous part of the country.
As an added perk, May is a less busy time to visit the Smoky Mountains, so you'll find better selection and deals on cabins!
Not only are vacation rentals comfortable and relaxing, but also they're also incredibly affordable. In fact, Cabins USA offers cabins with a special 15% discount to make your getaway even better for your budget.
Written by Mark Frazier