Vacations can be expensive, but they don't have to be!
Although Pigeon Forge is one of the most popular destinations in the country, there are plenty of ways to plan a getaway that's easy on your bank account.
To help you save your hard-earned money, here are 4 ways to keep your vacation budget in check when you visit Pigeon Forge, TN! Find out how to visit Pigeon Forge on a budget and get the most out of your trip!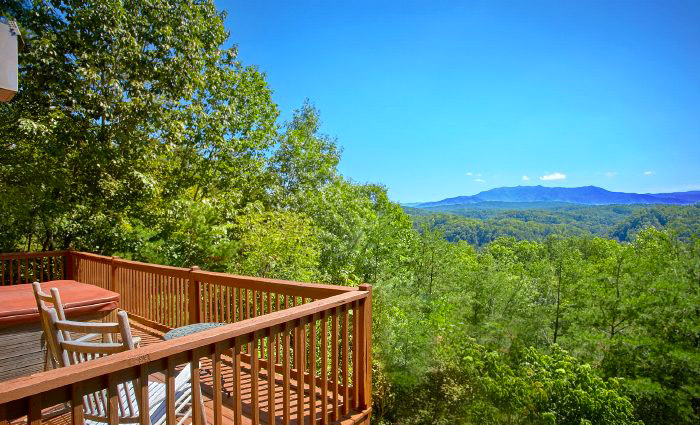 1. Book a Cabin and Save on Lodging
While it's no surprise that a cabin rental company would say that cabins are the most affordable lodging option, consider this fact:
One of the biggest expenses of a vacation is dining out for 3 meals during the day. While this can put a huge dent in your vacation budget, a cabin rental's kitchen gives you the chance to save by cooking your own dinners.
Additionally, kitchens make it easier to store and prepare food, so you can plan a cost-friendly picnic in the Smokies or save leftovers from a great meal in town.
Renting a cabin for your vacation is also budget-friendly because many come with amenities like hot tubs, theater rooms, and game rooms.
So, instead of spending money on attractions in town, you can simply relax in your hot tub or enjoy some friendly competition at the pool table!
Last, but not least, you can reserve a log cabin with a beautiful mountain view or a peaceful spot in the woods to truly help you relax and unwind during your stay.
2. Stay With Friends
Everyone loves spending time with friends and family, so why not plan a big getaway to the Smokies with the people you love?
By renting a cabin in the mountains, you can ensure everyone has a comfortable place to stay underneath the same roof. Additionally, the more friends you bring, the cheaper it'll be to stay in your cabin because you can split the costs among all the guests.
Not only will you have more fun staying in a cabin with your friends, but it will also be cheaper than reserving several hotel rooms.
3. Pick Low-Cost Activities
This may seem like a no-brainer; of course your Pigeon Forge vacation will be cheaper if you don't spend lots of money on tickets to shows and attractions.
However, the real trick is finding the best low-cost things to do in the Smokies.
Luckily, we're here to help.
Check out this post on the best free things to do on your Pigeon Forge vacation!
If you'd like to visit major attractions like Dollywood or the Titanic Museum, there are some tricks for saving on your visit. For example, at Dollywood there's a secret way to get a free half day at this Smoky Mountain theme park.
Any visitor who arrives at the park after 3pm can use their ticket the next day. Simply save your after-3pm ticket and ask the ticket office about their 'next-day-free' special. For other attractions, be sure to search for coupons and seasonal specials to help you save!
Update: Dollywood may no longer be offering their "Next Day Free Deal." There has not been an official statement from Dollywood about this, but we have heard reports that the deal is no longer offered.
4. Explore the Wonders of the Great Smoky Mountains
Not only is the Great Smoky Mountains National Park the most visited national park in the country, it's also one of the only national parks without an entrance fee.
Since the park's founding, the park service has agreed to not levy a ticket system in the Smokies. This is because the state of Tennessee only transferred ownership of Newfound Gap road on the condition that this route would never have a levy.
As a result, you can enjoy one of America's greatest treasures for only the cost of gas.
Here are some of the best things to do in the national park:
Hike the Chimney Tops Trail
Drive To Newfound Gap and Clingman's Dome
Explore Historic Homesteads in Cades Cove
See Elk in Cataloochee Valley
Explore the Roaring Fork Motor Trail
Searching For Wildflowers at White Oak Sinks
Final Thoughts
When trying to keep your costs low on your vacation, one of the best things to do is to plan as many things as possible.
After all, one of the priciest things about a vacation is making a mistake like choosing an expensive restaurant, getting dragged into a souvenir shop, or going on a shopping spree.
By carefully planning your itinerary, you can avoid unexpected costs. Carefully mapping your routes, planning low cost activities, and always having plenty of food and snacks for your trip can make a big impact on vacation expenses.
Be sure to check out these Pigeon Forge cost-saving secrets while you plan your getaway!
Last, but not least, looking for discounts is another great way to save!
For example, Cabins USA offers select rental properties with a 15% discount. Find a great cabin for your stay and save big on your nightly rate!
Save on My Pigeon Forge Cabin!
Written by Mark Frazier