For a peaceful mountain town, Pigeon Forge has lots of venues to see live music!
First and foremost, Pigeon Forge is known for its dinner shows and musical review theaters. These family-friendly places to see live music in Pigeon Forge include Memories Theater, Dolly Parton's Dixie Stampede, the Smoky Mountain Opry, and there are even live concerts at Dollywood Theme Park.
Another great spot to see live music is at The Country Tonight Theater boasts a celebrity concert series that brings excellent country stars like Don Williams and Loretta Lynn, along with their own Country Music Show.
If you'd like to enjoy great music in Pigeon Forge without a cover charge or an admission price, we recommend these top 5 places to see live music in Pigeon Forge!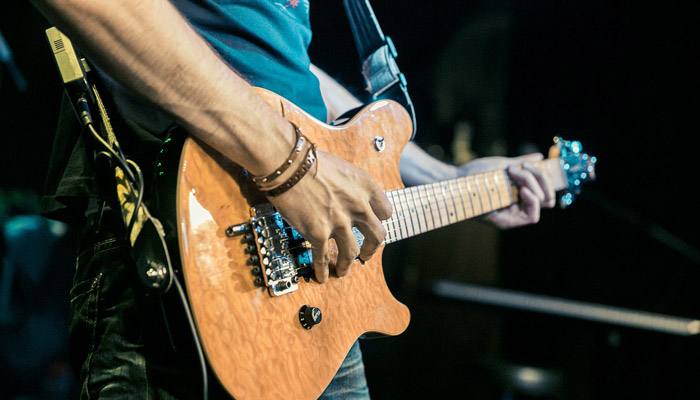 Restaurants and Bars with Live Music
Lots of great acts pass through the Smoky Mountains area, so you can see lots of talented blues, country, rock, bluegrass, and folk artists during your vacation. Not only can you find lots of original music, but there are some great cover bands that tour the region as well. Here's where you can see them:
1. The Ole Smoky Moonshine Barn Stage
The Ole Smoky Moonshine Barn at the Island in Pigeon Forge offers free moonshine tastings and a great lineup of bluegrass artists. If you're looking for an authentic Smoky Mountain experience, it's hard to beat sipping moonshine and relaxing to traditional mountain music.
Not only will you hear some great country and bluegrass artists in the evening, but you can also take a tour of the distillery and find your favorite 'shine in their nearby store.
You can see live music at Ole Smoky Moonshine most nights of the week during the busy summer season.
2. Margaritaville at the Island
Not far from The Ole Smoky Moonshine Barn, you'll find great live music at Margaritaville, a new Pigeon Forge restaurant.
While you're savoring your own Cheese Burger in Paradise, you can see artists performing at the 5 o'Clock Somewhere Bar most nights of the week during the busy season in Pigeon Forge. This outdoor venue is a great place to hear live music while you dine or sit back by the oversize fire pit.
Be sure to check out the event calendar at the Island in Pigeon Forge to see what great acts are coming to the Ole Smoky Moonshine Barn or the Margaritaville restaurant.
3. Sugarlands Distilling Company
A short drive away in Gatlinburg, you can see some talented musicians at the Sugarlands Distilling Company tasting room in Gatlinburg. Much like the moonshine barn in Pigeon Forge, you can tour the distillery and try some free samples while you enjoy the show.
Sugarlands is known for brining in artists from Nashville and Knoxville, so this is a great venue to experience the local sound.
Here's a calendar of performances you can see at Sugarlands so you can schedule it into your next vacation!
4. Smoky Mountain Brewery
Smoky Mountain Brewery is a local chain that's earned a strong local following in the past few years. And there's no secret why: locals and visitors love their local craft beer and full menu of delicious food.
If experiencing some local flavors isn't reason enough to visit the Smoky Mountain Brewery locations in Gatlinburg or Pigeon Forge, then their great calendar of live music is just what you need to give this favorite Smoky Mountain restaurant a try.
5. Harpoon Harry's Crab House in Pigeon Forge
As one of the newer restaurants in Pigeon Forge, Harpoon Harry's Crab House has made a huge splash with its fresh seafood, crab legs, pastas, burgers, steaks, and even a sushi bar.
Better yet, you can see live music during the summer on Thursday, Friday, and Saturday. Check out their event calendar to see who's playing in Pigeon Forge!
Final Thoughts
Checking out live music is always a terrific experience to add to your vacation and Pigeon Forge plays host to lots of great artists.
If you're looking for more fun things to do at night in Pigeon Forge, be sure to check out our Smoky Mountain nightlife guide.
We'd love to hear your thoughts, where are your favorite places to see live music in Pigeon Forge? Do you like the dinner shows and theaters or do you prefer the intimate setting of a band at a restaurant or bar? Feel free to share in our comment section!
Written by Mark Frazier