Things To Do in Pigeon Forge at Night
When the sun sets on another excellent day in the Smoky Mountains, some vacationers retire to cozy cabin rentals in Pigeon Forge, TN and call it a night. Luckily, for fun-loving night owls like you, there are tons of late night attractions in Pigeon Forge, TN!
Here's everything you need to know to enjoy a great night out in Downtown Pigeon Forge for your vacation!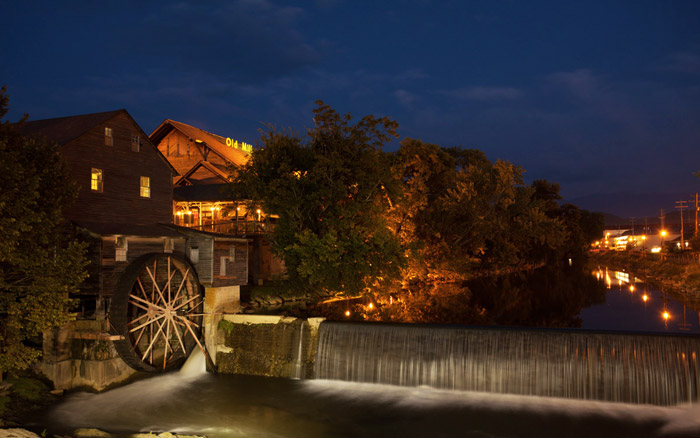 Late Night Restaurants in Pigeon Forge
What's a late night without enjoying tasty food and a refreshing beverage? Here are several restaurants in Pigeon Forge that are open late:
Smoky Mountain Brewery – Open till 11 PM


Mellow Mushroom At The Island – Open Till Midnight


Buffalo Wild Wings – Open Till Midnight


Margaritaville at the Island - Open Until 2 AM


Blue Moose Burgers and Wings – Open Till Midnight


Hard Rock Cafe Pigeon Forge – Midnight or later


Dick's Last Resort in Pigeon Forge – Open Till 11 PM


Ole Smoky Moonshine Barn – Open Till 11 PM
For a night on the town, visit a Smoky Mountain Brewery to try some local microbrews. Mellow Mushroom offers an excellent bar area complete with large flat-screen televisions for watching the game. The Margaritaville Restaurant is another hot spot for nightlife. Restaurants at The Island in Pigeon Forge are generally open late and come with the chance to watch the Great Smoky Mountain Wheel light up the night sky!
Insider Tip: Some of these hours are subject to change. Calling ahead is the best way to guarantee your desired restaurant is open. During the winter season, businesses sometimes close earlier in the evening, while many restaurants extend their hours during the busy summer season.
Nighttime Activities in Pigeon Forge
What can you do at night in Pigeon Forge? There's a lot happening when the sun goes down! From mini-golf to go-karts to evening attractions, you'll find no shortage of late night amusement in Pigeon Forge, TN!
Many fun attractions in Pigeon Forge have longer hours in the summer and roll back hours during slower times like winter and weeknights.
Xtream Racing – Race 40 mph go karts until 12 AM or later on weekends.


Lazer Port Fun Center – Play arcade games, lazar tag, or play indoor mini golf until 11 PM or later.


The Track - Go karts, mini golf and other rides open until midnight from May 24th to August 10th.


Wild Gals Old Time Photos – This old time photo studio is open until 10 pm on weekends. Call ahead to schedule a fun photo shoot where you and your friends can dress like outlaws and saloon girls.


Lost Treasure Golf – Well lit outdoor mini-golf course that's open until 11 PM.


Nascar Speed Park – Race go karts until Midnight!


Firehouse Golf – Play family friendly mini-golf until 11 PM at night.


The Escape Game Pigeon Forge - Test your wits and solve puzzles at this challenging escape game at the Island in Pigeon Forge that's open until 11:45 PM!
You'll love the family friend of playing mini-golf on a warm summer night or the thrill of racing go karts under the stars.
More Evening Attractions in Pigeon Forge
The Tomb – This Egyptian themed attraction that's open until 10:30 PM challenges your family to escape the grasp of Pharaoh!


Trapped in Pigeon Forge – This brand new escape game in Pigeon Forge is open until 11 pm daily. See if you have what it takes to crack the code and escape from this live action game!


Hollywood Wax Museum – A fascinating attraction that's open until 11 PM that features life-size wax recreations of your favorite stars.


Jurassic Jungle Boat Ride – This ride is open till 11. Enjoy a thrilling boat ride with giant dinosaurs!


The Great Smoky Mountain Wheel – Rise 200 ft. above The Island in a climate-controlled gondola to see the lights of Pigeon Forge.
Dinner shows and theater shows are another top nighttime entertainment choice in Pigeon Forge. With everything from comedy acts to live music performances to murder mystery dinner theaters, you're bound to find the show that's right for you!
Final Thoughts on Nighttime Activities in Pigeon Forge
Some low cost things to see at evening in Pigeon Forge include driving up and down the Pigeon Forge Parkway. Seeing the glittering lights is beautiful at night and is even more striking when Pigeon Forge is lit up for the holidays.
For some natural splendor, making the short drive into the Great Smoky Mountains National Park is another option. From the Newfound Gap Parking area, you can see brilliant stars in the night sky on a clear night.
Another great way to enjoy an evening in Pigeon Forge is to relax at a cabin rental with a hot tub, theater room, or game room that can provide hours of entertainment and relaxation. Whether you want to see great local attractions or enjoy a laid-back evening in a log cabin in the mountains – night owls are sure to be at home in Pigeon Forge, TN!
Written by Mark Frazier