Planning on visiting Pigeon Forge in February? You're in for a real treat!
Although February is a colder time of year, this month is one of the least crowded times to enjoy the Smoky Mountains!
To get the most of your winter vacation in Pigeon Forge, we've made this guide with the 8 best attractions, events, and activities to enjoy during February in Pigeon Forge, TN!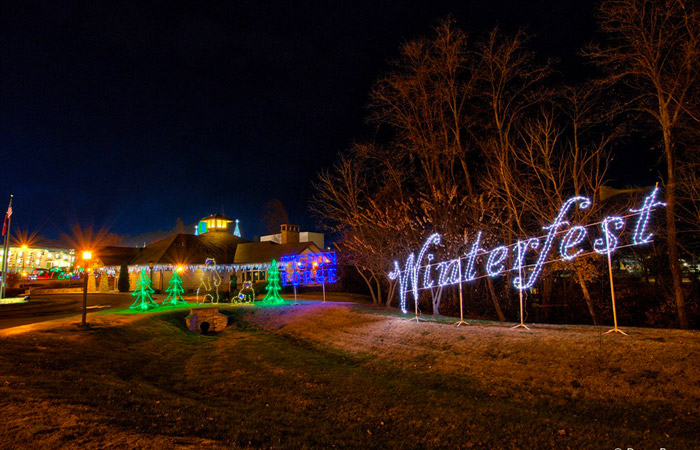 1. Sweetheart Month at the Titanic
Made famous by a timeless story of enduring love, the Titanic is a favorite for romantics. Better yet, the Titanic Museum in Pigeon Forge celebrates this spirit of romance with its Sweetheart Month event.
In February, this excellent museum takes the time to explore some real love stories that took place on the Titanic and can even assist you in creating romantic memories of your own.
The gorgeous Grand Staircase is available for proposals, wedding ceremonies, and vow renewals. Even the captain of the Titanic can officiate your special ceremony. To plan your own romantic event, you can contact the Titanic Museum at 1800-381-7670.
2. Valentines Day in Pigeon Forge
With fun attractions and beautiful scenery, the Smoky Mountains are a popular place for couples to enjoy a romantic trip or honeymoon. February 14th is an especially popular day to enjoy romance in the Smokies.
If you'd like to plan a trip with your sweetheart, be sure to check out our Pigeon Forge Valentine's Day guide.
3. Drive Through Cades Cove
During much of the year, the Cades Cove loop is one of the most popular sights in the national park. Luckily, the month of February is one of the lowest months for visitation to the Smokies. This means you can enjoy incredible sights like Cades Cove without the crowds!
Better yet, beautiful hiking trails like Alum Cave Trail and Chimney Tops are also far less trafficked during this slower time of year, so February is a great time to enjoy some peace and solitude in the Great Smoky Mountains National Park.
4. Go Skiing, Ice Skating, Or Snow Tubing At Ober
As one of the coldest months of the year, February is one of the best times of year to enjoy snow sports at Ober Ski Mountain in nearby Gatlinburg. By February, ski season in the Smokies is in full swing, so slope conditions are excellent and most of the ski runs are open. Even if you don't ski or snowboard, there are lots of ways to play in the snow at Ober such as snow tubing or indoor ice skating.
5. See The Lights of Winterfest
One of the best things about visiting Pigeon Forge in February is that you'll be able to see millions of dazzling Christmas lights! The city of Pigeon Forge keeps its beautiful light displays up until the end of February. If you'd like to explore the Christmas lights of Pigeon Forge, be sure to pick up a "Driving Tour of Lights" brochure at a Pigeon Forge Visitors Center to take a self-guided tour of Pigeon Forge's 5 million lights.
6. Experience Fun Indoor Attractions
Even when the weather isn't cooperative, there are still tons of things to do and see in Pigeon Forge thanks to its huge selection of indoor attractions. Here are just a few of the activities you can enjoy in Pigeon Forge.
Indoor Skydiving
Top Jump Trampoline Park
Indoor Go Kart Racing at Fun Stop Family Action Park
The Great Smoky Mountain Wheel
Pigeon Forge Dinner Shows
Wonderworks
Magiquest
And More!
Some outdoor attractions like Dollywood are closed for the winter season, but you can find plenty of things to do with our guide to indoor attractions in Pigeon Forge.
7. Pigeon Forge Weather in February
This is a colder month of the year, so be sure to bring winter clothes for your vacation in the Smoky Mountains! Here are seasonal temperature averages for Pigeon Forge in February.
Avg. High 51°F
Avg. Low 27°F
Does it snow in Pigeon Forge in February?
The short answer is yes, but it is hard to predict when it will snow in Pigeon Forge. During this time of year, the average low temperature is below freezing, so snow is possible. According to past seasonal averages, Pigeon Forge does receive a few inches of snowfall in February. When there is a winter weather event in Pigeon Forge, the snow does not usually stick around for too long.
During your visit, you may not enjoy any snow in Pigeon Forge, but it is often possible to see snow in the higher elevations in the Great Smoky Mountains National Park in places like Newfound Gap. Snow is a beautiful sight in the Smokies, just see Cades Cove after a snow fall:
8. Pigeon Forge February Cabin Specials
Since the month of February is a slower time of year to visit Pigeon Forge, this means you can get low rates on cabins! Many cabin rentals are cheaper during the wintertime, so you can probably find a great deal.
Better yet, cabins are the perfect way to enjoy winter weather in Pigeon Forge. After all, who wouldn't want to enjoy a winter day in a cabin complete with a hot tub, fireplace, indoor swimming pool, game room, or theater room?
To find the perfect cabin for your February vacation, feel free to use our online availability search or contact our helpful reservations office at (865) 429-4121. Best of all, you can save on your February cabin in Pigeon Forge with our special 15% cabin discount!
Written by Mark Frazier