Located in the beautiful Smoky Mountains of Tennessee, Dollywood Theme Park in Pigeon Forge is an excellent attraction with fun rides, authentic Smoky Mountain crafts, live music shows, and delicious food.
Of all of the charms of country music star Dolly Parton's theme park, the rides are one of the best things to experience at Dollywood!
To start planning an unforgettable visit to this 125-acre Smoky Mountain theme park, be sure to check out the best thrill rides at Dollywood! Even if you only have time for a few of them, these are the roller coasters in Pigeon Forge you can't afford to miss!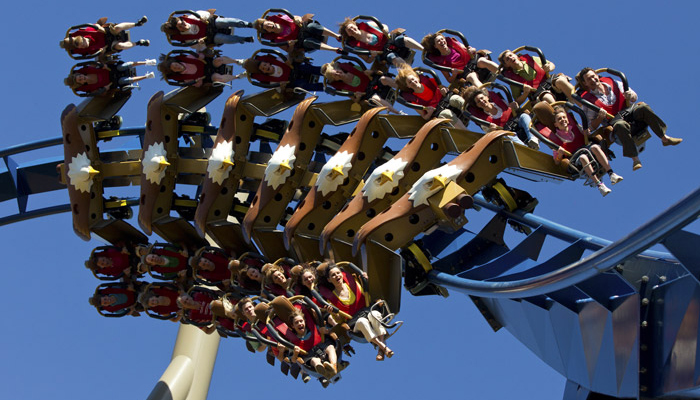 1. Wild Eagle
Known as America's first "wing coaster," The Wild Eagle Ride at Dollywood is arguably on the top rides in the park.
Built by the Bolliger and Mabillard Roller Coaster design firm, this impressive coaster reaches speeds of 61 MPH, provides awesome views of the mountains, and provides a unique coaster experience. With twists, corkscrews, and inversion, Wild Eagle delivers a fun unforgettable ride.
Because of Wild Eagle's unique design, riders sit in suspended chairs on either side of the track. With your feet dangling below you, this coaster truly gives you a feeling of flight.
You'll find this ride in the Wilderness pass area of Dollywood.
2. Thunderhead
First opened in 2004, Thunderhead is an old-style wood coaster named after a mountain peak located inside the nearby Great Smoky Mountains National Park.
At a top speed of 53 mph, this well-designed ride offers the best aspects of classic wooden coasters: the thrilling roar of the cars on the track, plenty of air-time, and the charm of America's early amusement parks.
You'll find this coaster in Dollywood's Timber Canyon region.
3. Mystery Mine
Located a short stroll from Thunderhead, Mystery Mine is another excellent attraction in the Timber Canyon area of the park.
Built in 2007, this unforgettable ride at Dollywood is known as a "dark coaster" that has indoor and outdoor sections. With hairpin curves, sheer drops, and special effects, there are plenty of fun surprises on this spooky mine-themed ride.
With a top speed of 43 mph, Mystery Mine isn't the most intense ride at Dollywood, but it offers a truly unique ride experience.
4. Lighting Rod
One of Dollywood's newest coasters is also its fastest!
Lighting Rod is an impressive wooden coaster that reaches a top speed of 73 mph making it the fastest roller coaster at Dollywood and the fastest wooden coaster in the world.
This record-breaking coaster is also the first launch wooden coaster that uses a fast accelerating launch system instead of a traditional chain lift.
Although Lightning Rod doesn't have any loops, it offers plenty of airtime and a thrilling course. With dips and curves built into the natural scenery, Lightning Rod may very well be one of the best wooden coasters in the country.
Since it first opened in 2016, this popular ride has earned rave reviews. You'll find this 1950s hot rod themed coaster in Dollywood's Jukebox Junction.
5. Tennessee Tornado
Constructed by Arrow Dynamics in 1999, Tennessee Tornado is an excellent roller coaster using a tubular steel beam structure. With a top speed of 63 mph, a 110 Ft tall loop, and a sidewinder maneuver, this fun ride has lots of memorable elements and thrills.
You'll find Tennessee Tornado in Craftsmen's Valley in Dollywood.
Final Thoughts
If thrilling roller coasters aren't your thing, Dollywood has lots of fun shows to see and less intense rides to enjoy instead of these big rides.
If you're a coaster connoisseur, you'll feel right at home in Dollywood with these world-class roller coasters! Be sure to check out these top rides at Dollywood during your next vacation to the Smoky Mountains!
Written by Mark Frazier