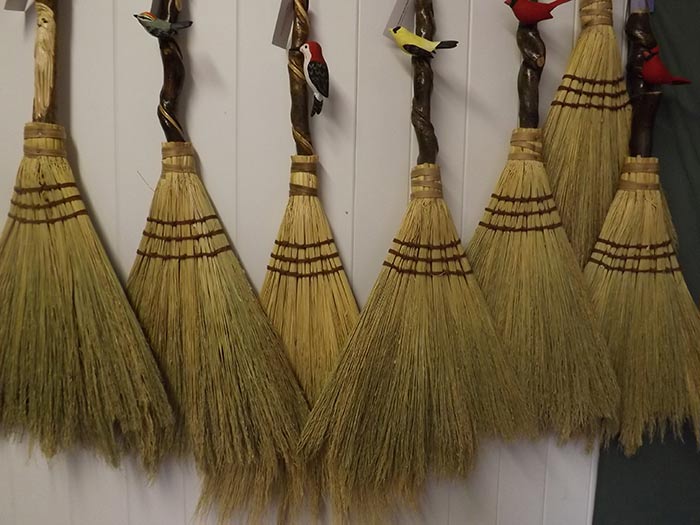 Ah....Thanksgiving. The turkey. The family. The desserts. The seemingly chaotic aftermath that is leftover-fueled Black Friday shopping. Seriously, though, it can get brutal, but what alternative is there to this madness? Well, have you heard about Small Businesss Saturday?
You could head to the nearest department store and subject yourself to a very determined mother pushing you out of the way to get the latest Frozen toy or incarnation of Elmo (You would think they would have run out of activities for him to do by now....). Or you could leisurely stroll through locally owned business picking out items that will help out the local community. It's completely your choice. Who knows? The adrenaline-rush of fighting for your life to get to the check-out lane might be your thing.
While visiting Pigeon Forge this weekend, a trip to local businesses will not only save you the headache of shopping at national brand stores, but impact the local community in more ways than one.
Why Shop at Pigeon Forge Local Businesses?
There are a host of reasons why shopping local is a good idea, but here are just a few:
Shopping local creates local jobs and revenue - No brainer: local businesses create jobs which generates more money for the local economy. Everyone likes a healthy local economy, right?


Shopping local is good for the environment and the global economy- With locally made and sourced products, the carbon footprint of shipping goods via plane, train, or truck. Additionally, by not purchasing products manufactured under poor working conditions in foreign countries, you do a small part in taking a stand in the global economy.


Shopping local offers uniqueness- Shoppers aren't the only ones who benefit from the unique products offered by local businesses - the community as a whole benefits from its own distinctive character being preserved in the merchandise in the stores.
While it may seem more convenient to shop a big chain, shopping local has a drastic impact on the local, national, and global economy. It may seem like a small action, but, repeated over time, it can have long-lasting effects.
Where to Shop on Small Business Saturday
Now that you know why you should shop locally, it might help to know where to shop. Please Note: While there are plenty of local businesses scattered about Pigeon Forge and Gatlinburg, not all participate in the official American Express Small Business Saturday event. To see exactly who is participating, American Express offers a tool on their website to look up which shops and restaurants are participating in your area.
However, shopping local shouldn't just be about one day sponsored by a credit card company, but, you'll find plenty of deals and bargains at the local businesses participating in this event (and even at the places that aren't officially on Amex's list).
Here are some great places to visit during your Small Business Saturday shopping extravaganza!
1. The Old Mill Restaurant and Shops
The Old Mill is one of the most iconic landmarks that can be found along the Pigeon Forge Parkway. The still functioning grist mill spins against the Little Pigeon River making fresh cornmeal and flour. The delicious made-from-scratch biscuits and delicious desserts you'll enjoy in the restaurant.
The delicious food of The Old Mill Pigeon Forge restaurant is enough to constitute a Small Business Saturday trip. Make sure to get a bowl of their signature corn chowder soup with your fried chicken (It's their specialty).
Aside from delicious food, The Old Mill Pigeon Forge also features several shops in The Old Mill Square. The Square features 7 shops that offer everything from toys to soup mixes. The Old Mill shops include:
Pigeon River Pottery - For 50 years Pigeon Forge Pottery has made everything from mugs to vases in house. In fact, most of the plates used at The Old Mill Restaurant are made right here. So stop by and pick up a piece of pottery and support local potters on Small Business Saturday.


The Old Mill Candy Kitchen - Indulge your sweet tooth at The Old Mill Candy where you can find peanut brittle, divinity, potato candy, fudge, and more. For 75 years, these candymakers have been using their own old fashioned copper kettles to cook up sweet confections.


The Old Mill Farmhouse Kitchen - Here you'll find delicious mixes for hearty soups and tempting desserts. A stop by this shop is perfect for the cook in your family. So pick up some stocking stuffers this Small Business Saturday for the food in your family.


The Old Mill Toy Bin - From recent innovations to old time favorites like Sock Monkeys, kids young and old will enjoy the merchandise in this store.
2. The Village Shops in Gatlinburg
Though not in Pigeon Forge, it's worth the time to head into Gatlinburg on Small Business Saturday for a chance to shop at The Village Shopping Center. These local boutiques and eateries rest in a charming shopping center inspired by a Bavarian mountain village. From perfumes to freshly baked doughnuts, the quaint facades of these shops hold treasures within their walls. Some favorite shops within The Village include:
The Silver Tree - This boutique offers up stunning pieces of silver jewelry that will bring joy to any jewelry lover and support local businesses at the same time.

The Day Hiker - For the nature lover, this Pigeon Forge local business offers hiking equipment from hiking staffs to daypacks that will make your trip into the Smoky Mountain even better.


The Donut Friar - You'll smell the fresh baked delicious goodness from outside this shop. Inside, glazed doughnuts made fresh daily wait for you to enjoy on your quick break from Small Business Saturday Shopping.
3. The Glades Arts and Craft Community
This area of Gatlinburg offers unique handmade goods that are perfect for Small Business Saturday shoppers. Whether you're looking for a unique piece of jewelry, a piece of pottery, handmade bath and body products, or woodcrafts, there's something for everyone to enjoy along Glades Roads. Some places worth the stop on your busy day shopping at local businesses include:
Alewine Pottery - On of the most established names in pottery in the Smoky Mountains, Alewine pottery offers iconic pieces of pottery that reflect the natural landscape of the mountains. You can even watch the pottery being made at this location!


Cliff Dwellers Gallery - Baskets, glasswork, weaving, jewelry, pottery, and wooden crafts. Oh My! Whatever you're looking for this gallery probably has it. You can even watch craftsmen at work upstairs daily who will gladly talk to you about their craft.


The Rose Pedaler - Using beads made from rose petals, these unique pieces of jewelry are a perfect buy on Small Business Saturday.


Misty Mountain Soap Company - Using mostly natural ingredients, these soaps, lotions, creams, and more invite you to pamper yourself and support local businesses!
4. Odds and Ends - Pigeon Forge Local Businesses
While these are the major stops to hit on you Small Business Saturday shopping trip, there are plenty of other places to enjoy on this day supporting local entrepreneurs. From delicious food to unique souvenirs, this businesses will appreciate you visiting any time of the year.
Swing by one of the many Johnson Family Restaurants (Bennett's Barbeque, Mama's Farmhouse, Big Daddy's Pizzeria) for delicious food. The Johnson family prides itself in great food and great service.
Another great place to stop is the Arrowcroft Shop. Stocked with items made from artists at the Arrowmont School, these wonderful paintings, pottery, and other pieces of art make for great gifts this holiday season (and a great way to help local artists).
No matter where you choose to shop on Small Business Saturday you can be assured that, by shopping at local businesses all year round, you'll be supporting a local economy on your cabin vacation.
Now isn't that better than a black eye from the department store crowd?
Written by Brittany Tipton