Known as "the quiet side of the Smokies," Wears Valley and Townsend are famous for their picturesque scenery, views of Cove Mountain, and great locations just outside the Great Smoky Mountains National Park.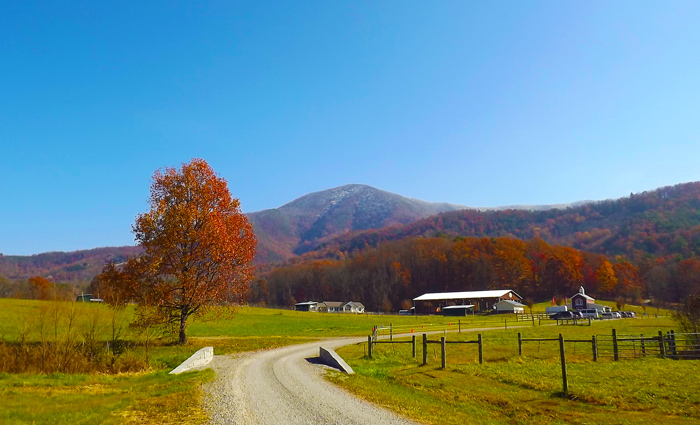 Though Wears Valley and Townsend are not nearly as big or action-packed as Pigeon Forge or Gatlinburg, these communities are home to some great restaurants to try in the Smoky Mountains!
Check out our list of the 5 best places to eat in Wears Valley and Townsend!
Best Restaurants in Wears Valley & Townsend
1. Elvira's Cafe
Not only does this Wears Valley restaurant offer a menu with plenty of variety, but it also has a real, hands-on feel and has earned a good reputation with locals and visitors alike.
For a classic country breakfast, be sure to try Elvira's: Hotcakes, bacon, eggs, hash browns, and biscuits & gravy. They even offer sweet & savory crepes!
For lunch try the:
Fried Green Tomato BLT
Ruben Sandwich
Roasted Turkey Crepe
Grown-Up Grilled Cheese With Bacon
On Friday & Saturday, you can try the blackened trout, chicken and waffles, or their stuffed portabella mushroom.
2. Pawpaw's Catfish Kitchen
You might be surprised to find an authentic Cajun restaurant in Wears Valley, but Pawpaw's Catfish Kitchen is a great place to sample the flavors of the bayou!
Located just off of Wears Valley road, this New Orleans inspired restaurant is open for lunch and dinner. Check out these Cajun classics at Pawpaw's:
Po Boys
Fried Catfish
Oysters
Crab Cakes
Gator Bites
Gumbo
Jambalaya
Crawfish Etouffee
Two New Orleans natives started this locally-owned restaurant, so you can be sure you're getting experiencing real Louisiana cooking in Wears Valley.
This unassuming, no-frills restaurant's dishes are filled with flavor to spice up your stay in the Smoky Mountains!
3. Hillbilly's Restaurant
Located right in the heart of Wears Valley, you'll find Hillbilly's Restaurant, a solid burger joint and lunch spot located just outside of the Great Smoky Mountains National Park.
Additionally, this hillbilly-themed diner offers a country breakfast as well, so it's a great place to grab a bite before spending a day exploring the Smokies.
This off-beat restaurant has a great atmosphere and there's even a large, old jalopy inside covered with thousands of signatures from past restaurant patrons.
Some favorites at Hillbilly's:
Banana's Foster French Toast
Corn Beef Hash
Buttermilk Pancakes
Egg "Sammich "
4. The Trailhead Steakhouse
Steak. Salad. Baked Potato. Pure satisfaction.
It's hard to beat the perfection of a classic American steakhouse meal and the Trailhead Restaurant delivers the goods.
With classics like steaks, burgers, and trout, this is just the kind of decadent meal you crave after a strenuous day of hiking in the Great Smoky Mountains National Park.
Not only is the food delicious, but the Trailhead also has a great lodge-like atmosphere that's a perfect complement to its location in the scenic valley of Townsend.
5. Dancing Bear Appalachian Bistro
The bistro at the Dancing Bear Lodge in Townsend is known for its farm-to-table dishes inspired by regional Appalachian cooking.
As one of the only fine-dining options in Townsend or Wears Valley, this excellent restaurant is open only for dinner. With a stylish, casual atmosphere, the Dancing Bear Bistro is a great spot for a nice date night or a romantic honeymoon evening meal.
Check out some of the delicious menu items they offer:
Emu Tenderloin – Creamy Herb Polenta Cake, Broccolini, Cabbage Slaw, Blueberry Marmalade
North Atlantic Cod – Leeks, Onions, Arugula, Fiddlehead Ferns, Asparagus, Artichoke, Celery Root Puree, Rosemary
Duck & Foie Gras Burger - Teahive Cheddar Cheese, Seasonal Berry Jam, Frisee, House Pickles, Duck Fat Fries
Cat Iron Beef Tenderloin – Yukon Potato, Caramelized Onion & Spinach Gratin, Seasonal Veggies
Map of Best Restaurants
Final Thoughts
Treat yourself on your vacation by stopping by one of these excellent restaurants in the peaceful side of the Smokies! For more information on this beautiful area, check out our guide on the best things to do in Wears Valley!
Need help planning your stay in Pigeon Forge or Gatlinburg? Feel free to contact our helpful reservations office at (865) 429-4121. Additionally, we offer cabin rentals in Wears Valley so you can stay close to this beautiful part of the Smoky Mountains!
Written by Mark Frazier