If you're a frequent visitor to Pigeon Forge, there's a good chance you've already experienced fun destinations like Dollywood, The Island, and Ripley's Aquarium of the Smokies.
Luckily, the Smoky Mountains area is home to a huge variety of things to do and see! Better yet, trying some of these attractions will take you off the well-worn tourist path to a place where you can experience something truly unique during your vacation.
To try something new, check out our guide on the top unique things to do in Pigeon Forge and the Smoky Mountains!
7 Unique Things To Do In Pigeon Forge
1. Pigeon Forge Snow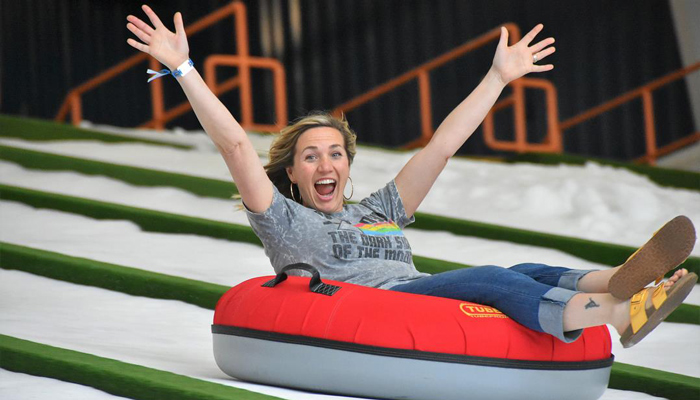 It goes without saying that one of the most unique things you can do in Pigeon Forge is to enjoy indoor snow tubing any time of year!
Pigeon Forge Snow is a new attraction on the Pigeon Forge Parkway and it's also America's first indoor snow tubing park.
This unique attraction uses real snow for its tubing runs, so you can really play in the white stuff! Another amazing thing about Pigeon Forge Snow is that the temperature inside is a comfortable 60 -70 degrees, so you don't even need your snow gear!
2. See the Smoky Mountain Exotic Petting Zoo
While you might not have predicted you would see a live zebra or camel on your Smoky Mountain vacation, you can do exactly that at this delightful exotic petting zoo.
Deer Farm Zoo in Sevierville is a one of a kind petting zoo that features incredible animals like:
Rocky Mountain elk
Watusi
Reindeer
Lamas
Kangaroos
Zebras
Zonkies
Camels
They also have other classic petting zoo animals like goats and mini horses.
This excellent petting zoo allows you to feed and interact with amazing creatures from all over the world. If you love animals, this is a must-visit attraction. This ethical business creates a clean and safe environment for its animals, so you can rest assured that these exotic animals are being properly cared for.
Additionally, the Deer Farm Petting zoo also offers a pony ride and guided horseback rides as well.
3. The Salt and Pepper Shaker Museum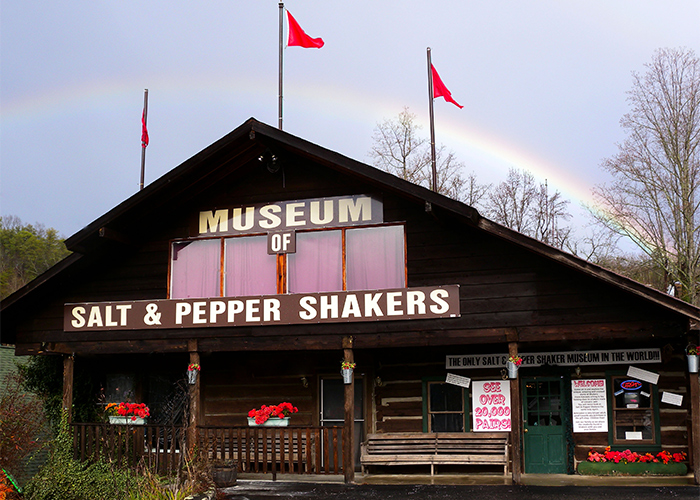 This quirky attraction is an entire museum dedicated to one thing and one thing only: Salt and Pepper shakers.
While you might be surprised to learn that there's an entire museum focused to these humble household utensils, you'll be amazed at the sheer variety and number of salt and pepper shakers this museum in Gatlinburg has on display. In fact, this museum has been featured in publications like The Smithsonian for the breadth and quality of its collection.
With a collection of over 20,000 items ( and counting ), they practically have a salt and pepper shaker for everything. As you'll learn at this museum, these salt and pepper shakers help to tell the tale of the modern world in their own unique way. Be sure to check out this museum and other top museums in the Smoky Mountains.
4. The Gatlinburg Crafts loop
Commonly called the "The Great Smoky Mountains Arts and Crafts Community" or the "Arts and Crafts District in the Glades," this is area is one of the premier handicrafts areas to explore in the United States.
Located along the 8-mile Glades road a short drive from Downtown Gatlinburg, there are numerous shops owned by local artisans who hand-make their products. Many of these artisans have learned their skills from family trades passed down through the generations.
Better yet, many of the crafters hold daily demonstrations where you can see them make:
Baskets
Authentic Smoky Mountain Broomsticks
Wood Carvings
Pottery
Glass Blowing
Candles
Quilts
Metallurgy
Musical Instruments
Leather Goods
Ceramics
Paintings
And More!
Beyond being an excellent place to shop for gifts, the Gatlinburg Crafts Loop is perfect for exploring the unique culture and heritage of the Smoky Mountains. The shop-owners and craft-makers are a friendly bunch, so you're bound to have a unique experience exploring this scenic area of the Smoky Mountains.
5. Carver's Orchard & Applehouse Restaurant
Located along Gatlinburg's scenic East Parkway near Cosby, Carver's Orchard and Applehouse Restaurant is another unique stop you can enjoy on your Smoky Mountain vacation.
Besides boasting a beautiful view of apple orchards and stunning mountains, this Carver's is a fun produce market, country store, and a restaurant that features special treats made from local apples produced on the orchard.
In the produce market, you can find a huge variety of locally produced jams, molasses, apple butter, and other treats. The restaurant is famous for its delicious apple cider and its apple fritters that come with a decadent apple butter for dipping. Don't forget to try a delicious fried apple pie for dessert!
Best of all, the scenery at this orchard is hard to beat, since Carver's sits on property located just outside of the Great Smoky Mountains National Park.
6. Forbidden Caverns or Tuckaleechee Caverns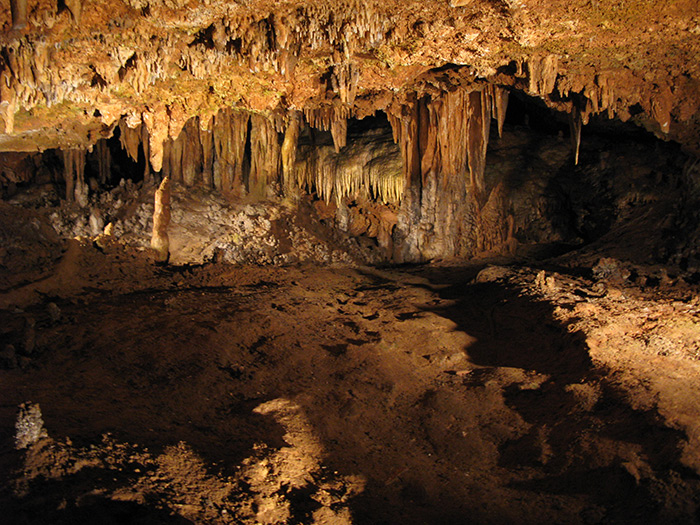 While many visitors come to the Smoky Mountains to see stunning views from high elevation overlooks, many fewer people choose to visit the incredible subterranean wonders of Sevier and Blount County.
The Forbidden Caverns near Sevierville is an excellent cave formation 200 feet below the ground. Additionally, Tuckaleechee Caverns in nearby Townsend are another interesting cave system to explore.
One of the most unique parts of these caves is how they were used throughout their history. From their role in Cherokee lore to their use as a hiding spot moonshine stills, these Smoky Mountain caverns have quite the story to tell.
7. See a Show at Sweet Fanny Adams Theater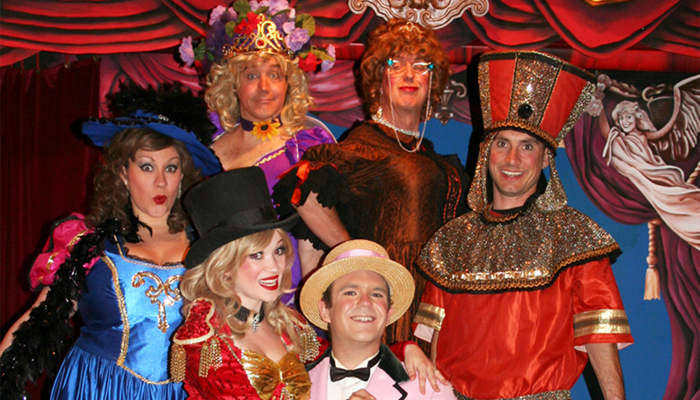 Established in 1977, this theater is the longest running show in Gatlinburg that's known for its unique style and hilarious writing.
Sweet Fanny Adams easily makes this list, because there aren't too many places in the country that you can see a unique vaudeville-style comedy show that's reminiscent of the 1890s.
Featuring several acts with dancing, short plays, and music, there aren't many of these kinds of shows left in existence. However, Sweet Fanny Adams has adapted this classic style for modern tastes to make something that is entirely new and delightfully unique.
Every year, the cast of Sweet Fanny Adams writes and produces its own show, so this comedy show is always fresh. This beloved local theater has even earned the distinction of being recognized as a national treasure by the Tennessee State Senate.
Final thoughts
Looking for more fun things to do in the Smoky Mountains? Check out this guide with other hidden gems in the Smokies that are off the beaten path.
We'd love to know, what's your favorite unique thing to do in the Smokies? Feel free to share your thoughts in the comments section below!
Written by Mark Frazier