Wildwood Grove: New Dollywood Expansion Coming in 2019
Remember the magic of walking through the forest as a kid? The forest could be the perfect place to let your imagination run free. From the smallest acorn to the tallest tree, a world of wonder awaited in the wild.
Dollywood's latest expansion, Wildwood Grove, seeks to recreate the same feeling of wonder that walking through the woods as a child invoked. In the largest expansion that the park has ever seen, this $37 million dollar project is slated to open in 2019. This new section of the park will offer 11 new thrilling experiences for guests, including 6 new and unique rides, a whimsical setting, a new restaurant, and more.
According the official Dollywood press release, when asked about the park Dolly stated "This area is going to give families a place to explore, play and imagine together—but more importantly—it's a place where they can spend more time together." Dollywood seems to be continuing its legacy of whimsical family fun in the Smokies. Additionally, Dollywood President Craig Ross stated that requests from visitors have been incorporated into the new section of the park, including more charging stations, a climate controlled indoor space for play, larger rest areas, and more inclusive play areas.
What to Expect at Dollywood's Latest Expansion
So what is scheduled to open in the latest Dollywood expansion? The adventure starts once you enter to the new section of the park through a massive hollow trunk of a fallen tree. At the center of this imaginative land rests the Wildwood Tree. This 55-foot tall tree sets the magical mood of this section of the park. Atop this large sculpture rests thousands of colorful butterflies that come to life after the sun sets in a spectacular, glowing display of color and whimsy.
With 2.5 million visitors annually, Dollywood is committed to an unforgettable visitors experience. Dollywood already offers thrilling attractions such as the world's number one wooden coaster, Thunderhead, as well as the thrilling Wild Eagle and Lightning Rod. While Wildwood Grove isn't not open yet, its fun, whimsical rides are sure to top your list of the best rides at Dollywood! There are six new rides that guests can experience in this new magical land. Here's what to expect:
The Dragonflier

- A suspended roller coaster lets guests soar over the marvelous magical landscape of Wildwood Groove

Black Bear Trail

- Hop on the back of a bear and take a trip through the Smoky Mountains - their natural habitat

Sycamore Swing

- This swing ride take the shape of a leaf falling from a giant sycamore tree

Treetop Tower

- Take a seat in a giant acorn and spin around to the top of a tall oak tree, where you'll get a birds-eye view of Wildwood Grove and the Smoky Mountains

The Mad Mockingbird

- Fly high as the state bird in this rider-controlled experience

Frogs and Fireflies

- Chase frogs and fireflies on lily pads and between tall reeds and grasses.
There are more play options in Wildwood Grove's Hidden Hollow. This 4,000 square-foot indoor play space offers a climate-controlled space for families. Featuring climbing structures, slides, games, kids can enjoy a place to play and explore while adults rest.
Cool off at Wildwood Creek, a refreshing outdoor play area with water features. There are numerous pop jets, splashing pools, and "instruments" that guests can play at this fun play area.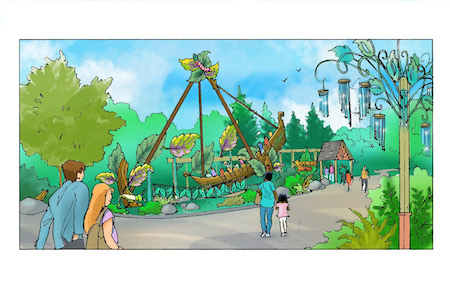 There are also some new friends that await families visiting Wildwood Grove. Flit and Flutter, Wildwood Grove's butterfly ambassadors, each have a fun personality of their own and enjoy visitors to their magical forest. There is also Benjamin Bear, who loves to play and explore with visitors as well.
Wildwood Grove offers guests a chance to enjoy a new dying experience as well. A new restaurant, Till & Harvest, offers visitors a chance to enjoy fresh Southwestern favorites such as burritos, salsa, salads and more. Add a Southern twist with items like pulled pork and fresh coleslaw. You can also enjoy a sweet treat with a walk-up window that offers guests churros and ice cream.
Stay close to Dollywood at with a Cabin Stay
We're thrilled to see this new section of Dollywood open this year, and we're sure you are, too. Cabins USA offers many cabin rentals near Dollywood that offer comfortable amenities, convenient locations, and plenty of space for you and your group to relax and enjoy your Smoky Mountain vacation. After an exciting day enjoying the fun of Dollywood, your cabin provides the perfect space for you and your guests.
Images Courtesy of Dollywood
Written by Brittany Tipton