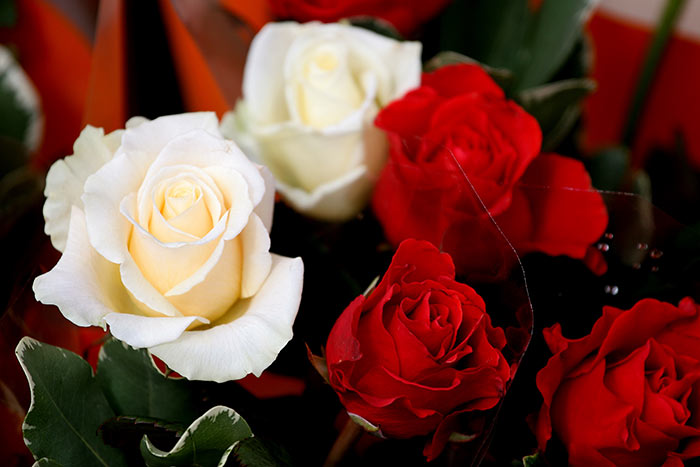 The shelves are starting to fill up heart-shaped boxes of chocolate and tiny boxes of message hearts. The card aisle is awash with red and pink. As winter nears its coldest month, we're invited to celebrate the warmth of the love we share with that special someone on Valentine's Day.
What better way to celebrate than with a romantic Smoky Mountain getaway? If you're planning to spend Valentine's Day in Pigeon Forge, you've picked a great destination to celebrate this passionate holiday with the one you love. From secluded cabin retreats to fun attractions to enjoy together, there's no shortage of romantic vacation ideas to keep the spark alive on your mountain retreat.
While there are many more options for a lovely vacation with that special someone, here are 7 romantic things to do on your Pigeon Forge vacation that are perfect for the cold winter month of February. Bundle up and cuddle together for your most memorable romantic getaway yet!
Romantic Vacation Idea #1:
Take Romantic Ride with Heritage Carriage
Heritage Carriage Rides offers the unique service of horse-drawn carriage rides in the heart of downtown Pigeon Forge. The owner Peggy Wilson has a passion for putting a smile on couples' faces and provides several packages that will add a bit of fairytale to your mountain retreat.
One such package is the "Romance Package" which is available throughout February on the weekends. The "Romance Package" comes with all the little details for a night of magic in the Smokies. Your driver will arrive promptly at your scheduled time with a Cinderella-style carriage decorated in twinkling lights. Resting in the seat are 4 dozen of your sweetheart's favorite color of roses. Following a 15-minute carriage ride, you'll arrive at Calhoun's Restaurant where dinner reservations await. Once you've finished a classically Southern meal, your driver will return for another 15-minute drive back to Walden's Landing. You'll get a CD of pictures to remember your magical carriage ride together for years and years to come.
Romantic Vacation Idea #2:
Enjoy Sweetheart Month at the Titanic Museum
The entire month of February is sweetheart month at the Titanic Museum. Everyone remembers the movie Titanic for bringing a sense of romance to the fated voyage. While you may not get to stand on the bow of the Titanic while Celine Dion belts out "My Heart Will Go On," the Titanic Museum offers several services that will make your vacation even more romantic. Call the museum at (800) 381-7670 and someone can assist you in:
Surprise Proposals

Amazing Weddings on the Grand Staircase Replica

Vow Renewals officiated by Captain Smith Himself
Whatever you're planning on doing on your romantic Smoky Mountain getaway, Titanic Museum will assist you with your grand romantic gestures.
Romantic Vacation Idea #3:
Winter Hike in the Smokies
Most people think of hiking in the summer or fall, but winter hikes in the Smokies provide better views and offer less crowded trails - the perfect recipe for romance.
With less foliage, you'll be able to see further and the crisp winter air also enhances the view. Trails like the Middle Prong Trail are wide, level, and offer stunning views of waterfalls that are perfect for a peaceful walk with the one you loved filled with conversation.
While winter weather can mean icy or snowy conditions, taking simple precautions such as checking the weather, wearing proper attire, and planning for enough sunlight can help you make the most of this beautiful time of year.
Romantic Vacation Idea #4:
Enjoy a Winery Tour
Did you know that Pigeon Forge boasts several wineries? Whether you prefer white, red, or blush, you're bound to find a flavor you'll like. From Apple Barn's delicious apple wines to Hillside Winery's famous Black and Blue (a blackberry and blueberry wine), these wines offer a taste of the fruit of local East Tennessee wines.
But keep in mind, like our iced tea, Southerners take their wine sweet. Though several wineries do offer a small selection of dry wines, you'll mainly find wines as sweet as mountain honey in Pigeon Forge.
Romantic Vacation Idea #5:
Treat Yourself to a Massage
Life can be stressful. What better way to enjoy a romantic retreat in the Smokies than to enjoy a relaxing couples massage? There are several businesses that offer couples massages. Some even offer in-cabin services, allowing you to relax in the comfort of your home away from home.
Smoky Mountain Massage offers several on-site packages including a special "His & Hers" package, perfect for a relaxing, romantic day in the Smokies.
Romantic Vacation Idea #6:
Enjoy a Dining Out for Two
There are plenty of restaurants to choose from in Pigeon Forge that make for a perfect dinner date night or a romantic brunch on your romantic Smoky Mountain getaway.
The iconic Old Mill offers up classic Southern food along with several shops that allow you to buy regionally made souvenirs to take back home.
Applewood Restaurant is perfect for a filling country breakfast when you don't have the energy to cook in your cabin kitchen.
Unique Restaurants like Poynor's Pomme Frites offer up interesting foods, including ice cream shaped like spaghetti!
Dinner Shows like Dixie Stampede offer a meal and entertainment in one.
Whatever your taste is in food, Pigeon Forge is likely to have something that will delight your taste buds and make for a memorable meal with the one you love.
Romantic Vacation Ideas #7:
Indoor Sky Diving
Sometimes you need more than your standard fare of dinners, roses, and gifts to put some excitement into your romantic retreat with the one you love.
That's where Flyaway Indoor Skydiving comes in.
You and your sweetheart can experience the feeling of skydiving without ever stepping foot into a plane. A giant fan spins, creating winds of up to 120 mph, and the two of you dressed in a special, protective jumpsuit can feel the rush of flight (giving new meaning to all the inspirational quotes about how "Love gives you wings")
Romantic Vacation Idea #8:
Plan an Unforgettable Night In at Your Cabin
Sometimes, there's nothing more romantic than a night spent cuddled up together in your romantic cabin retreat. Cabins give couples a chance to unwind, relax, and forget their everyday cares so they can focus on what really matters - each other. While there's no limit to what you can do on your romantic night in, here are some suggestions:
Cozy up next to your fireplace and enjoy a movie night together.
Cook a dinner for two in your cabin's kitchen. Don't forget roses and candles for the dining table!
Watch the sunset in the warm waters of your hot tub.
Enjoy a relaxing bath in your cabin's jetted tub.
Cozy up in bed for a late-night movie.
The possibilities are endless! Whatever you choose to do, the memories you form in your cabin retreat will be treasured for years to come. Better yet, the 15% online booking discount Cabins USA offers is sweeter than the caramel chocolate in the heart-shaped box.
Final Thoughts: Valentine's Day in Pigeon Forge
This list is just the tip of the iceberg of what there is to do on a romantic Smoky Mountain retreat with your sweetheart. Get out of your cabin and explore all the sights and sounds you have with the one you love and create those memories that are simply priceless.
Save 15% On My Romantic Cabin!
Written by Brittany Tipton