Planning a romantic weekend away in Pigeon Forge? You've made a great choice! Millions of other vacationers make the trip to the Smoky Mountains every year.
Pigeon Forge is an ideal playground for couples on romantic vacations, honeymoons, or even destination weddings and it's no secret why: The Smokies are a beautiful, fun, and affordable place to make incredible memories.
That being said, there are some must see places and activities for couples in Pigeon Forge. By seeing just a couple of the most romantic places in Pigeon Forge you're bound to have an even more memorable stay.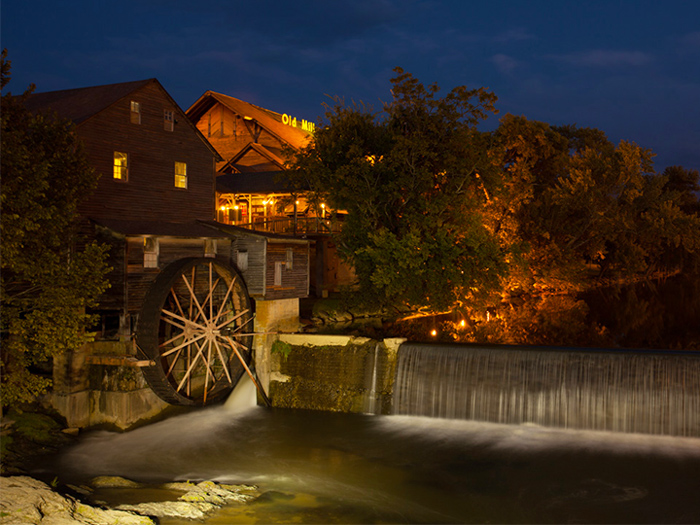 The Old Mill
This historic, working grist mill on the banks of the Pigeon River dates back to 1830 when Pigeon Forge was a sleepy mountain community. Though much has changed since the old mill made its first batch of flour, this beautiful structure still stands on a gorgeous section of the river.
With a visit to the Old Mill, you and your sweetheart can connect with the past and each other by listening to the peaceful sounds of rushing mountain water and watching the mesmerizing waterwheel make its revolutions as it has for nearly 200 years.
After a fun photo opportunity, couples can grab a great meal at the Old Mill Restaurant inside this historic monument. This Pigeon Forge institution serves up delicious country cooking with ingredients made the old-fashioned way from this water-powered grist mill.
The Old Mill Restaurant
164 Old Mill Ave
Pigeon Forge, TN 37863
The Great Smoky Mountain Wheel at the Island
There's nothing like taking your date to a classic Ferris wheel. And while the Great Smoky Mountain Wheel is technically an enclosed gondola ride, it has all the charm of a ride at a country fair.
The fully-enclosed, climate controlled gondolas on the wheel take guests 200' above the Pigeon Forge Parkway. Not only does this ride offer a special experience for couples, but it also gives riders a stunning view.
By day, you can see for miles and admire tall peaks of the Smoky Mountains in the distance. Night time is even more breathtaking since the colorful lights and attractions of the Pigeon Forge Parkway are even more stunning once the sun goes down.
After a ride on the wheel, it's easy to find a quality restaurant at The Island in Pigeon Forge. Better yet, there's even a nightly LED Light and water fountain show paired with music at The Island that's truly a sight to behold.
The Island
131 Island Drive
Pigeon Forge, TN 37863
Wears Valley, TN
See a quiet community that rests in a beautiful valley just outside of the Great Smoky Mountains National Park. People have resided in this scenic cove for over 200 years and it has only recently become a favorite destination for vacationers.
In addition to quaint mom and pop restaurants, Wears Valley is home to rolling farmland surrounded by tall mountain peaks. In fact, it's not so different from Cades Cove only a few miles away inside the national park.
For a great couple's day trip to Wears Valley, simply drive around this gorgeous valley. There's also an entrance to the national park at Metcalf Bottoms, so Wears Valley is a great place to stop for lunch before taking a scenic motor tour in the Smokies. Try Elvira's Cafe for lunch or Grandmother's Kitchen for some down-home country food.
The Titanic Museum
Near, far, wherever you are, since Jack and Rose first made their maiden movie voyage on the Titanic, this maritime tragedy has forever become a symbol of timeless love and romance. For couples who love this dramatic tale, here's few better places to relive the movie experience than Pigeon Forge, TN.
While it may seem odd to have an interactive museum several hundred miles from the North Atlantic where the unsinkable ship once sailed, the Titanic Museum in Pigeon Forge is home to the largest collection of original artifacts from the wreck.
Even more astounding, there are several recreations from the ship's interior that are built from original specifications. The best known of these is the million-dollar, full-scale Grand Staircase complete with hand-carved woodwork, gold leafing, a bronze cherub, and an Austrian crystal chandelier.
With advanced reservations, this gorgeous Grand Staircase is available for proposals, renewals of vows, and tying the knot. Even without a grand, romantic gesture, a visit to the museum is an informative and moving experience that tells the tale of the disaster on the Titanic.
Titanic Pigeon Forge
2134 Parkway
Pigeon Forge, TN 37863
The Great Smoky Mountains National Park
Breathtaking. Gorgeous. Wild. These are words that come to mind when we think of the Great Smoky Mountains National Park. Where better to enjoy the company of someone you love than in one of the most ruggedly beautiful places in America?
Of all the tall peaks and beautiful valleys, there are a few places that are especially beautiful that couples on vacations or honeymoons ought to see.
Morton Overlook – On the road to New Found Gap, this overlook provides an impressive view of the Tennessee Smokies.
Cades Cove – This beautiful valley features historic cabins, beautiful wildlife, and incredible mountain views.
Clingmans Dome – The tallest point of in the Smoky Mountains allows visitors to see for miles and miles from panoramic views atop an observation tower.
Newfound Gap – This parking area marks the high point of the Newfound Gap Road that connects Gatlinburg to Cherokee. A visit here gives visitors stunning views of both the Tennessee and North Carolina mountains.
These overlooks and destinations are even more beautiful and romantic at certain times of day. Catch a sunset, sunrise, or watch as stars fill the night sky on a clear night to enjoy some truly beautiful moments with someone who's truly beautiful.
Bonus Place: Your Pigeon Forge Cabin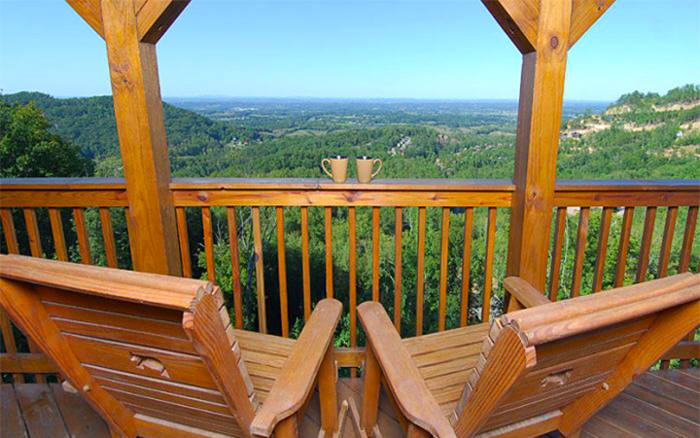 For relaxation, privacy, and natural beauty, it's hard to beat staying overnight at a secluded, honeymoon cabin in Pigeon Forge, TN. Our rentals come with romantic amenities like jacuzzis, fireplaces, and hot tubs to make your stay special. Even with these great features, it's really the person that you get to enjoy your Smoky Mountain vacation with that really makes the difference.
As an added perk, our romantic cabins have a 15% discount to make your honeymoon, romantic weekend away, or anniversary trip even more affordable!
Written by Mark Frazier