Looking forward to a Pigeon Forge vacation in 2018? There are always new things to do Smokies, just check out a few of the new Pigeon Forge attractions in 2017.
While last year brought excellent new developments like Anakeesta Gatlinburg and the Lightning Rod Roller Coaster at Dollywood, we can look forward to even more exciting things on the way in 2018!
Pigeon Forge is a dynamic destination that has new attractions debuting every year, so here's what's new in Pigeon Forge in 2018!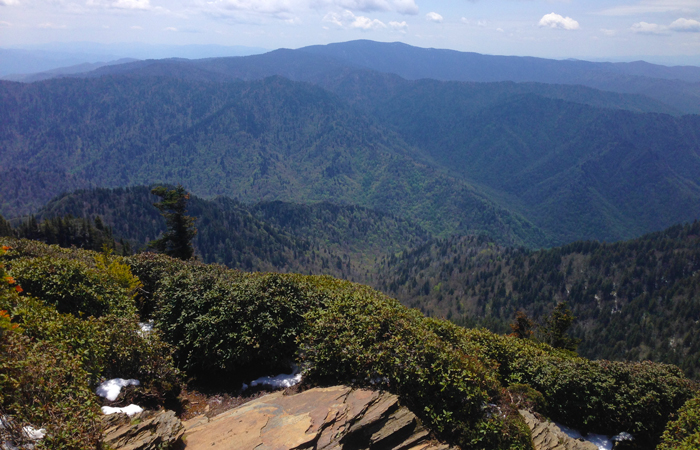 1. Crave Golf Club
Pigeon Forge is home to lots of fun mini-golf courses, but we've never seen anything quite like this. Crave is a new attraction that opened in 2017 that features two 19-hole mini golf courses with a candy land theme that features environments like the Bubble Gum Garden and the Rock Candy Mountain.
In addition to having an indoor and an outdoor course, the unique outdoor course even takes you all the way to the roof!
True to its name, Crave Golf Club also features a complete milkshake bar and a candy store to satisfy your sweet tooth. After a fun game of mini-golf, you can even try mini-bowling, a scaled-down version of the classic game that offers a fast-paced bowling experience that's perfect for kids and adults alike!
2. The National Enquirer Attraction
The shocking tabloid that's a mainstay in supermarket checkout lines is set to get its own attraction in Pigeon Forge, TN!
This new 14,000-ft. attraction is slated to have interactive exhibits dealing with celebrity gossip, psychics, and superstition. Some displays will include key moments in the tabloid's history like how The Enquirer acquired a picture of Elvis Presley in his casket. Another interactive experience will allow visitors to craft their own tabloid headline and share it with their friends on social media.
Though the magazine has a reputation for reporting on scandalous topics, the developers of this new attraction plan to include topics that are G-rated, so the National Enquirer attraction will be perfect for the whole family.
The new attraction will be located across the street from The Titanic Museum at 2115 Parkway, Pigeon Forge, TN.
3. The Mountain Mile
With over 174 acres, the Mountain Mile is expected to be the largest retail, restaurant, and attraction development in Pigeon Forge to date. This new development is located along Teaster Lane near The Island and The Cal Ripken Experience, a world-class baseball facility in the Smokies.
Although there are many grand plans for future projects in the Mountain Mile, the first phase of the Mountain Mile is the Tower Shops, a new development with over 18,000 ft. of retail space and a 189 ft. drop tower.
Not only will this drop tower offer panoramic views of the Smoky Mountains, it will also provide an adrenaline-pumping thrill ride.
In the coming years, plans may also include an outdoor amphitheater event space, resorts, and more! While Pigeon Forge is already an excellent shopping destination, the new shops and attractions of the Mountain Mile promise to bring even more top-notch retail space to the Smokies!
4. Riverwalk Greenway Extension
Pigeon Forge is known for its exciting attractions and lively downtown Parkway, but there's also a peaceful side to Pigeon Forge. The Riverwalk Greenway is a pleasant paved path that follows the Pigeon River and it offers guests a nice stroll to attractions like The Island, Patriot Park, and the LeConte Center.
The current river walk trail is nearly 2 miles in length, but in 2018 this trail is set to be expanded so that Pigeon Forge will be even more pedestrian-friendly. The new section of trail will connect The Island to the Pigeon Forge Community center.
5. Pigeon Forge Snow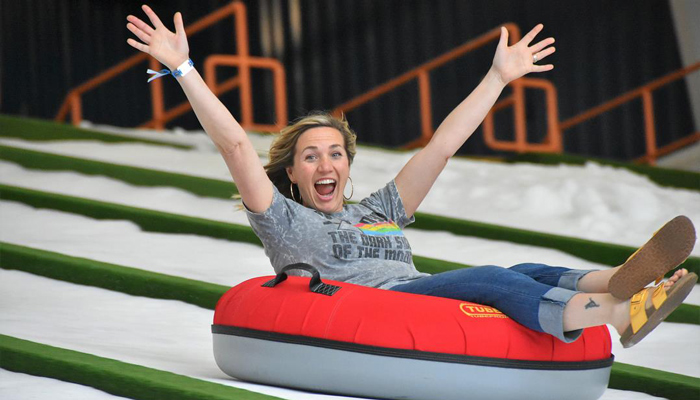 Pigeon Forge Snow is a brand new attraction that is set to debut in 2018 that will allow for indoor snow tubing year-round!
This indoor tubing park will feature man-made snow, a large tubing run, and a lift system to deliver riders to the top of the hill. As part of the Mountain Mile Development plan, Pigeon Forge Snow is an exciting new addition to the Pigeon Forge attraction scene.
Located at 2533 Teaster Ln, Pigeon Forge Snow will be located near The Island.
6. Acrobats of China Show
Newly opened in Nov. 2017, the Acrobats of China is the newest show in Pigeon Forge, TN!
In this family-friendly show, talented acrobats from all across China perform impressive feats of strength, balance, and agility. Since the show opened, it has gotten excellent reviews from audience goers for the show's highlights like drum juggling, pole climbing, and more.
The Acrobats of China show troupe is sanctioned by the Chinese Government, so this group of performers is among the top tier in their craft. These Chinese acrobats draw from a Chinese tradition that has been going on for over 2,000 years. Beginning with traditional acrobatic performances in Chinese village harvest festivals, this unique form of entertainment has grown into a worldwide phenomenon.
This show presents a combination of traditional acrobatic feats and new elements to create an awe-inspiring show that's incredible to behold.
With this acrobatic theater show in Pigeon Forge, you can experience a bit of Chinese culture for yourself and you can even enjoy a traditional Chinese Tea Ceremony if you arrive at the show early.
7. Paula Deen's Lumberjack Feud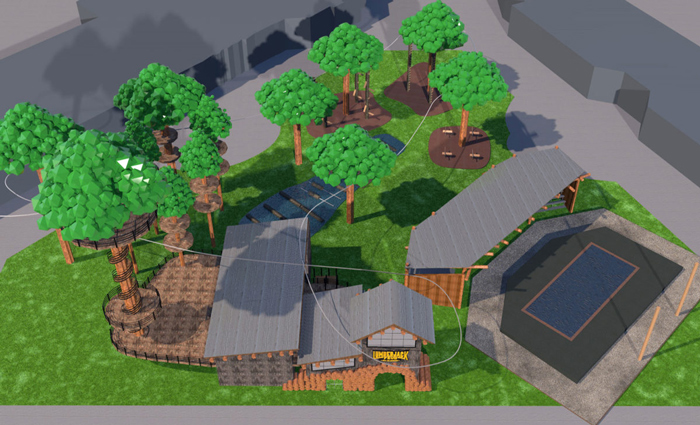 In 2018, the famous celebrity chef Paula Deen announced that she would be bringing back the popular Lumberjack Feud Show to Pigeon Forge! This new show will be at an outdoor adventure park. While many of us are excited for the return of professional lumberjacks to the Pigeon Forge entertainment scene, we also can't wait to try out the Lumberjack Adventure park with interactive elements and challenges!
Here are just a few of the new activities at this new attraction where you can test out your own lumberjack skills!
A Zipline Roller Coaster
An Aerial Playground
An 80-Ft Jump Tower
Log Rolling
Speed Climbing
And More!
Check out our guide on what to expect about the new Lumberjack Feud Show in Pigeon Forge!
8. Foothills Parkway Expansion
In nearby Wears Valley, visitors to the Smokies will soon be able to access the Foothills Parkway. Prior to completing a stretch of road known as "The Missing Link," drivers could only access the scenic Foothills Parkway from Walland, TN to Chilhowee Lake. Now with recent construction, drivers should be able to drive the Foothills Parkway from Wears Valley all the way to Chilhowee Lake by late 2018.
This famous stretch of road is already well known for its beautiful mountain-ridge-top location and stunning views of the Smokies, but now the completion of "The Missing Link" provides even more opportunities to explore the mountains of Tennessee.
Check out this video to see what you can enjoy on this beautiful stretch of road!
Final Thoughts
Stay tuned for new updates on these new attractions and things to do in Pigeon Forge in 2018! With excellent new additions like this, it's shaping up to be a great year in the Smoky Mountains of Tennessee!
Written by Mark Frazier