10 Best Things in Downtown Pigeon Forge
To get the most out of your visit to the Pigeon Forge Parkway, check out our guide to the 10 best things to do in Downtown Pigeon Forge.
Every year, people from all over come to visit Pigeon Forge's vibrant downtown. With the Smokies, Dollywood, and many other popular destinations so close, this part of Tennessee has something for everyone.
Best Downtown Pigeon Forge Attractions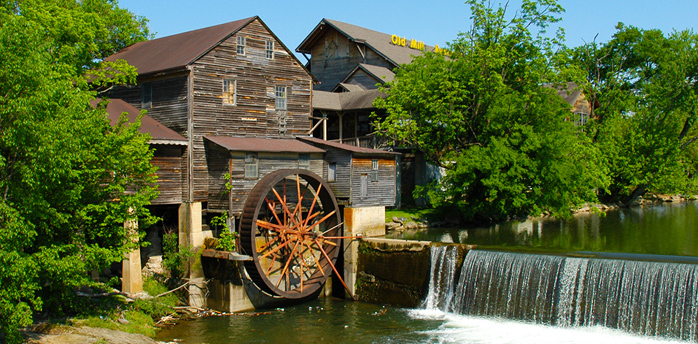 1. See the Historic Old Mill
The Old Mill is Pigeon Forge's most iconic historic site. This structure and the surrounding land are pivotal pieces of Pigeon Forge's history, even providing the inspiration behind the name. In 1817, Isaac Love built an iron forge by the Little Pigeon River, and around a decade later, a mill and a post office were added. The community springing up around these buildings continued to be built upon by Love's son, who eventually named the settlement Pigeon Forge.
Today the Old Mill continues the work that helped found Pigeon Forge—producing corn and flour. During your visit, make sure to stop by the Old Mill Restaurant, where you can enjoy a delicious meal made with the flour from the mill. There are several other attractions in the Old Mill District, including an old–fashioned general store, a pottery shop, a candy kitchen. And of course, a moonshine distillery!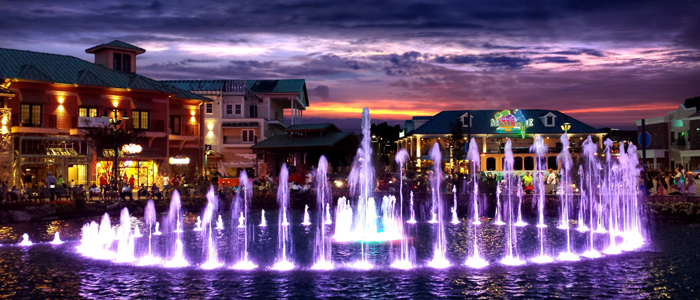 2. See the Fountain Light Show at the Island
The Island has something for everyone—whether you're looking for some family-friendly fun or an evening out sampling moonshine. One of the main attractions is the Fountain Light Show, which features a spectacle of light and water synchronized to music. Pull up a chair and enjoy this free show that runs every 30 minutes in the center of The Island.
There's plenty of additional things to do at The Island. Take the kids out for an afternoon of fun they won't forget. Ride the Great Smoky Mountain Wheel, which climbs 200–feet above Pigeon Forge and the Smokies. This breathtaking ride is gentle enough for kids and features glass walls so you can enjoy the view and snap a few pictures along the way. Enter an enchanting world at Big Rock Candy Kitchen, a sweet shop with colorful displays of sweet and salty snacks. Browse barrels of glittering rock candy, freshly made fudge, buttery popcorn, fluffy cotton candy, and jars of sour gummy worms, Swedish fish, gumdrops, and more. Don't miss The Flying Carousel, which features 22 beautiful, hand-painted Venetian–style horses.
For a night out, drop by Ole Smoky Moonshine and pull up to the bar for a tasting. Take home a jug of your favorite flavor or a souvenir of your trip. You'll also have a chance to enjoy some live music in downtown Pigeon Forge at the Ole Smoky Moonshine Barn. This is one of the most active music venues in downtown Pigeon Forge, so stop by to enjoy an outdoor concert. Check out Bootleggers Winery for a bottle of local wine and Yee-Haw Brewing Co. for a beer and a place to relax with friends.
3. Tour Wineries and Distilleries
It's impossible to visit Pigeon Forge and the Smokies without having a taste of the moonshine and wine. If you're traveling with a group of friends, or maybe planning a date with your sweetheart, a great option is the Rocky Top Wine Trail. Along the trail, you'll be able to sample high-quality wines at Hillside Winery, Apple Barn Winery, the Apple Barn Cider House, Mountain Valley Winery, and the Mill Bridge Winery. Start at any of the wineries and grab your passport for a tour of some of the best wines in the area and a gift when you reach the end! Or just enjoy a relaxing evening out at one of these wineries with a glass of excellent, local wine.
And you can't leave without having some moonshine. The Ole Smoky Moonshine Barn at The Island is a great spot to enjoy a few samples and bring home a jar of your favorite. Take a tour at The Tennessee Shine Company and pick up a souvenir or two along the way. For an authentic, Pigeon Forge experience, head to The Old Forge Distillery, a location steeped in the history and heritage of the Smokies.
4. Get Your Picture Taken With Dolly's Statue
You can't think of Pigeon Forge and the Smokies without Dolly Parton coming into the picture. Born in a cabin on the banks of the Little Pigeon River, Dolly Parton charmed the world with her music and magnetic personality. While her career took her around the world, Dolly remains beloved by tourists and Tennessee locals alike for her music, philanthropic work, and dedication to the Smokies. Just strolling through Pigeon Forge, you'll spot signs for Dollywood and the Dixie Stampede, attractions that have boosted the local economy and provided invaluable memories for visitors from all over.
Head out to Dollywood for a day of fun. Here you can enjoy great food, go shopping, experience the thrill rides, and jump aboard the Dollywood Express for a 5–mile train ride through the mountains. Top off your day by heading to Sevierville, TN where you can snap your picture with the endearing bronze statue of Dolly Parton outside the courthouse. You'll not only have amazing memories of your time in the Smokies, but you'll have a picture to take back as a memento of Dolly Parton and the spirit of the Smokies.
5. Ride Go-Karts
Make sure go-karts on part of your day of family fun in Pigeon Forge. There are plenty of spots downtown to take the kids including the SpeedZone Fun Park, which boasts twisty tracks and hours of fun. The Track is also a great choice, with expansive roadways and tons of extra fun at the mini-golf course and the arcade games. Or head to the LazerPort Fun Center, which also features tons of additional entertainment options, as well as a downhill go-kart track outside.
6. See an Interactive Museum
Whether you're a fan of cars, true crime, or history, Pigeon Forge has a museum for you. Start off with one of the most iconic attractions in the area, the Titanic Museum. This 2 level museum is a half-scale replica of the RMS Titanic. Here you'll be able to not only view authentic artifacts but also get a sense of what the real passengers might have experienced at the hands-on exhibits throughout the tour.
The Alcatraz East Crime Museum features 20 exhibit areas that cover the history of American crime, consequences of crime, pop culture, crime scene investigation, and crime-fighting. You'll be able to view authentic pieces from famous criminal cases, as well as experience interactive displays. Drop by the Hollywood Wax Museum for the perfect photo opportunity with your favorite star. Here you'll be able to pose on the red carpet and in famous movie scenes with provided props. Snap a picture and preserve memories that will last a lifetime!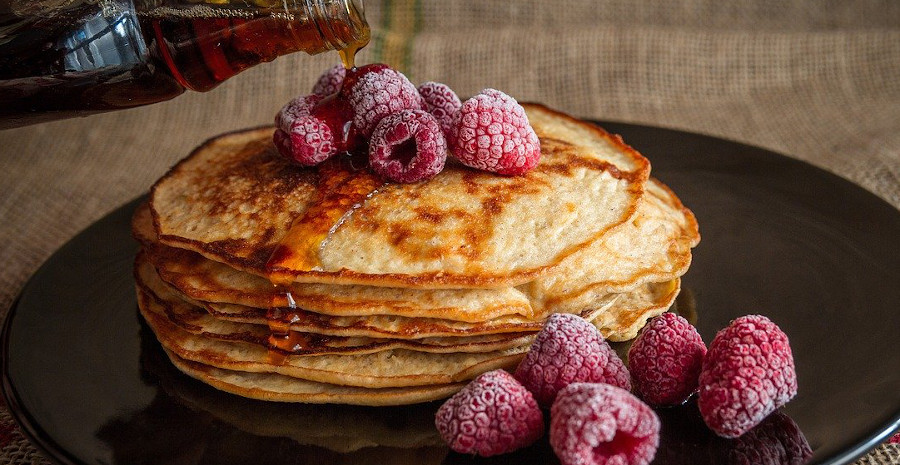 7. Eat Pancakes
If you could eat pancakes for breakfast, lunch, and dinner, you're in luck because there's plenty of places to do just that. Drop by Sawyer's Farmhouse Breakfast any time of the day and sit down for a plate of chocolate chip pancakes with peanut butter syrup or pecan pancakes drizzled with warm syrup and sprinkled in powdered sugar. Between 7am and 12:30pm, Reagan's House of Pancakes offers a full breakfast buffet and menu with your choice of pancake toppings, fresh fruit, and delicious sides like sausage, bacon, eggs, and more.
Other businesses that serve up a piping hot plate of pancakes include Smoky Mountain Pancake House, Red Rooster Pancake House, Flapjacks, and Log Cabin Pancakes. There's truly no better place than Pigeon Forge to sit down for a pancake breakfast!
8. Go Shopping
If you could shop all day long, Pigeon Forge is the place for you! From outlets to boutiques, from the Village Shops to brand new general stores, shopping in Pigeon Forge won't disappoint. A great place to find chain stores is Tanger Outlets, which can be found just off the Parkway. For a more local experience, head to The Island, where you can pick up clothing, drinks and snacks, décor, household items, and unique gifts or souvenirs at local shops. There are more shops at The Island than you think, so make sure to put aside a few hours so you can browse to your heart's content. The Old Mill Square boasts crafts, antiques, candies, souvenirs, and much more.
9. Indoor Snow Tubing
Looking for something to do on a hot, summer day? Well, how about go snow tubing? In Pigeon Forge, you can bring the kids out to have a blast in the snow any day of the year. Head over to, Pigeon Forge Snow, an indoor snow park with tons of fun and chemical-free, natural snow. This attraction is the perfect spot to make memories that will last a lifetime—after all, where else can you play in the snow in the middle of summer?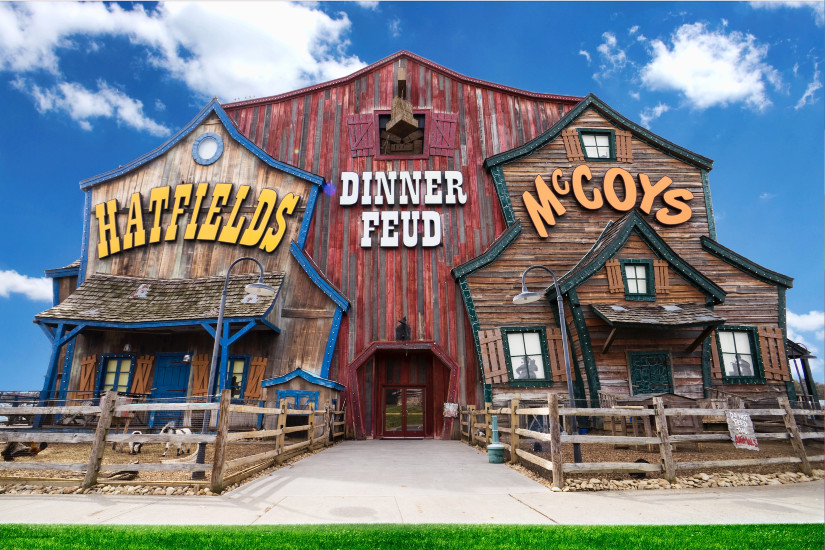 10. See A Dinner Show
If you're looking for a fun evening of great food and classic entertainment, you're in the right place! Pigeon Forge boasts an array of dinner theater options, perfect for a fun night out. Experience Dolly Parton's Stampede and its cast of 32 magnificent horses and their talented riders. Enjoy a four-course meal including great Southern staples like smoked pork, homemade biscuits, and buttery corn on the cob.
The Country Tonite theater features comedy acts, local bluegrass, gospel, and patriotic tunes, and much more. There's always something new and exciting coming to this theater, so make sure to check the upcoming shows. The Comedy Barn Theater offers a night of good, clean fun and lots of laughter. And don't miss the classic Hatfield & McCoy Dinner Show. Everyone has heard tales of these feuding families, but now you can experience their sidesplitting dinner theater. Enjoy a delicious, all-you-can-eat meal while these singing, dancing families settle their differences in this hilarious, comedy show.
Final Thoughts
If you're taking a trip to Pigeon Forge, make sure to check out some of the great attractions and businesses. We've got lots of resources on our site to help you plan your vacation, including cabin rentals near the Pigeon Forge Parkway. These comfortable cabins have all the amenities you'll need for a great stay, including mountain views and great locations near top attractions.
Written by Clare Wiker